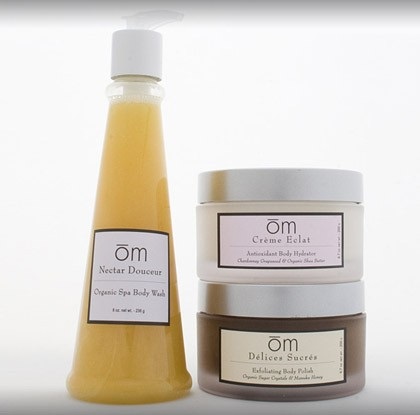 Delectable gourmet treats have made their way from the dining table to vanity with Om Aroma's range of organic skincare products. Om Aroma's unique chemical-free, preservative-free formula uses just organic ingredients, the result of numerous trials in the kitchen of concert pianist and founder Angela Jia Kim.
The rich, luxurious creams in the Om Aroma range contain no parabens, formaldehyde, mineral oils or synthetic fragrances, and have been a hit since their launch. Products from both the face and body range have won Om Aroma a stunning four Gold Medals at the 2008 Beauty Olympics, beating cosmetic giants in four different categories.
With products like their Champagne Cleanser, Extrait de Caviar Eye Cream, White Truffle Face Cream and Chardonnay Body Hydrator turning delicacies for the palate into delicious treats for the skin, Om Aroma looks to be taking a unique all-natural approach to skincare – one that promises to be both enjoyable and refreshing.