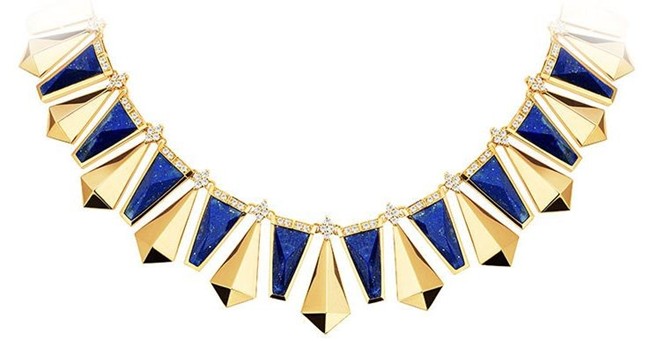 To mark the opening of the Treasures of the World from The British Museum exhibition at the National Museum of Singapore on December 5, Lee Hwa Jewellery has designed a gold and lapis lazuli necklace (above) that takes inspiration from a Sumerian artefact (below). All proceeds from this $12,800 Lee Hwa stunner will go to the National Museum of Singapore.
History can be a study in fashion and style. The ancient Sumerians who lived in what is southern Iraq today were the Iris Apfel and Diana Vreeland of their day. Just like the two fashion icons, Sumerian women had a flair for ornate and ethnic-inspired gold and silver jewelry that's peppered with stones like lapis lazuli and carnelian, using techniques like granulation and filigree which are rare handicrafts in jewelry-making today.
While the look of Lee Hwa Jewellery's creation is more geometric and Art Deco, the combination of lapis lazuli and 18K yellow gold topped with glittering diamonds is a graphic and glamorous homage to the Sumerian artefact.
And while the latter might be priceless, the Lee Hwa piece is available for $12,800 and will be on show at its ION Orchard boutique (#B2-58) from this Friday till December 22, and thereafter at the VivoCity store (#01-193) till January 7.