Naomi Campbell is facing increasing pressure to speak up following allegations that the supermodel accepted a huge, blood diamond from the former President of Liberia, Charles Taylor – currently being tried for war-crimes in the Netherlands.
The singer and actress, Mia Farrow, claims the incident occured in 1997 when the pair were staying at Nelson Mandela's residence in South Africa.
She told ABC's Nightline show: "Naomi came down. She said during the night some men had knocked on her door and she, half asleep, had opened the door and it was representatives of President Charles Taylor and they had given her a huge diamond."
Despite the boldness of the claim, Farrow insisted: "You don't forget when a girlfriend tells you she was given a huge diamond in the middle of the night. There's no doubt in my mind. All I thought was, 'Gosh, what an amazing life Naomi had. Probably lots of men are always giving her diamonds.'"
The only response Campbell has offered is: "I didn't receive a diamond and I'm not going to speak about that."
Furthermore, Farrow also recalled that Campbell told her she was going to give the diamond to Mandela's children's charities.
According to ABC, the charity received large cash sums from Campbell in successive years, but it has no record of a donated diamond.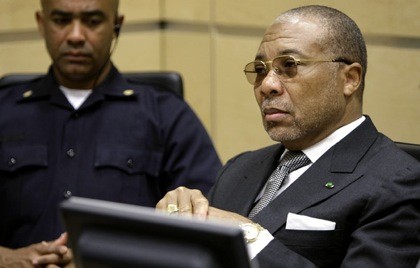 In relation to Taylor's trial (above), Farrow has urged Campbell to explain what happened: "Absolutely, step up and do your part."
(Source: Vogue & theaustralian)