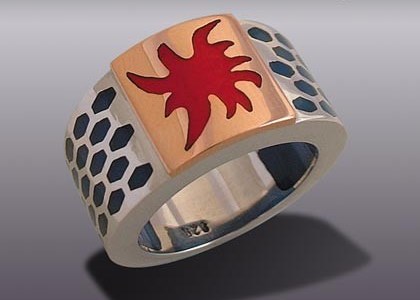 Israeli designer Moshiko creates stand-out pieces of jewelry that is definitely not for the wallflower. With designs inspired from nature, architecture and science, Moshiko's trademark is consistently producing unique pieces that jump with bold color and have a contemporary edge.
It is exactly his mastery of producing pieces that possess individuality, which has made owning a Moshiko highly desirable. Another unique feature to note is Moshiko's love to marry polymers and precious metals as well as dabble in a playful mix of modern and traditional materials.
Moshiko himself signs on every piece of his creations, and their colorful surfaces are either hand-painted or embedded with illustrated or photographic compositions.
A master of his craft with 20 years of experience, the self-taught artist makes it a point to sculpt his jewelry with functionality in mind, ensuring that each design is as comfortable as it is exceptional in shape and color.
From bold sculptural rings to contemporary bracelets, necklaces to earrings and even a daring range for men, owning a Moshiko is akin to upgrading your individuality.