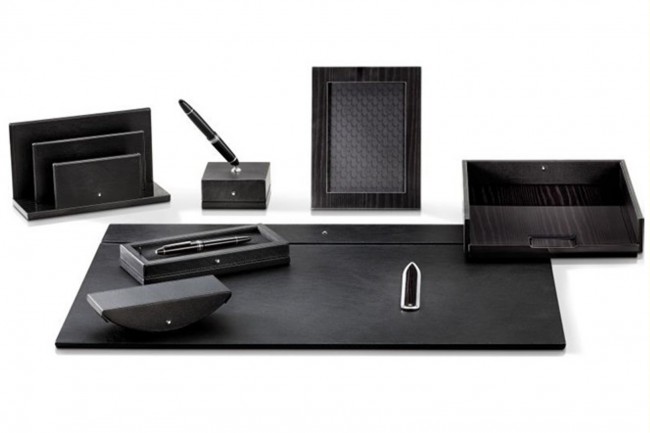 While the pleasure of writing by hand comes from the quality of the writing instrument, it is also enhanced by the special writing accessories placed on a desk to create the finest writing environment. Montblanc presents its new collection of Desk Accessories, leather pieces designed to deliver a complete writing experience by combining elegant aesthetics with thoughtful functionality. Drawing on its leather expertise, the Montblanc Desk Accessories Collection is crafted from the finest Italian full-grain leather at the Maison's Leather Manufacture on the outskirts of Florence. The assortment of timeless pieces is embellished with intricate stitching and brings sophistication to the work space. Every accessory contributes to an atmosphere to inspire creativity, and with the addition of secret features, delivers a uniquely personal experience.
The Deskpad in black full-grain calfskin leather provides an optimal surface on which to write, with jacquard lining printed with an emblematic "M" pattern for an additional touch of luxury. Two flaps to reveal a secret place to store business cards and one to keep private notes, safely out-of-sight. A Leather Ink Blotter with changeable blotting paper is a must-have accessory for aficionados of fountain pens. A Calfskin Pen Tray with its removable micro fiber covered inlay provides storage for writing instruments and a second compartment for refills.
A Letter Rack and Document Tray, for the convenient storage of documents and correspondence, marry fine leather with a wooden plate at their base with a transparent piano lacquer finish to reveal all the natural beauty of the wood grain. A wooden frame with Italian full-grain calfskin back cover and dark jacquard lining with the distinctive "M" motif under the glass cover is set on a ruthenium-plated metal stand give it a contemporary twist. A Letter Opener with its pure monoblade pairs the sleek texture of ruthenium with the wooden inlay with its polished lacquer finish.
With streamlined and durable designs, Montblanc Desk Accessories transform the work space into a productive and organized, yet elegant environment. The feel of a writing instrument gliding the sheet of paper laid out on a fine leather deskpad, words sealed with a handcrafted ink blotter: inspiration and ideas can come from the tools and the special pieces that we surround ourselves with.