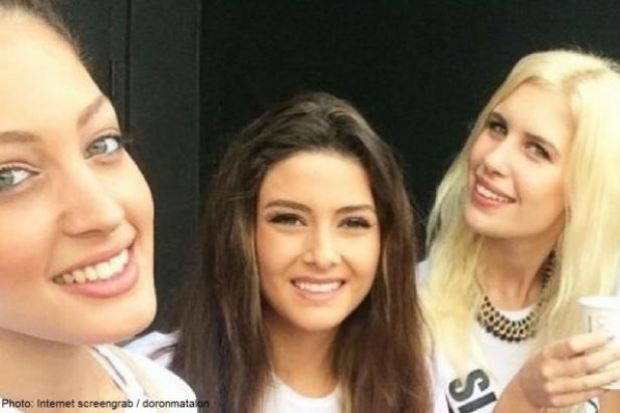 Miss Israel, Doron Matalon (left) takes a photo of herself with Miss Lebanon, Saly Greige (second left).
BEIRUT – Miss Universe contestants are keen to proclaim their desire for world peace, but this year's Miss Lebanon has declared war after claiming Miss Israel muscled in uninvited during a group "selfie." Saly Greige took to her Facebook page to declare that Israel's Doron Matalon had pushed her way into a now widely-circulated photo showing the Middle Eastern beauties with Miss Japan and Miss Slovenia.
"Since the first day of my arrival to participate to Miss Universe, I was very cautious to avoid being in any photo or communication with Miss Israel (that tried several times to have a photo with me)," Greige wrote in English on her page.
"I was having a photo with Miss Japan, Miss Slovenia and myself, suddenly Miss Israel jumped in, took a selfie, and put it on her social media." The offending photo, taken in Miami where the Miss Universe pageant is staged, appeared on Matalon's Instagram account on January 11.