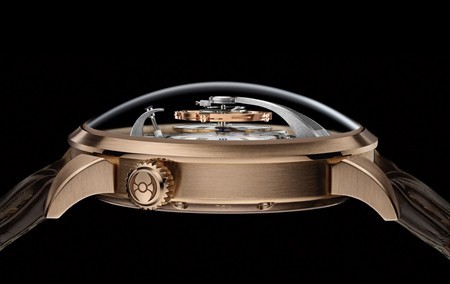 MB&F has gained a reputation for futuristic and whimsical designs – prime exhibit: this year's offering for the Only Watch auction, the HM4 Thunderbolt – so it may come as a surprise to horological observers that their latest, the Legacy Machine No. 1, is a classically round timepiece.
We caught up with our friend Maximilian Büsser when he presented his latest creation, this time with friends Kari Voutilainen (he of the superb finishing touch) and Jean-Francois Mojon (Harry Winston Opus 10 and IWC Siderale Scafusia).
Conceived as a tribute to traditional 19th century watchmaking (an age when mechanical watchmaking was astonishing the world), Legacy Machine No. 1 (in the spirit of the Horological Machine, we shall call this the LM1) was borne from one of Büsser's inspired flights of fantasy: what would I have created if I had been born in 1867 instead of 1967?
Without jet fighters and Star Wars to inspire him, Büsser decided his thought experiment would have to turn towards icons of innovation at that time: pocket watches, the Eiffel Tower and Jules Verne.
The result? A horological machine with a clear bubble dome wrought from sapphire, through which one can see the LM1's engine. Hewing to the pocket watches of the day, the LMI features a 2.5 Hz slowly oscillating balance – 18,000 vph – with a traditional Breguet overcoil suspended from twin arches. The clear dome ensures that this regulating mechanism can be appreciated in full view.
The hours and minutes on the two sub dials can be set independently of each other – a noteworthy feature considering that most dual time zone complications with a single balance do not allow for the independent adjustment of the minutes. For a slim profile, the LM1 also holds claim to the world's first vertical power reserve indicator, driven by an ultra-flat differential with ceramic bearings.
Finish-wise, acclaimed watchmaker Kari Voutilainen was responsible for the LM1's sun-ray pattern, engraved dial-side on the movement plate; caseback-side, rubies set in polished countersunk gold chatons provide striking visual counterpoints to the Geneva waves traversing the curved bridges.
The LM1 is  available in 18k red gold or 18k white gold, with a black or brown hand-stitched alligator strap.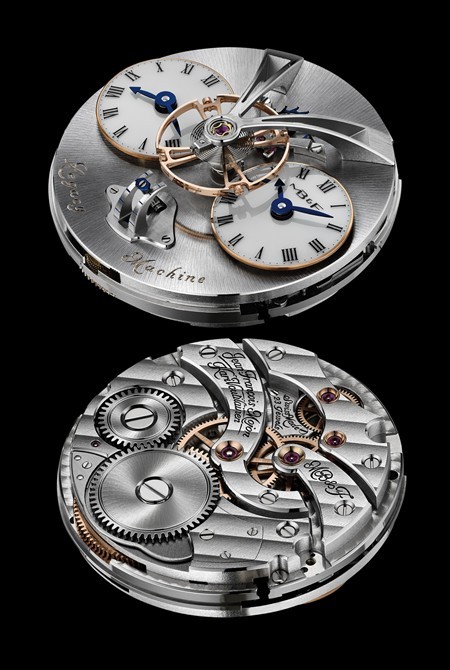 The dials of the time displays are in stretched lacquer that resembles enamel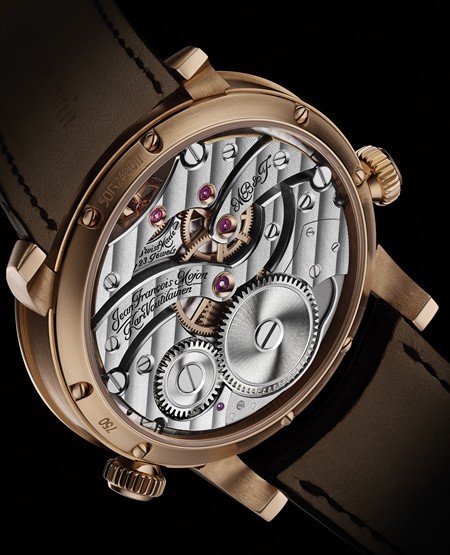 LM1 red gold back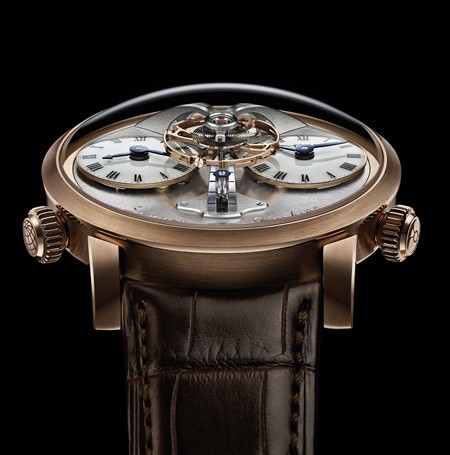 LM1 red gold face