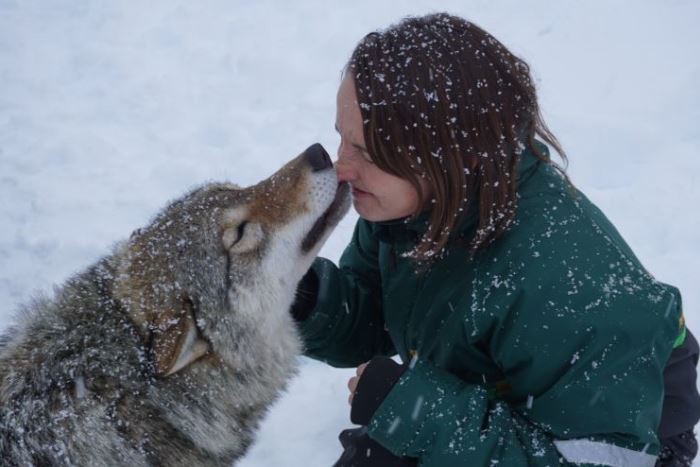 In a world first, Polar Park in Northern Norway has opened a new lodge inside one of its huge enclosures which is home to a pack of Arctic wolves. Nowhere else in the world offers this experience; which not only includes an evening in the lodge with wolves freely roaming just the other side of the windows, but also includes a Wolf Kiss, where guests meet the animals face-to-face. Something else to get excited about is a new luxury Aurorahunt where guests are whisked up Narvik Mountain in a gondola to a newly renovated lodge to search for Northern Lights.
"Staying overnight in the Wolf Lodge is more of an experience than a night away," said Northern Lights travel exert and owner of Off the Map Travel, Jonny Cooper. "With the large windows in the walls and roof you can take full advantage of your stay with the wolves and admire the beauty of the Northern Norwegian Arctic wilderness as it stretches into the horizon."
Based at Polar Park, the Wolf Lodge comfortably accommodates 10 guests. Its design is typically Scandinavian with the modern Norwegian farmhouse as its inspiration. The clean lines and cosy fabrics are highlighted by the minimalist Norwegian pine interior, which brings a light and fresh atmosphere to this hand crafted property. An expert guide accompanies guests throughout their stay at the Wolf Lodge to both host and teach guests about their majestic neighbours.
Together with the chance to stay inside the wolf enclosure, a visit to the Wolf Lodge will also give guests the chance to meet the wolves up close and personal with a Wolf Kiss. Cooper adds, "This very rare experience which is done with socialised wolves who have grown up with human contact. Instructed by an expert guide you enter the enclosure where visitors are greeted by the wolves with a gentle lick to the face, or what is now known as a Wolf Kiss."
Launched in January 2016, Lights at the Lodge takes guests directly from Narvik town on a gondola ride high into Narvikfjellet (or Narvik Mountain) to a stunning lodge. Here guests can experience the Northern Lights overlooking the port town of Narvik and the Fjord beyond. This is an indulgent experience treating guests to a touch of luxury, starting with reindeer skins and warm blankets in the gondola and continuing with a welcome drink as they reach the lodge. Here, an expert guide teaches guests about the Northern Lights before the hunt begins.