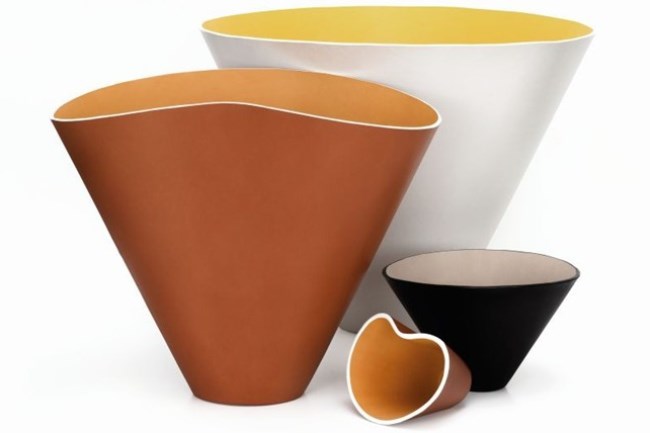 At the Loewe studio in Paris and at the house's workshops in Spain, a continual investigation of the aesthetic, material and functional possibilities of leather is taking place, reflecting the unbroken commitment to innovation that has driven the house since it was founded. The Bowls Project, a laboratory exploring new forms and unrevealed facets of leather, is part of this endeavour.
Lucie Rie was one of the 20th century's most significant and celebrated potters, whose work stands out for its uncompromising modernity. In order to produce a special object series based on an imaginary meeting between Rie's iconic shapes and the most advanced leather craftsmanship, Loewe joined efforts with José Luis Bazán, a third-generation artisan from Benaocaz, a small town close to Ubrique, in the province of Cádiz, known for its high concentration of Spain's leather knowledge.
The Bowls Project consists of three sets of 50 unique bowls in various sizes, forming an ensemble that plays with scale and perception, blurring the boundary between sculpture and design and confounding sight and touch through surprising materiality. Each object was created by Jonathan Anderson, Creative Director of Loewe, using an innovative moulding process and sculpting the leather into its final, distinctive shape by hand. Transferring the codes of pottery onto leather, the underside of each bowl features two seals: the letter J, for the designer's name, and Loewe's modern, mirrored insignia, the Anagram. While appearance and firmness are that of a clay object, the bowl's tactile qualities unequivocally evince the hand of the finest leather in the world.
With colors adapted from Lucie Rie's palette, including the uranium yellow the artist used for some of her vessels, the project demonstrates how leather can perform as a rigid material, applicable in a broad range of objects, both functional and decorative. The Bowls Project will be exhibited in the Loewe stores in Milan,Madrid, Paris, Tokyo and Beijing.