IWC Schaffhausen has announced the release of the Limited Edition Ingenieur Automatic from the Vintage collection, a specially created watch to benefit the Laureus Sport for Good Foundation. This is the fifth time IWC Schaffhausen has committed to creating a special edition watch for the foundation, underscoring the luxury watch manufacturer's commitment to aiding disadvantaged children the world over.
This year's Ingenieur Automatic Edition Laureus Sport For Good Foundation in stainless steel is finished with a gorgeous sky-blue dial is limited to 1,000 specimens. In keeping with a time-honored tradition, IWC Schaffhausen organized a worldwide children's drawing competition. The winning design was engraved on the back of the watch. This year, the jury chose an illustration by eight year-old Sohel Abrar Khan from Mumbai, who is part of the Magic Bus project. Magic Bus, supported by the Laureus Sport for Good Foundation, provides a safe and conducive outdoor education for impoverished children throughout India, including children from the Bombay Port Trust slum in Mumbai, one of the world's poorest communities.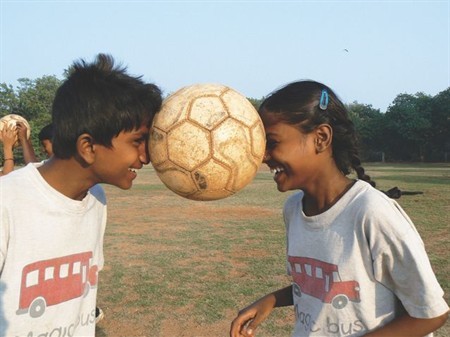 The young winner of this year's drawing competition interpreted the theme of the competition, "Time for Unity", with a picture depicting youths playing a game of football. The cheerful engraving also serves as a poignant reminder that a portion of the sale proceeds will be used to help disadvantaged children in some of the world's problem regions.
The Ingenieur Automatic Edition Laureus Sport For Good Foundation is powered by the IWC-manufactured 80111 caliber, with a Pellaton winding system and an integrated shock absorption system. Thanks to a screw-in crown, the robust timepiece is water-resistant and equipped for the exacting demands of present-day life. A beautiful watch for a beautiful cause—no better, uh, time for social responsibility.