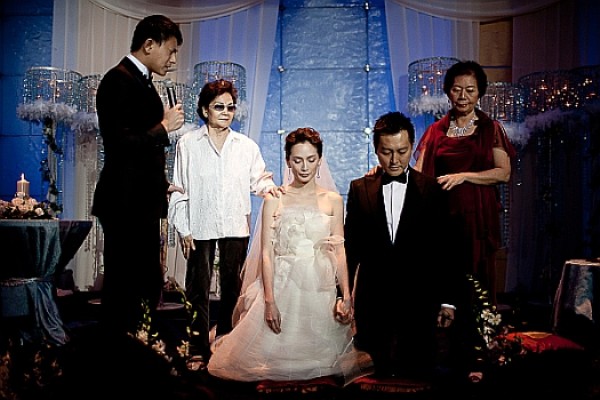 Former Mediacorp actress and owner of wellness clinic, The Health Club, Jacelyn Tay, married her business partner and boyfriend of two years, Brian Wong at the Pan Pacific Hotel Ballroom on October 10, 2010.
They weren't the only ones to wed on the auspicious date of 10/10/10 – 830 couples in Singapore tied the knot in ceremonies all over the island. The famous couple's  reason for choosing this date though, was because it sounded like the wedding march.
Wearing a tulle and pearl-embellished dress from Vera Wang's Fall 2010 Bridal collection and sparkling Chopard jewellery, Ms Tay, 35, and Mr Wong, 42, exchanged vows in a Christian ceremony – she converted to Christianity four years ago and got to know him better through church activities.
Of course, a celebrity couple meant a celebrity crowd, and it included Patricia Mok, Christopher Lee, Chen Hanwei, Yvonne Lim, Terence Cao, Zheng Geping and Ann Kok. Hair and makeup were done by celeb favourites David Gan and Andy Lee respectively.
Pictures clearly convey the couple's happiness as they smiled and laughed throughout the event. But a solemn moment came when man and wife knelt down (pictured above) and thanked their mothers in an emotional speech, with Mr Wong calling his mother "a heroine".
Aside from family support, Ms Tay and Mr Wong, who met through a friend, attributed their happy relationship to God, especially when they both have very strong characters. "It's most ideal when two become one", the groom said.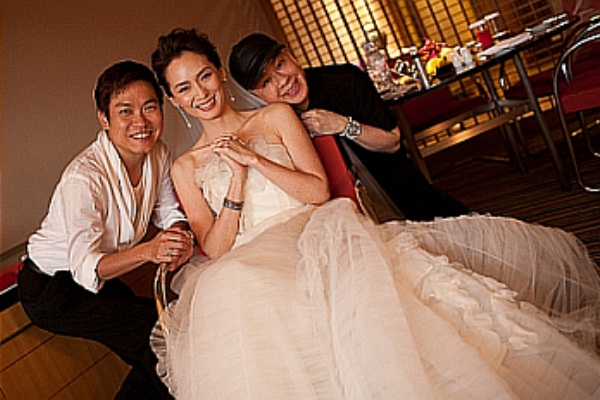 Andy Lee, Jacelyn Tay and David Gan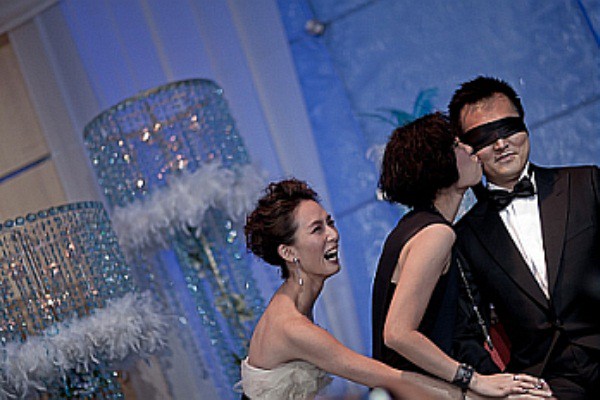 Jacelyn Tay and Patricia Mok sharing a funny moment with Mr Wong