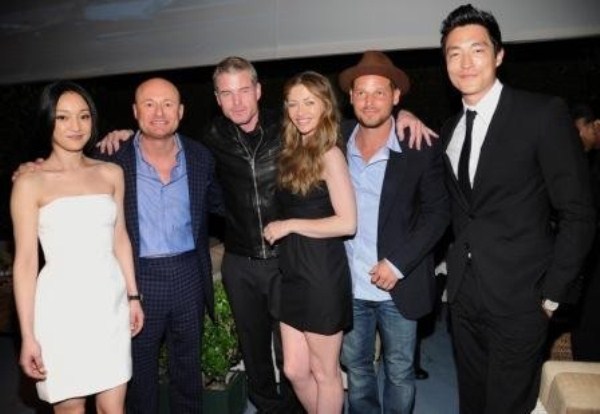 Conceived by renowned Swiss watchmaker IWC Schaffhausen and legendary photographer Peter Lindbergh, A Night in Portofino pays tribute to the latter's brilliant 'Peter Lindbergh's Portofino'. With A-listers including Cate Blanchett, Kevin Spacey, Elle Macpherson, Eric Dane, Luís Figo and Matthew Fox as muses, Lindbergh captured the spirit of la dolce vita lifestyle against the nostalgic backdrop of a 50s/60s-style Hollywood film set in May 2010.
For the premiere event in Los Angeles, IWC capitalized on the "behind the scenes" nature of the exhibition and created their own Portofino within the Cullver City Studios. Upon arriving at the gallery, guests had the opportunity to feast their eyes on the 50 black-and-white photographs before being transported to the Portofino harbor by nightfall. As aromas of Italian delicacies filled the rooms, guests were entertained by authentic street acts and photographed dressed up in 1960's costumes.
The event attracted some of the most prominent names in the industry, including Eric Dane, Patrick Dempsey, Rebecca Gayheart, Michael Muller, Sylvester Stallone, Rachel Zoe, Joe Manganiello, Mia Maestro, Maggie Grace, Justin Chambers, Alexander Skarsgard, Isabel Lucas, Shiva Rose, Goreski, Carla Gugino, Julian McMahon, Emmanuelle Chriqui, Dermot Mulroney, Rob Lowe, Daniel Henney, and Zhou Xun.
The exhibition is now scheduled to continue on its world tour and will visit other major cities in Middle East, Asia, and Europe.