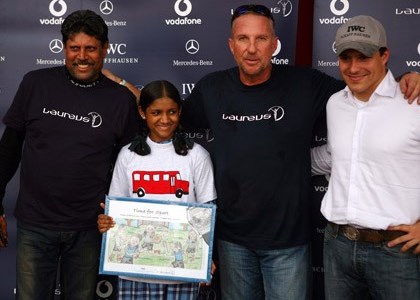 Cricket legends Sir Ian Botham of England and Kapil Dev of India paid a visit to the slums of Mumbai, India, to play sports with the children there. Botham and Dev are both members of the Laureus World Sports Academy, which is supporting the child development organization Magic Bus.
IWC Schaffhausen, a Laureus Global Partner, took the opportunity to present a prize to the winner of their drawing competition to the winning young artist – pictured above with Botham and Dev – who is a part of the Magic Bus program. Sales of that watch indirectly support the Magic Bus, through the Laureus Sport for Good Foundation.
In Mumbai, the Magic Bus is using football, handball and a host of other learning activities to improve the lives of impoverished children. This is how cricket greats find themselves playing football, as seen here.
"We do what we can, but it is always heart-breaking to know that for every child we help there are maybe another ten or one hundred that we cannot. Hopefully by helping a few, they will be able to become youth leaders themselves and work to improve conditions in their community," said Dev.
(Source: Watch Tribune)