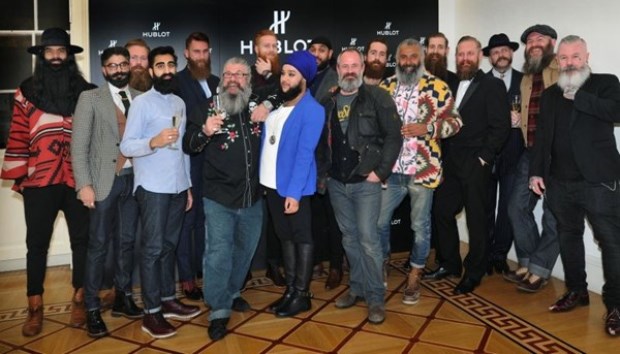 Hublot has announced a partnership with Beard Season as Principal Sponsor of the private view to open the photography exhibition Beard by Mr Elbank at Somerset House. Hublot's brand philosophy of "The Art of Fusion" and "Hublot Loves Art" platform was once again brought to life with the support of the exhibition's private view, merging the creativity at the heart of the brand with that of the art world. As well as officially opening the hotly-anticipated Somerset House exhibition, the event also marked the Hublot's global partnership with Beard Season, the viral movement which inspired many of the exhibition's most celebrated images.
In 2010, after losing one of his best friends to melanoma at the age of 26, Jimmy Niggles created Beard Season. Long before the hipster and even more recent "lumbersexual" movements, Jimmy and his friends all grew beards as conversation starters, so that every time someone asked about their facial follicles, they could share their friend's story. The campaign went viral and is now an Instagram sensation, with a simple message: Commit to getting a skin check, grow a beard and become a Beard Season Ambassador.
Beard is a celebration of the enduring international beard trend and of individuals who wear their facial hair with uncompromising style. International photographer Mr Elbank began documenting beards as a personal project, drawn to the beauty in an unconventional face. After meeting Jimmy Niggles, his work gained a new purpose. The exhibition encompasses Mr Elbank's early work, the Beard Season #Project60 sequence, as well as new, unseen photographs shot especially for the Somerset House exhibition. His work is masculine but beautiful, with the portraits revealing the power of the personality behind the beard. His subjects come from all walks of life and include American footballer Tim Howard, British actor Sir John Hurt, and fashion savant Nick Wooster. There's also a striking Sikh woman, Harnaam Kaur, whose medical condition gives her a beard she wears with confident elan.