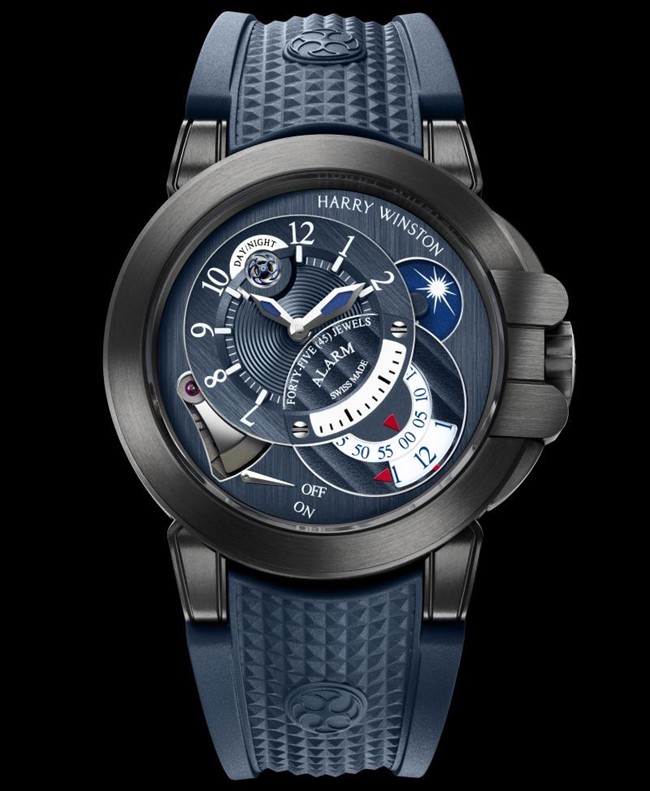 Harry Winston's Project Z6 Blue Edition seamlessly fuses high performance with high-end watchmaking and inimitable cutting edge design. The latest addition to the Project Z series is built around Harry Winston's mechanical, hand-wound caliber HW1010 which is composed of 338 parts. Not impressed? Well, there's more…
The Project Z6 Blue Edition is also an alarm watch. Just like the timepieces from the Project Z6 series, the Project Z6 Blue Edition sports a sophisticated alarm function that consists of a minute repeater style hammer, which strikes a gong and produces a crisp sound. Designed to be seen and not just heard, the hammer is fixed to the case to show the alarm ringing and enhance sound transmission. Impressed yet?
If you don't already know, the 'Z' in Project Z6 Blue Edition, stands for Zalium. Extremely light, harder than titanium, non-allergenic and extremely anti-corrosion resistant, Zalium is an aerospace type zirconium alloy that is exclusive to Harry Winston in watchmaking. The Project Z6 Blue Edition is offered in a 44 mm Zalium case, the hardness and resistance to abrasive wear of the material is enhanced by a grey DLC (Diamond Like Carbon) finish. We don't know about you, but we are sufficiently impressed.