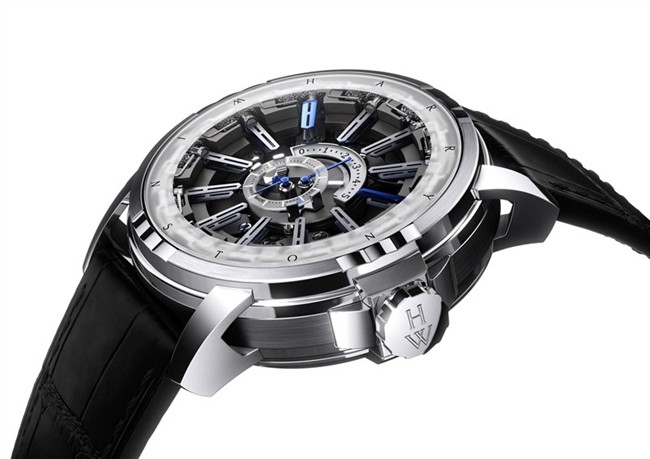 New York jeweler Harry Winston showcased its resolutely Swiss watchmaking flair with the Opus 12, wowing the world once again with an amazing feat of haute horlogerie.
As always, the Opus watch is the result of a collaboration between Harry Winston – which has its own watchmaking expertise – and an independent watchmaker of no small repute. This year, the visionary in question is Emmanuel Bouchet, whose Centagora company works at the highest level of watchmaking, servicing the industry at large.
The Opus 12 is such a complicated device that it is difficult to describe in a few words. Put as simply as possible, this watch indicates hours and minutes via markers on the periphery of the dial. Taking a look at the watch, you can see in this illustration that it is in the traditional 10:10 position. The hands in the center indicate power reserve (the silvery hand), small seconds (with its own sapphire crystal subdial) and retrograde 5-minute hand.
After every five minutes, the blue minute marker will flip over, turning grey. The next five-minute marker then flips over, turning blue. The piece de resistance happens every hour, with the hour markers doing a sort of dance. Each one flips over in sequence, going from grey to blue and back again, until arriving at the next correct hour, which remains blue. In short, when switching from 9 o'clock to 10 o'clock, every marker in between flips over, with the final flip to blue occurring at 10 o'clock.
This unique interpretation of time is based on astronomer Copernicus' discovery that the earth revolved around the sun, and on its own axis. The movement is spectacular, as the video below from Harry Winston attests.