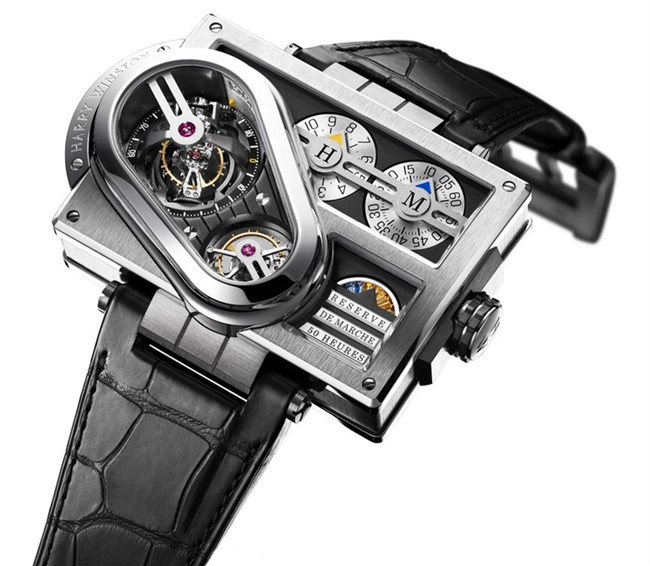 Histoire de Tourbillon 3
We have been faithfully covering Harry Winston's groundbreaking and iconic Opus series since our own beginnings in 2006 and we did so again this year at Basel World 2012. However, this desire to be wowed by the Opus narrows our focus and has kept us from discovering the joys of the Histoire de Tourbillon series. Debuting in 2012, the Histoire de Tourbillon 3 (third in the series) draws our eye with both its unusual shape and its massive presence.
There are two escapements here in three tourbillons, set at different angles, and connected via a differential gear system. These occupy about a third of the watch, in a separate section with its own sapphire crystal and bezel. The tourbillon at 9 o'clock is a double axis number, with one cage rotating every 40 seconds while the second cage rotates every 120 seconds, or two minutes. The second tourbillon at 6 o'clock rotates once every 36 seconds on a single axis. Housed in a 65mm by 45.9mm white gold case (with Harry Winston signature zalium for the case band), the Histoire de Tourbillon definitely makes a statement.
As for how the tourbillons here improve the rate of the watch, the jury is still out. Harry Winston officially calls the series an "exploration of the tourbillon" so we can safely say that the watches are timekeeping experiments. Although no other details are available at present, our friend and watch expert SJX believes the movement to be the work of Complitime, the sister company of famed tourbillon specialists Greubel Forsey. We shall attempt to get a better look at the Histoire de Tourbillon 3 if it comes to Singapore or Hong Kong to get a better understanding.
To close, we very much like the power reserve display at 5 o'clock which uses sapphires and citrines to indicate the watch's state of wind. Again, not much information is available on the setting or specific nature of the stones, except that the official power reserve is rated at 50 hours.