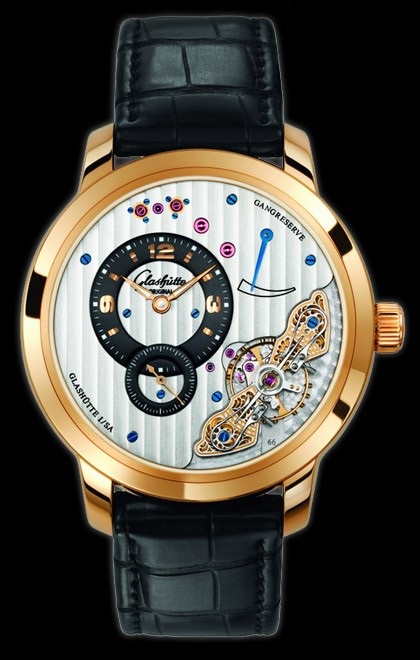 At first glance, this novelty from German haute horlogerie manufacture Glashütte Original appears to feature an odd tourbillon of some sort at 4 o'clock. This however is an illusion that hides the true beauty of this piece, which confirms the powerful vision behind the best in mechanical watchmaking.
In fact, what appears to be a tourbillon, with bridges and all, is really the escapement with a double swan neck regulator and a balance bridge.
While this innovation was introduced in 2002 for calibre 65, this particular watch features a spectacular re-think of the design, the manual-winding calibre 66 (note the calibre number at 5 o'clock).
Unlike watches where dial cut-outs, clear sapphire dials or simply the absence of dials reveals the mechanism, the watchmakers of Swatch Group-owned Glashütte Original break new ground here by changing the architecture of the movement – and adding a transmission wheel to correct for the direction shift – to place the regulating organ where the eye can admire it.
The watch is available in rose gold or white gold and is a 42mm diameter proposition, with small seconds and power reserve indicator.
(Source: Watch Tribune)