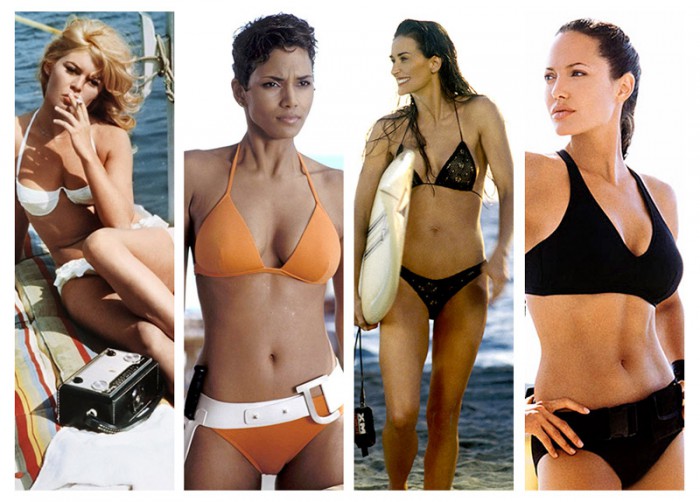 If you are looking for any bikini body inspiration, then look no further. Our roundup of these 10 famous bikini moments on film will certainly have you ready to hit the gym. From Halle Berry's orange swimsuit look in 2002's 'Die Another Day' to Phoebe Cate's fantasy-filled red bikini in 'Fast Times at Ridgemont High'–we put together a list of famous swimwear and the women who wore them. Check out the full selection below.
Angelina Jolie – Black Bikini in Lara Stone: Tomb Raider (2001)
Angelina Jolie played the badass Lara Croft in the 2001 film, "Lara Croft: Tomb Raider". Skilled in combat and weapons training, Angelina's character collects artifacts worldwide all in form-fitting clothing. Wearing a black two-piece bikini, Angelina proved to have sex appeal in the role as well as strength.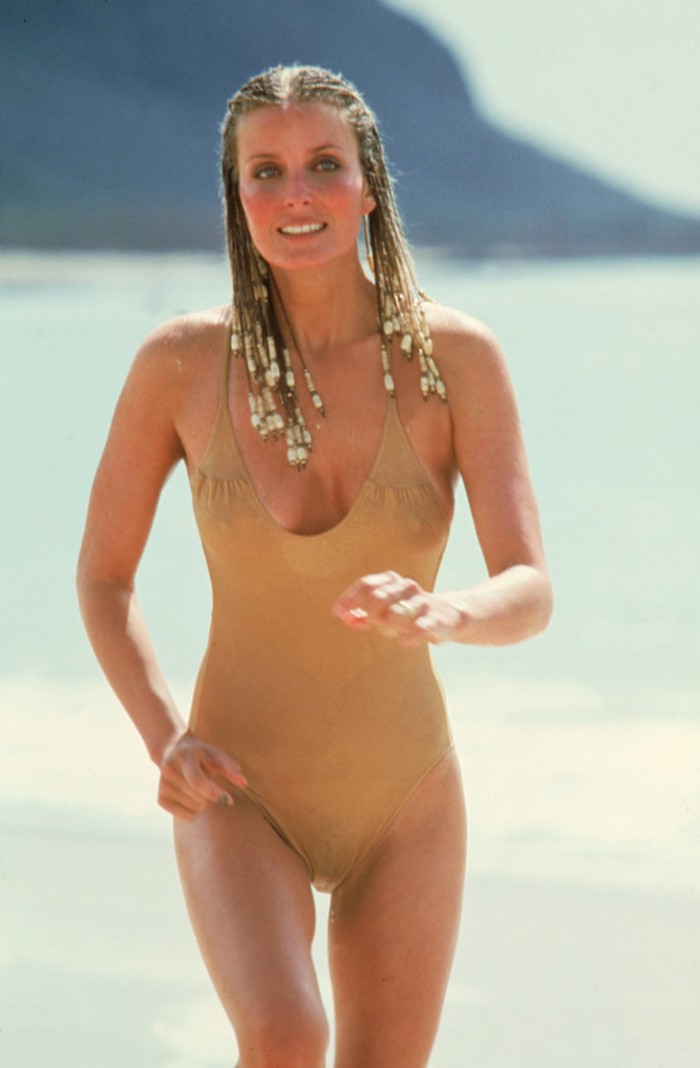 Bo Derek – One Piece Swimsuit in 10 (1979)
Bo Derek instantly became a sex symbol for her role as Jenny Hanley in the 1979 film "10". Playing a newlywed who tempts a middle-aged man, the scene of her running on the beach with beads in her cornrowed hair and a nude-colored piece has forever been ingrained as one of cinema's best swimsuit moments.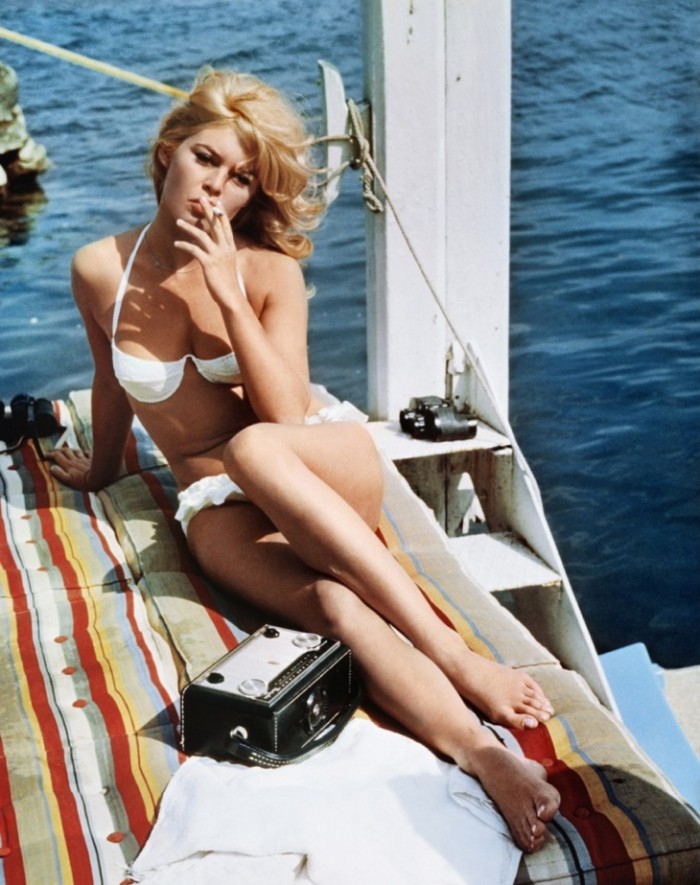 Brigitte Bardot – White Bikini in A Very Private Affair (1962)
Brigitte Bardot is often credits with popularizing the bikini style after first appearing in a two-piece for the 1956 film, "And God Created Woman". However her white bikini look in "A Very Private Affair" is her most stylish swimsuit look on screen in our opinion.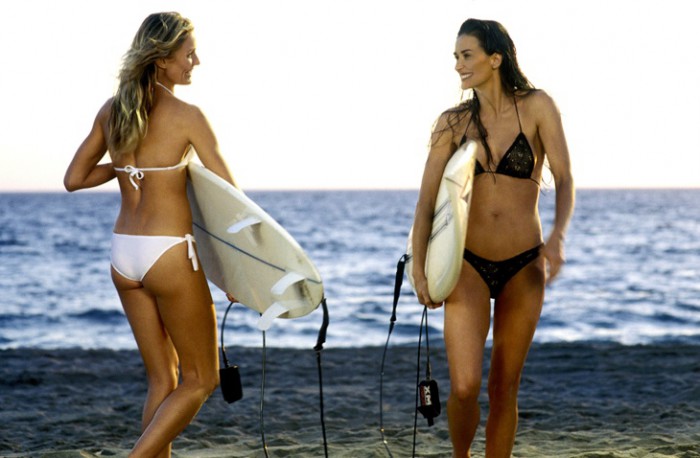 Cameron Diaz & Demi Moore's Bikinis in Charlie's Angels: Full Throttle (2003)
The 2003 film, "Charlie's Angels: Full Throttle" served as the sequel to the first movie with Cameron Diaz, Lucy Liu and Drew Barrymore. Demi Moore made her return to movies with a sexy bikini look on the beach in black. Not to be outdone, Cameron Diaz also showed off her rocking body in a white swimsuit look.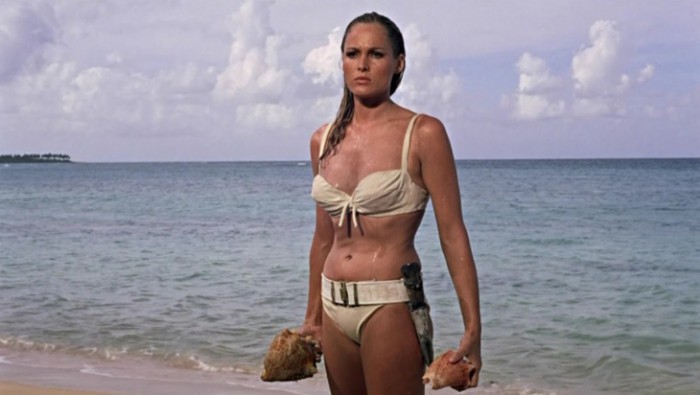 Ursula Andress' White Bikini in Dr No (1962)
Being a Bond girl can almost make any bikini scene famous, but the 1962 James Bond film 'Dr No' features the franchise's most iconic swimsuit moment with actress Ursula Andress' white bikini look. Walking from the water with a knife holstered to her belt and a seashell in hand, Ursula created a sexy and powerful look.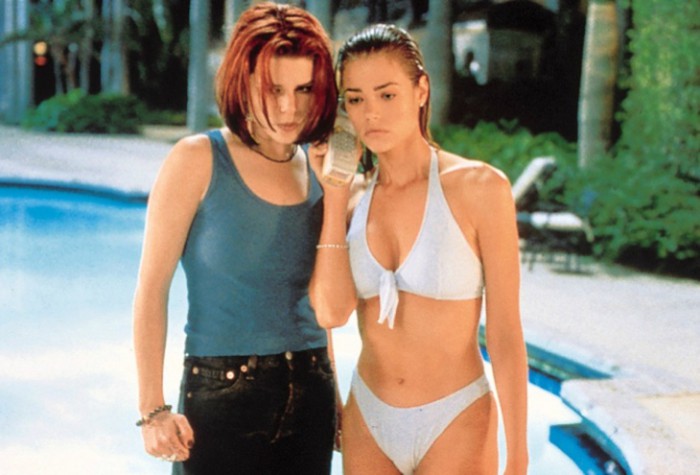 Denise Richards' Blue Bikini in Wild Things (1998)
The 1998 erotic thriller "Wild Things" was noted for its racy sex scenes, but Denise Richards also cemented her status as one of film's most memorable femme fatales in her blue bikini look. Playing the role of spoiled rich girl, Kelly, she had many guys' hearts racing in the 90s.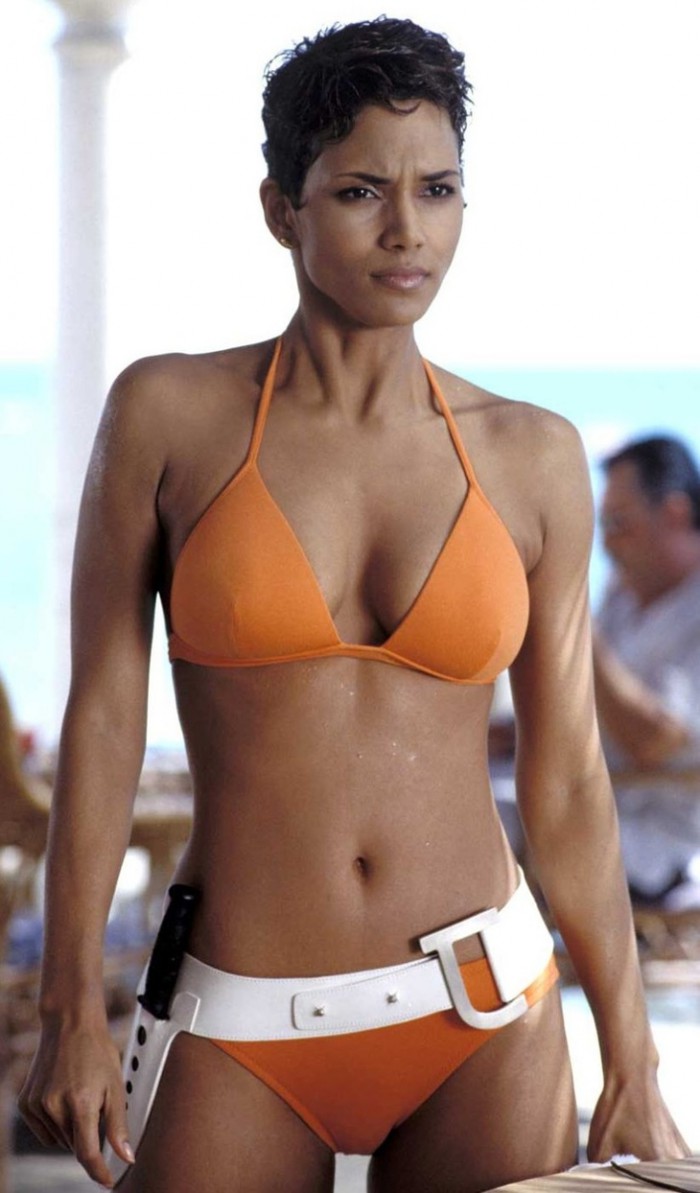 Halle Berry – Orange Bikini in Die Another Day (2002)
Halle Berry recreated the iconic Ursula Andress' bikini moment in an orange swimsuit for her 2002 role as Giacinta 'Jinx' Johnson in the 2002 James Bond film, 'Die Another Day'. With her sheared locks, Halle proved that you do not need long hair to look sexy at the beach.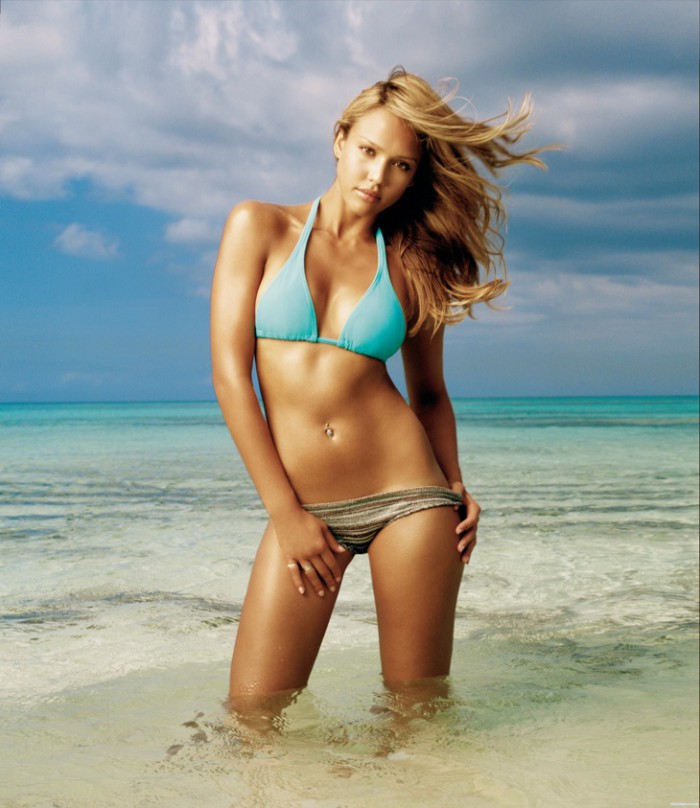 Jessica Alba – Blue Bikini in Into the Blue (1995)
After appearing in the 2005 film, "Into the Blue", actress Jessica Alba was cemented as a sex symbol in a blue bikini top and print bottoms. Her beach tousled hair also served as major beauty inspiration. Taking on the role as a diver and aspiring treasure hunter, Jessica proved to be much more than eye candy in the movie.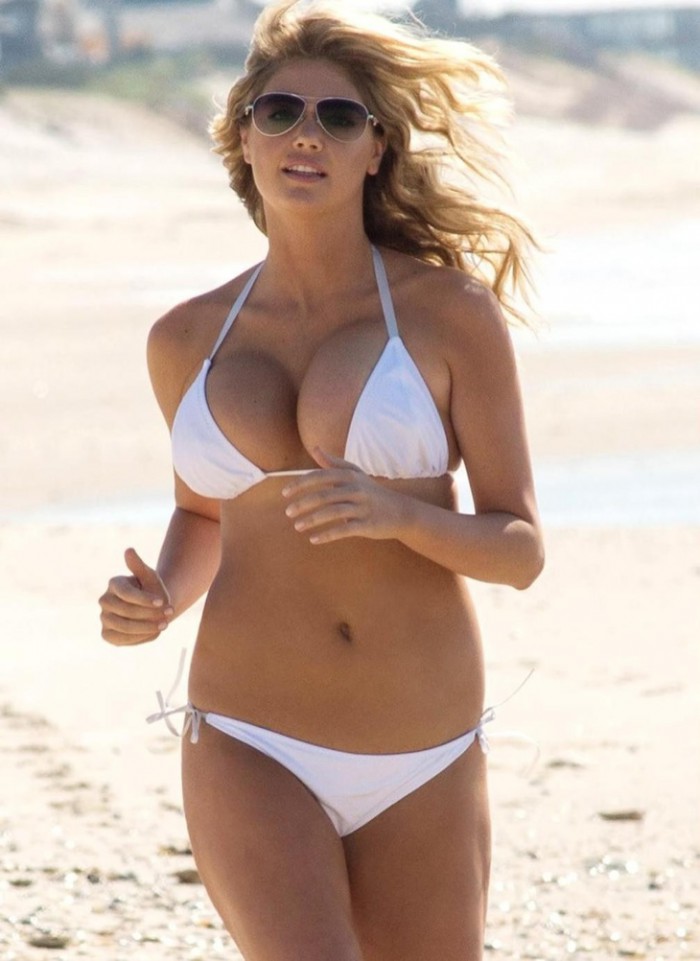 Kate Upton – White Bikini in The Other Woman (2014)
Making her first major acting role, Sports Illustrated Swimsuit model Kate Upton displayed some of her most famous assets as her character, Amber, in the 2014 film–'The Other Woman'. A scene where she ran on the beach in an itty bitty white bikini served as promotional material for the film and no doubt, had a helping part in the movie's success.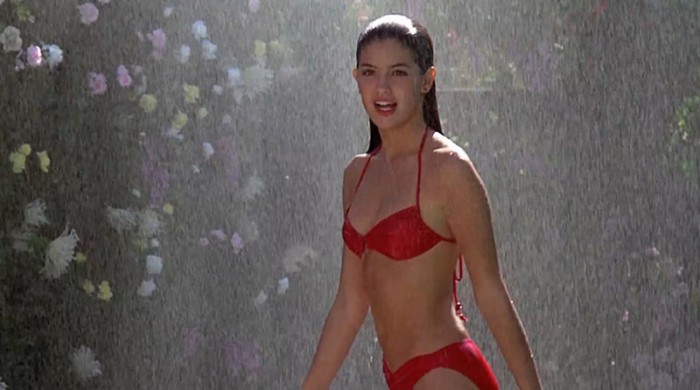 Phoebe Cates' Red Bikini in Fast Times at Ridgemont High (1982)
Who could forget Phoebe Cates' iconic bikini scene in the 1982 film, 'Fast Times at Ridgemont High'? The daydream sequence featured the actress stripping off her red bikini top to reveal…well we think you can already figure it. Cates still remains one of the most memorable actresses of the 1980s, and we are pretty sure this scene is a major reason why.