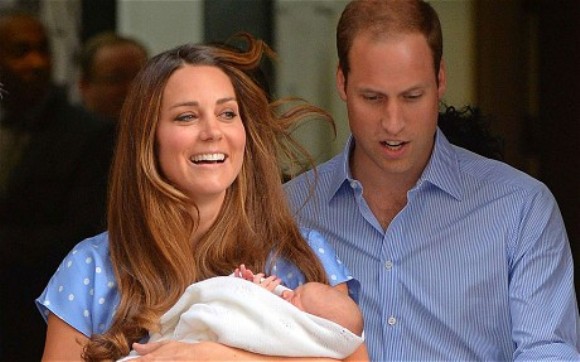 Britain's royal baby and third in line to the throne arrived here late Monday afternoon as the Duchess of Cambridge gave birth to a son whose debut on the world stage offered a fitting preview of his coming life as a global celebrity.
While the healthy & peachy 8-pounds, 6-ounce boy was born to the duchess and her husband, Prince William, at 4:24 p.m. at St. Mary's Hospital, back at Buckingham Palace, a simple typed birth announcement was placed on an easel for public viewing, a modest crowd quickly mushroomed, with well-wishers pushing and shoving to the front as if at a rock concert.
The new arrival immediately changes the line of succession to the British throne, which has been occupied by the new arrival's 87-year-old great-grandmother, Queen Elizabeth II, for more than six decades.
After so much fevered anticipation, the day of the new prince's actual arrival got off to an unexpected start when, early Monday, a pair of freelance photographers briefly hijacked the story from the control-conscious royal family.
Shortly before 6 a.m., the photographers—acting on a hunch under a nearly full moon— got a huge break when they spied the shot of a lifetime: the Duchess of Cambridge, in labor, arriving at the back entrance of St. Mary's Hospital.
If a woman's really going into labor, you don't want to have that photograph, do you?