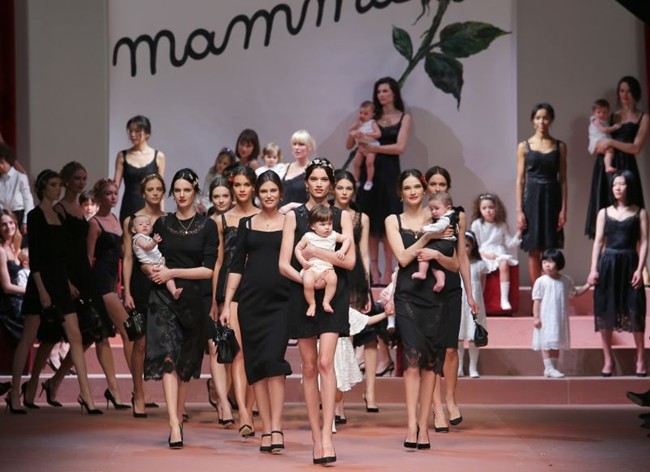 The inspiration for the Dolce & Gabbana Women's Fall/Winter 2015-2016 collection is 'The Mother' and explores how the mother is the heart of the family. Appearing on the runway stage are 11 real mothers with their children. On the catwalk, three models carried their children. Model Bianca Balti walked the runway, presently carrying her second child.
The designers' vision behind creating this collection was a very intimate and personal one. Their own relationships with their mothers largely shaped their inspiration and visualization of the collection. The story they wanted to convey this season is one of love, positivity and family. The inherent message is allowing fashion to be seen as an extension of where one comes from. This collection features new shapes, embroideries, prints and the element of collage. Shapes are fluid and simple, and fabrics soft. Combining sensual elements of the Dolce & Gabbana's DNA with contemporary pieces allows the brand to remain true to its core values.
The use of collage is symbolic of the first art children typically create. The presence of prints is central, with these made from original drawings done by children, and representative of the love notes young children first give to their mothers. The prints specifically shown on dresses were drawn by Domenico Dolce's nieces and nephews. Key element is that of the red rose, which appears on dresses both printed and embroidered; also present in the jewelry.
Handbags are made in precious skins and furs, as well as printed with collages. They are larger in size to represent the bags that working mothers traditionally carry. Smaller sized bags were shown as well, encompassing all aspects of a mother's life. Models also wear crystal-encrusted and fur headsets – the modern crown.