Chopard has collaborated with Disney and Harrods to conjure up these magical one-off pieces, inspired by the most famous of the Disney Princesses. Commenting on the partnership, Caroline Scheufele, Co-President and Artistic Director of Chopard, said: "I have always loved the world of fantasy and honoured the relationship that Chopard has with the film industry."
"The world of Walt Disney has often been an inspiration for a variety of Chopard pieces and I am very happy to have been given the opportunity to design the famous Princesses' pieces of jewellery. Cinderella, Snow White, Rapunzel… and all the other ones have been a great source of inspiration for me, giving birth to this new elegant yet playful collection of Haute Joaillerie– a perfect expression of the Chopard aesthetic."
The unique creations will be showcased exclusively at Harrods until the end of December in the Chopard boutique, Harrods Fine Jewellery Room. Here's a look at some of the exceptional pieces: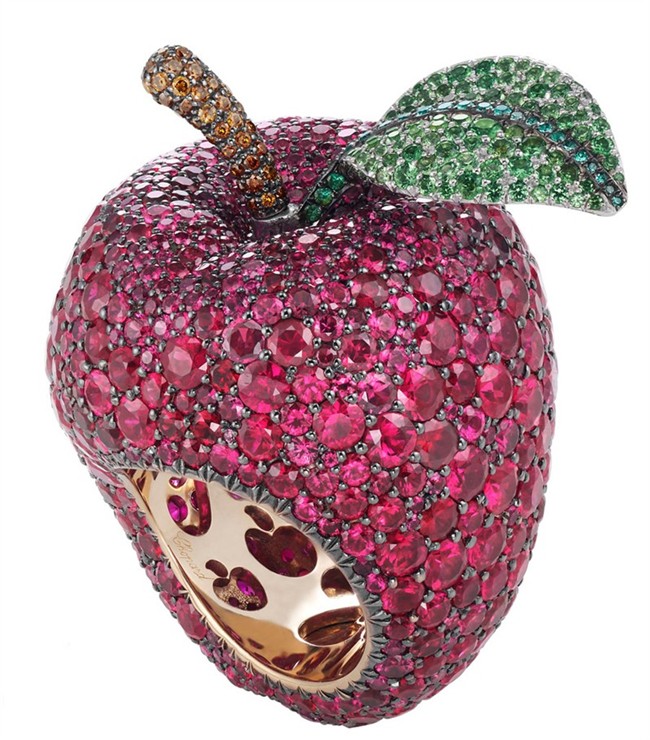 Disney and Chopard Snow White Ring
With a delicate leaf paved with round emeralds and tsavorites tethered on a stem that remains sturdy with its rare and round brown diamonds, Chopard introduces an appealing Apple ring in rose and white gold. The ring, which enrobes the wearer's finger entirely with round-cut rubies to bring out the bold hue of the perfect red apple, would surely have tempted Snow White.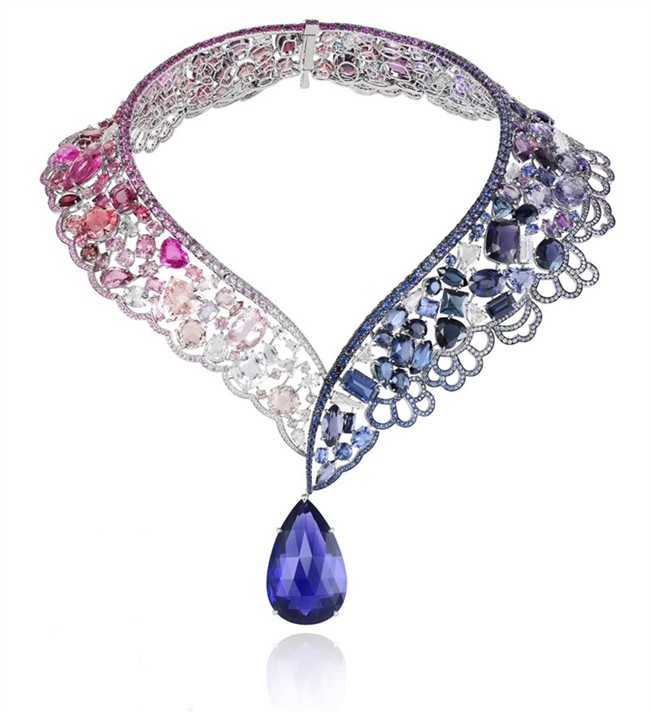 Disney and Chopard Belle necklace inspired by Beauty and the Beast
Inspired by Belle's personality from Beauty and the Beast and by the shape of her yellow gown, Chopard presents a white gold necklace set with precious and fine stones – symbolising love and the changing shades of life. The manner in which Belle's graceful gown floats from one layer into the next, so do the stones used in this piece, using shading from one side of the neck to another, starting from an electric blue 69 cts pear-shaped tanzanite and blue round sapphires, swimming through purples and violets with marquise-cut and oval amethysts. Pear, square and round-shaped rubellites add strong shades of magenta, followed by morganites, kunzites and spinels. The shading concludes with round pink and white diamonds while the heart-shaped pink sapphires, connecting back with the magnificent tanzanite, is reminiscent of her great love for her prince.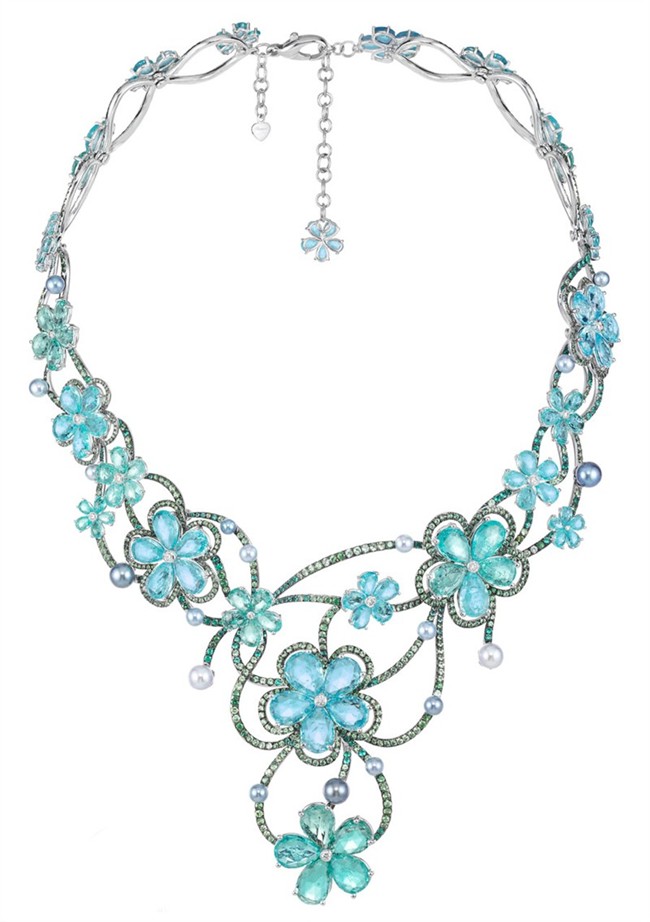 Disney and Chopard Tiana necklace inspired by The Frog Princess
Reminiscent of the floating flowers on which Tiana and her Prince from the The Princess and the Frog floated upon on their quest to end a spell, Chopard presents a significant necklace. The baby blue flowers made of briolette-cut paraibas tourmalines bring to memory the powder blue gown worn by Tiana on the night she met her Prince. This high jewellery creation was designed with intertwined branches paved with sublime tsavorites and forest green emeralds, meeting at junctions with luscious pearls of the greatest sheen. The necklace is a visual melody, from one tourmaline flower, via an emerald branch, across a pearl, a tsavorite bridge and on to the next paraibas flower – the precious and fine stones appear to be in a jazzy harmony.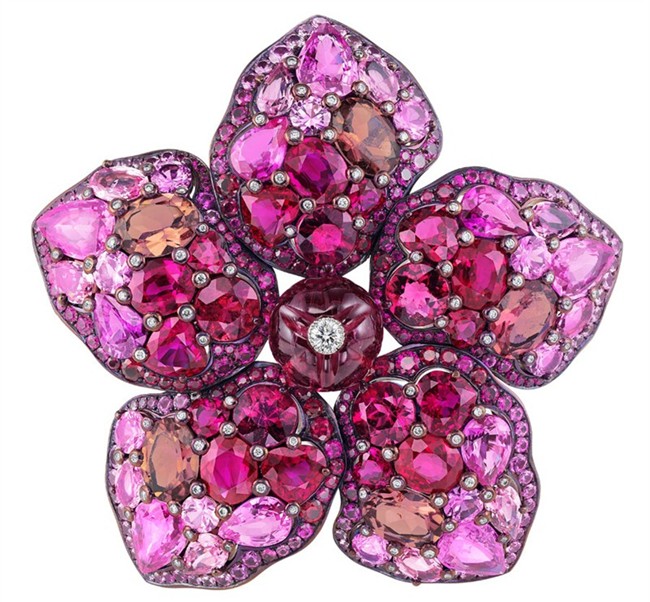 Disney and Chopard Mulan brooch
Representing the fighting spirit of Mulan is a gallant brooch in the shape of a glittering flower. Decorated as a bud with an impressive rubellite cabochon at the centre of the piece, the circular and smooth surface of this vibrant stone is a testament to the infinite reaches that the brave Mulan was willing to climb in order to protect her dynasty. This rare flower speaks volumes with its important rubies cut in squares and ovals, round rubellites, round and pear-shaped pink sapphires, violet and pink spinels and oval pink tourmalines – every shade of Mulan's spirit is celebrated: not simply that of a warrior but also of a sensitive and loving woman, her personality appropriately represented in an array of vivid hues.