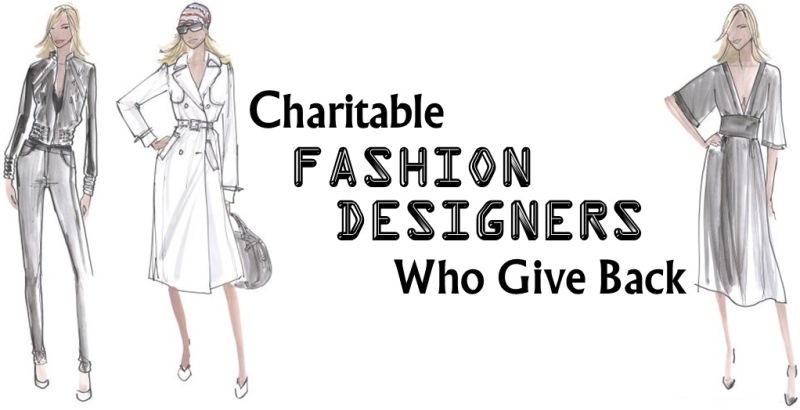 CHARITY: The Pink Pony Fund and The Ralph Lauren Center for Cancer Care and Prevention
"Breast cancer isn't just a woman's issue — it affects all of us: brothers, husbands, fathers, children, friends. Too many Americans suffer disproportionately from cancer because they lack access to basic, quality health care. The Pink Pony campaign is our effort to bring adequate care to underserved communities. It is my hope that people everywhere are able to receive the screenings that make it possible to detect cancer at an earlier, more curable stage." — Ralph Lauren
Learn more at ralphlauren.com.
CHARITY: Versace One Foundation
"Being a mother of two, I am drawn to helping children. I have supported many charities, but the earthquake that struck the Sichuan region of China in 2007 really had a huge impact on me. It destroyed so many schools and affected the lives of so many children. I had to do something. So I joined forces with Chinese actor Jet Li, and together we created the Versace One Foundation. Through it we have opened two centers in that region to provide support for kids in the area. If I can bring positive psychological help to children, then it's just one more step toward a better, more perfect world."
Learn more at versace.com.
CHARITY: amfAR (The Foundation for AIDS Research)
"In a crowded room, you can scream and no one will hear you. But in a huge, quiet auditorium, you can whisper and everyone will hear you. It was as quiet as could be in 1985 when we ran our first AIDS awareness campaign. If you spoke about HIV in those days, you were presumed to be either Haitian, gay, or an IV drug user — and therefore at risk. Because I wasn't in any of the at-risk groups, I thought I should do something to help get rid of the stigma. We've come a long way — people are living longer, healthier lives — but in many ways, we haven't come far at all. If we don't find a cure, millions will continue to die. What we stand for is more important than what we stand in. If alone you can't change the world, you can certainly be an accessory."
Learn more at awearnessblog.com.
PATRICK ROBINSON, Creative Director, Gap
CAUSE: P.A.C.E. (Personal Advancement, Career Enhancement)
"I'm really interested in people — always have been. No matter where they come from or what color they are, people always teach you something. That's why I work for Gap. As a company, it's involved in charities like (PRODUCT) RED, but it's also responsible in the way it treats people — not just employees but cultures worldwide. It truly is Gap's calling to help you see the world differently and want to make it better. Sure, you can make clothes around the world, but you have to help people while you do it — give them the chance to grow into a middle class in their countries. And that is huge."
Learn more at gapinc.com/socialresponsibility.
CHARITY: Breast Cancer Research Foundation
"My assistant in the '80s grew up in a family where three generations all died of breast cancer. She was in her 20s and healthy but thinking about having a mastectomy. So we started thinking of how we could make noise about the issue. That's the biggest thing — making noise. When people don't see something on the front page, they think it's under control. Things have definitely progressed — but there's still no cure. My life partner's mom had breast cancer for 35 years. She was an incredibly powerful, strong woman. Now I'm committed to the cause, not just for my friends, family, and clients, but really, for her. She proved that with the right care and attitude, you're going to go on and live life."
Learn more at bcrfcure.org.
CHARITY: New Yorkers for Children
"Every child deserves a proper education and the support of a family — whether it is the family that they are born into or the one that finds them. New Yorkers for Children finds these young people and gives them a family. They lend their support and their means — encouraging every child, regardless of their past, to go after their dreams and build their futures. And for me, there is nothing more important in the world than to make a child smile."
Learn more at newyorkersforchildren.org.
ANGELA MISSONI, Creative Director, Missoni
CHARITY: Orphan Aid Africa
"Giving back has always been important to me and my family. We have been so blessed. No matter how busy you are, you have to set aside time for others. We got involved in Orphan Aid Africa after my daughter, Margherita, traveled to Africa. During her time there, Orphan Aid became a charity very near to her heart and continues to be to this day. I will do anything I can to help raise awareness for the cause. There are so many changes that I would like to see happen, but the most important thing to give these children is hope."
Learn more at oafrica.org.
JAMES FERRAGAMO, Women's Accessories Director, Salvatore Ferragamo
CHARITY: GlobalGiving
"My grandfather Salvatore Ferragamo hailed from a small Italian village. When the earthquake struck L'Aquila, Italy, last April, it hit close to home. We were adamant about helping the victims of the destruction, so we partnered with GlobalGiving — which had implemented a successful Earthquake Relief Fund. We held an online auction of celebrity-owned-and-signed Ferragamo handbags to benefit the cause. Through GlobalGiving, people all over the world easily bid on the auction items or donated directly to the cause. I encourage people to find a cause that's close to them and donate. We owe it to ourselves to make some difference in the world."
Learn more at globalgiving.com.
FRIDA GIANNINI, Creative Director, Gucci
CHARITY: UNICEF (The United Nations Children's Fund)
"There are so many preventable tragedies in the world, and once you open your eyes to that fact, it is impossible to ignore. Everybody is capable of contributing in some way — small or large — to help alleviate human suffering. In a perfect world, many problems would be solved and no children would die from preventable causes. Sadly, that is not the case right now, so for the moment I am happy that we can help save lives one by one. There is still so much work to be done, though. Hopefully the contributions that we have made to UNICEF — over $7 million to date — will inspire people to not only be aware, but to get involved."
Learn more at gucci.com/unicef.
CHARITY: Vital Voices
"All women are strong. I have yet to meet one who isn't. They simply don't exist. When I first heard about Vital Voices and its mission, I knew I'd found an organization that believes in what I believe: that women worldwide should be given the tools and resources they need to be successful on their own. My ultimate dream is to empower every woman on this earth to be the best woman she can be."
Learn more at vitalvoices.org.
CHRISTOPHER BAILEY, Creative Director, Burberry
CHARITY: The Burberry Foundation
"The Burberry Foundation started when Angela [Ahrendts, CEO of Burberry] realized that every one of us has had the chance to pursue our dreams. We wanted to help young people figure out what their dreams are and to go after them with confidence and creativity. Creativity helps us to solve problems, to communicate effectively, to imagine our dreams and express our experiences. The aim of the Foundation really is to empower young people to imagine and achieve their life goals, whatever they may be."
Learn more at burberry.com.
ALESSANDRO BENETTON, Executive Vice Chairman, Benetton Group
 CHARITY: Africa Works
"Social and environmental equity are huge challenges, but they can no longer be put off. We need to shake things up, come out of our comfort zone, and take a risk to rediscover a vision of the world that's brighter and more open-minded. I can see that in today's society, young people are taking these values and applying them in their everyday lives. And that's an exciting sign!"
Learn more at benetton.com/africaworks.
CHARITY: The Urban Zen Foundation
"I've always thought that if there's a problem, there has to be a solution. Even as a child, during the Cold War, I said, 'I'm just going to go to Russia and talk to Khrushchev.' I didn't see what the big problem was. We should all just talk about it. And that's what Urban Zen is about — starting a community of dialogue. We've created a center in New York City where people can come together and truly create change — from our health care to education to the preservation of our cultures. It's not about me doing it. It's about the power of the collective consciousness."
Learn more at urbanzen.org.
NICOLA BULGARI, Vice Chairman, Bulgari Group
CHARITY: Save the Children
"It's within everyone's self to help others, particularly children who are so neglected and abandoned in so many parts of the world that we never hear about. My wish is for the world to be more sensitive to this. I have four daughters myself and many grandchildren. We have to protect all children the best that we can."
To learn more or topurchase Bulgari'sspecial-edition Save theChildren ring (picturedhere), go to bulgari.com.
CHARITY: PRODUCT (RED)
"I am convinced that ethics and profits can coexist. RED is an initiative that rises above the concept of charity into the realm of ethical business, introducing a system of financial redistribution aimed at solving — at least in part — one of the greatest scourges of Africa, AIDS. RED offers people the chance to satisfy their desires while being useful and generous at the same time. This is the truly splendid idea that underlies this project."
Learn more at emporioarmani.com/.
(Source: MarieClaire)