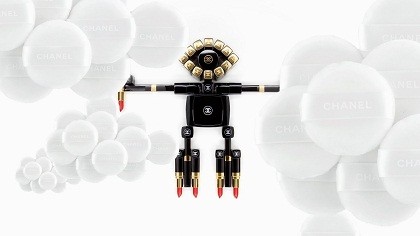 Peter Philips, Creative Director of Chanel makeup, has presented his latest makeup fantasy, an animation starring five robots.
The robots – entirely composed of Chanel Makeup products – fly, jump and strike poses in the short piece which will be debuted to the public at the end of February.
"A few years ago I made these little robots, that were part of a headpiece i created for a tribal makeup shooting… that's where the idea first came from", explained Philips.
"I then had the chance to play with these characters and do an animation, that's how my little robots came to life".
The clip will be available at Chanel-Confidential, a digital platform dedicated to Chanel makeup and Philips' creations.