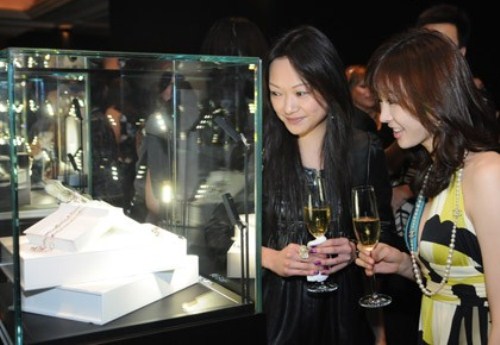 Parisian luxury house Chanel debuted its 2009 High Jewelry collection at the Mandarin Oriental Hong Kong recently. In a tribute to the brand's first high jewelry offerings, the current collection is entitled 1932 Bijoux de Diamants.
Hong Kong jewelry enthusiasts Pansy Ho, Sir and Lady Andrew Yuen, Karen Suen, Ms. Deidre Fu, Ms. Mara Rhomberg, Ms. Kennis Tai, Ms. Marie Zhuge and Ms. Charlotte Chen were present to celebrate with the brand.
Five giant books – Comètes Fontaine, Navettes Etoilées, Haute Couture and Camélia Poudré – told the story of the high jewelry collection. Also on show was an antique platinum Comètes diamond necklace.