You think that's a lush oil painting by your bed post, but you're wrong. It's a window, and outside, a gorgeous view overlooks the sprawling mountainous region where you are. Lush landscapes bloom beneath the bluest sky. It's a perfect view; a stunning getaway from civilization. At around 1000 meters above sea level, the mountain cabin is situated in Piateda, Italy, in the surroundings of Sondrio on the Orobie Alps. In this 2015 design, mountain architecture reaches a new high with Casa VI by Alfredo Vanotti.
In a gorgeous juxtaposition between the old and new world, the sleek modern interior is an unexpected companion to its stonewall exterior. The cabin was built atop an existing ruin, featuring solar radiation, natural lighting in the in the living quarters and a stunning view through the great valley.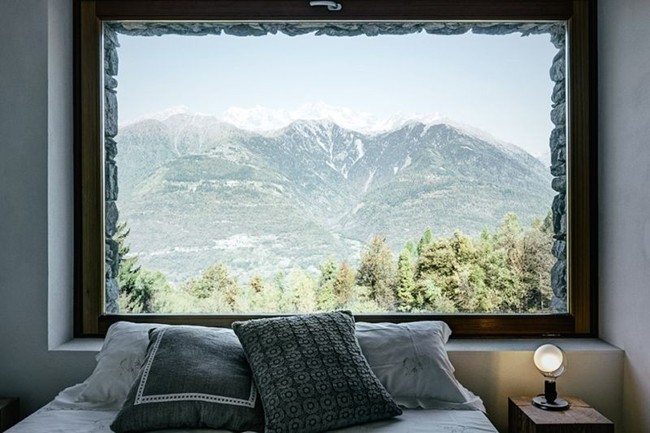 Vanotti worked with sunshine and light in mind, selecting a uniquely layered roof that faces south, ensuring sunlight all year through skylight and openings. The cabin features a basic groundwork of a ground floor entrance, a living room, a kitchen and a bathroom, with the upstairs unit featuring two bedrooms and a loft which can function as an office.
Said Vanotti, "Knowing those circumstances, after a careful analysis of the context, the possibilities in terms of exposure, from a study of the sunlight during the twelve months and the study of technologies and values of mountain architecture, I realized the project thanks to a reinterpretation of modern construction techniques and materials taken from the past. I believe that mountain architecture can be considered a prime example of sustainable architecture."
In his new design, Vanotti wanted to pay homage to the local craftmanship, and made sure to include homely pieces from his personal design such as the homemade fireplace, table, chairs, stairs, bidet, sink and toilet.
(Photos: © Marcello Mariana)