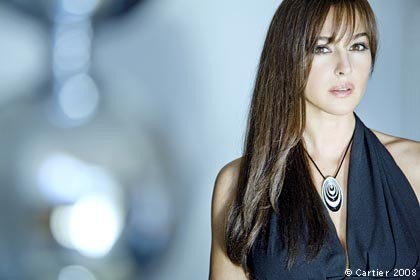 We reported on the 'Attraction in black and white' from famed Parisian jeweler Cartier and now we are updating this story with fresh pictures, this time with Cartier personality Monica Bellucci wearing items from the collection, which includes earrings, necklaces, bracelets and rings.
Belucci is also seen here (below) on the arm of Bernard Fornas, President and CEO of Cartier International at the first anniversary of its boutique in the Red Square, Moscow.  She sports an exquisite Cartier ruby necklace here that is not part of the 'Attraction' collection.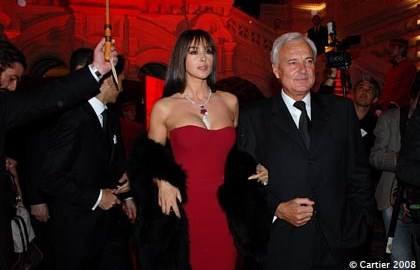 Themed "Attraction in black and white", the jewelry is executed in Cartier's design-forward aesthetic, with the slinky Maillon Panthere de Cartier and elegant Caresse d'orchidees par Cartier standing out.
The floral touches are not the only nods to the mondaine as white gold, black ceramic, onyx, mother-of-pearl and black sapphires add luster to the play of black against white, and vice versa.
Cartier's inheritance from the early part of the 20th Century is on full display here, as is the maison's mastery of the grammar of geometry (with nods to Art Deco).
We leave you with the sentiments of Jean Cocteau – the artist for whom Cartier created a sword: "Cartier, the subtle magician, who dangles slivers of the moon on a thread of sun."