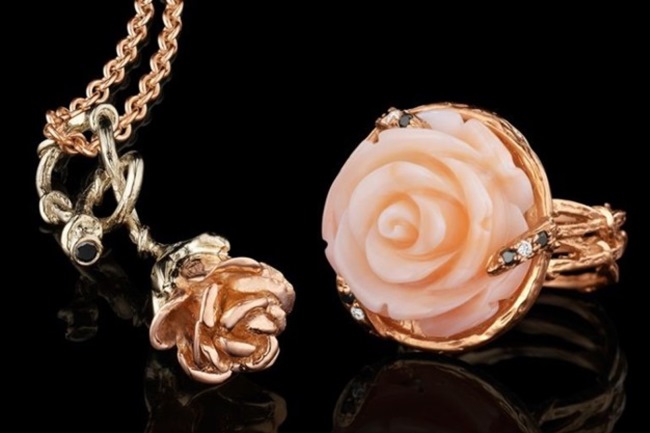 There's something sort of titillating about buying edgy, luxury jewelry. Spending a serious chunk of change on diamonds, pearls and timeless precious metals seems like a no-brainer; almost everyone has invested in gems at one point or another, but to invest the same into a thorny jade heart or twisted, spider-vine solitaire takes serious style. Not everyone can pull of a coral and diamond shark tooth necklace—and not everyone will want to. But to the women who love a little glamorous edge, get your credit cards ready for the designs at Karen Karch.
Having been in the jewelry business for 25 years, Karch began designing when she attended Parsons School of Design. Upon her graduation in 1989 she was instantly known for unique, avant-garde looks and a way of looking at luxury jewelry that broke away from the mold. She opened her first boutique, originally named Push, in NoLita's Mulberry Street before renaming her brand and opening her new store in Gramercy Park in 2006. Now the eponymous label caters to a clientele of celebrities and socialites who see the creativity in her artistry. Celine Dion, David Bowie, Shailene Woodley, Michelle Williams, Britney Spears, Mariska Hargitay, Vincent D'Onofrio, Courtney Love and Megan Fox are all fans.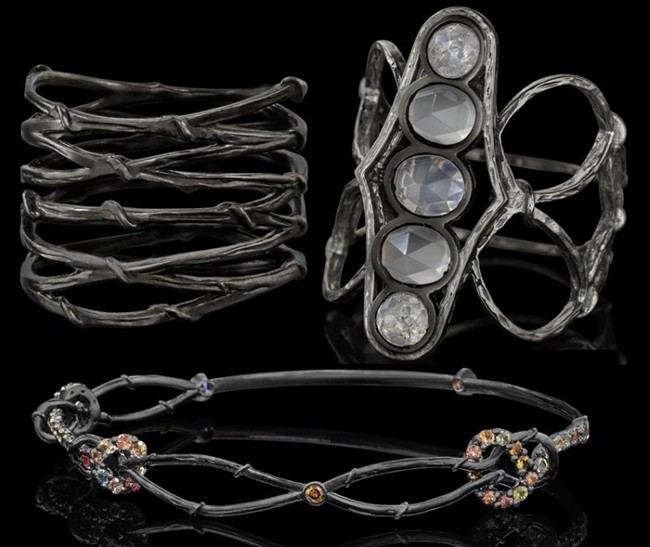 So with so many celebs toting the brand it's got to be gorgeous right? Yes, but it's not a matter a beauty, it's whether or not we have enough presence to pull them off.  We love her thick, gold band choker, but if not styled correctly you could look like an extra from Eyes Wide Shut at your next gala—not a good look (unless of course you're into that sort of thing). Pulling her inspiration from contradictions in the world around her (like a well-heeled S&M party?) some of our favorite pieces have a pretty cool story behind them, like the Belgian Tiara Ring, which was inspired by a photo of Queen Elisabeth of Belgium wearing a tiara upside down on her head.
With this open spirit about design, the same is to be expected when it comes to her metals and gems. Corals are mixed with diamonds, colored stones are mixed together for a nonchalant look and precious metals are hammered and twisted into stunning contortions. But even with pieces that defy convention, they complement each other beautifully and create a one-of-a-kind look that other fashion lovers might not dare to emulate.