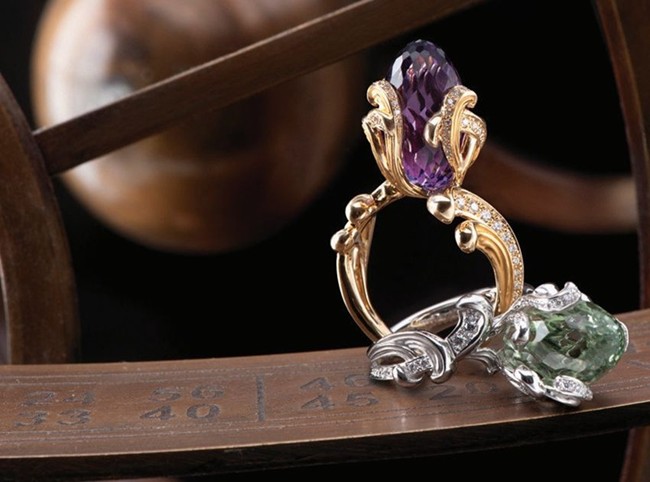 Carrera y Carrera's latest Origen collection features pieces with an avant-garde style and a vintage finish for powerful and sinuous shapes full of strength, culminating in the brilliance of amethysts and prasiolites – jewels that surprise us with all of the energy and power of fire. The pieces in the new collection are works of art that burn with passion, awakening desire in any woman. Surely a collection for for bold, daring, and determined women.
Origen is a collection consisting of rings, necklaces, and earrings that represent fire as the source and key element. Among other pieces, the maxi ring in yellow gold with diamonds and amethyst, and also in white gold with diamonds and prasiolite, truly stand out.  These jewels feature stones with a cut of singular beauty and special sizes exclusive to Carrera y Carrera.  The setting requires a complicated mechanism.  For this work, the master goldsmiths of Carrera y Carrera connect each part of the piece to create a whole without using conventional methods.
Two symbolic colors represent the two featured gemstones.  Amethyst represents inanimate nature – the minerals.  After the earth, life is created – prasiolite, symbolizing vegetation. The necklace, the earrings, and the ring in yellow gold and diamonds personify the trendier version of the collection. The movement of the medium ring emulates a live and powerful fire. The spirals are shapes in nature considered the source of the beginning of everything.  The powers of nature are represented with these forms that make up an explosion of life.