Carmen Chaplin
British actress-producer Carmen Chaplin, Charlie Chaplin's granddaughter, and the Manufacture from the Vallée de Joux had a moving story to share at SIHH 2013.
Chaplin's short film, A time for Everything, pays tribute to time, heritage and reveals the Jaeger-LeCoultre Memovox watch of her grand-father, Charlie Chaplin. Carmen Chaplin and Jaeger-LeCoultre have enjoyed a long and intimate relationship, starting from her grandfather's own friendship with the brand. Together, they decided to create an art project that was revealed on the occasion of Jaeger-LeCoultre's 180th anniversary.
When Charlie Chaplin settled in Switzerland, the government wished to give a welcome present to the man whose talent had made an indelible mark on cinematic history. Charles Spencer Chaplin received a Jaeger-LeCoultre timepiece featuring a back engraved with the words: Hommage du gouvernement vaudois à Charlie Chaplin – 6 octobre 1953, which translates to "A tribute from the government of the Canton of Vaud to Charlie Chaplin – October 6th 1953″. This historical watch was displayed at this year's SIHH.
To mark the passage of 180 years of its existence, the manufacture also decided to immortalize the memory of Charlie Chaplin and his watch by asking Carmen Chaplin to direct a short film on the theme of time.
"My grandfather's watch particularly moves me, because he gave it to my father, Michael Chaplin, his son, when he turned 14," said Carmen Chaplin. "Then my dad gave it to my mum as proof of their love on their wedding day. It was a real good-luck charm because they have been in love now for 45 years."
Jaeger-leCoultre CEO Jerome Lambert and Carmen Chaplin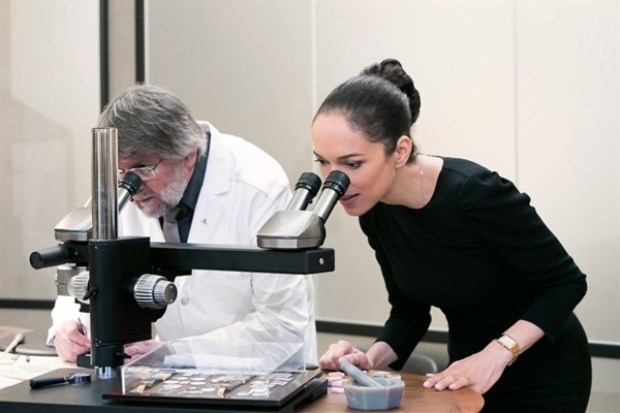 Carmen Chaplin examining her grandfather's timepiece and other Jaeger-LeCoultre watches at SIHH 2013