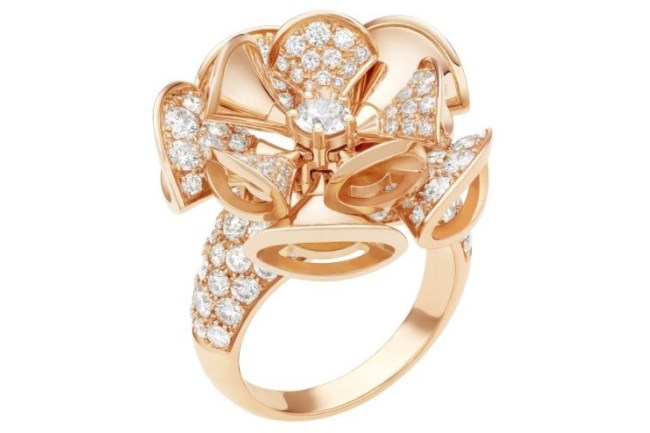 Inspired by Elizabeth Taylor's Egyptian make-up in Cleopatra, Bulgari's Diva collection features rings, necklaces, bracelets and earrings that are exquisitely crafted from white and pink gold. In a surprising aesthetic metamorphosis that utilizes a playful geometric pattern, the pieces in the collection are adorned with beads of amethyst, peridot or rubellite providing small central diamonds with a modern reinterpretation of the renowned cabochon cut that has been used by Bulgari since the end of the 1950s.
A recurring symbol in the Bulgari's Diva collection, the chalice, is represented by elegantly stylized petals that blossom sumptuously. Some pieces crafted from white gold are covered with pave diamonds, while others feature the ethereal whiteness of the pearl, which serves as a counterpoint to the lustrous surface of the gold.
Above all, the Diva collection should be lauded for its perfect wearability – which is typical of Bulgari's jewelry. The fine collection boasts a style is both chic and casual, and will definitely be a graceful addition to any wardrobe.