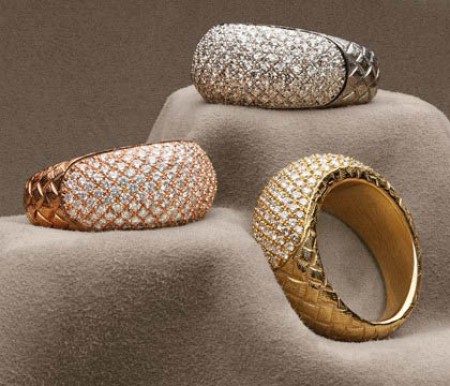 Italian luxury fashion house Bottega Veneta have launched their dazzling new jewelry collection, a line of elegant pieces illuminated not only by glittering pavé diamonds, but multi-faceted precious metals – no doubt inspirited by the interwoven leather bags that the marque has become famous for.
Finished in yellow, white and rose gold, the bangles, earrings, bracelets and rings in the collection offer a little bit of everything. From sharp lines and hard edges, smooth curvatures and spherical forms, flawless reflections and rich textures, to timeless elegance and trendy playfulness, each piece adds its own unique touch of glamor to any look.
With Bottega Veneta's team of dedicated craftsmen delicately engineering the balance of simple geometry and intricate detail, and the contrast of textures and finishes, the collection is truly distinctive and versatile, filled with unforgettable pieces that promise to dazzle both day and night.