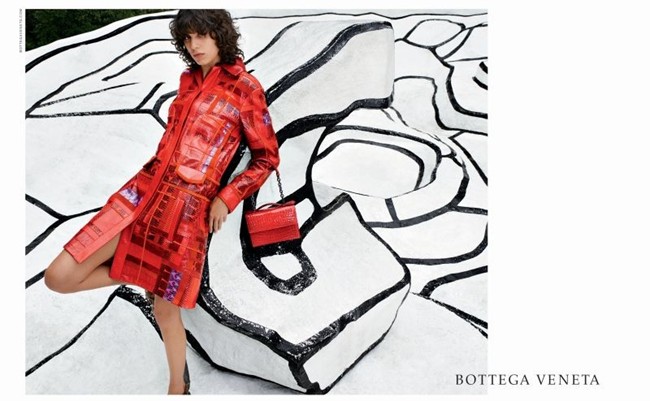 As spring flowers bloom after a long winter's stretch, so does Bottega Veneta's Spring-Summer 2016 Campaign, featuring a triumphant collaboration with Dutch Photographer Viviane Sassen. The Jardin d'émail by Jean Dubuffet in Kroller-Muller Museum's sculpture gardens provides a stunning backdrop for this season's latest instalment of the Art of Collaboration with Viviane Sassen.
With a black and white background that's anything but plain, the sprawling installation depicts the afterglow of spring emerging, revealing bustling bold colors juxtaposed against winter melting away. Likewise, this year's Bottega Veneta Spring Summer 2016 Campaign features the vibrant energy and spirit of a season of warmth and fresh flowers, with a boldly enigmatic twist.
Renowned for her abstract style and fine art background, Viviane Sassen injects a dose of her childhood in Kenya, where her unique perspective was drawn from her experiences with people, colors and a remarkable sense of light and darkness. She prefers an outdoor arena for her photography where she best employs her trademark elements of mystery, enigma and a sense of atmosphere.