Biotherm launched its Summer 2013 Sun care collection in April 2013.
Making sunscreens that combine innovation, protection, pleasure and hydration, our hallmark since 1960, Biotherm takes its sensorial approach to suncare to the next level in 2013 with three sublime textures, each combining a moment of luxury skincare with sustained sun protection. Keeping the sun's rays at bay, only pleasure filters in.
Multiposition Milky Sun Mist Water Resistant
The mist's multiposition application means it can be sprayed on quickly and easily in any position, even upside down. Handier than conventional sun creams since it is quicker applied. Signature to all Biotherm's suncare products, the mist provides the intense hydration for sundried skin; moisturizing like a luxury body lotion – leaving skin protected and softened in quick-time.
Is available as SPF 30 and SPF 50 ultra-fine emulsion that provides a delightfully fluid, non-greasy texture allowing for optimal dispersion, rapid absorption, non-whitening and non-sticky finish.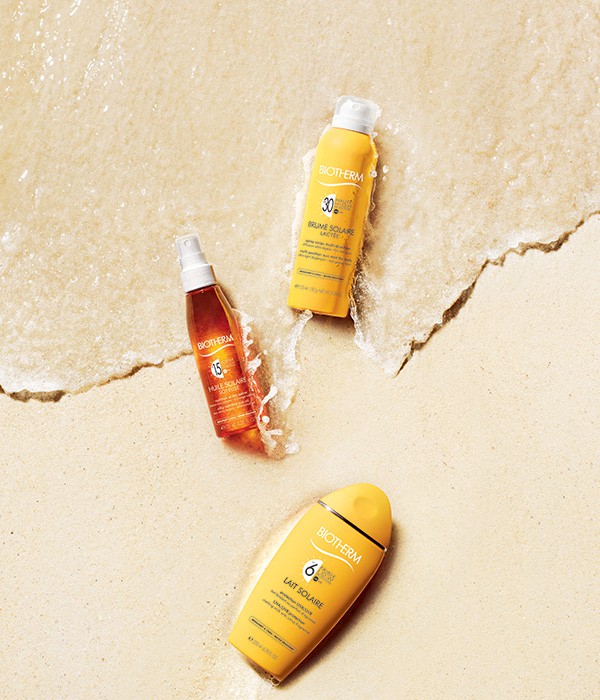 Silky Nutrition Sun Oil Water Resistant
Biotherm revolutionizes the sun oil category, traditionally symptomatic of low protection, with a new generation of sun oil. Characterized by their enhanced spreading qualities on the skin's surface, this new-generation oil provides optimized protection in a deliciously silky texture.
Biotherm's new oil technology offers 3X more UVB protection than classic oils and twice as much protection from UVA rays. The filter boosters allow the oil to maintain its cosmetic qualities, richly nourishing and silky soft. This deeply nutritious, rich and protective formula nourishes sun-exposed skin, leaving it softened, silky and sublime. Available with SPF 15 for medium protection and SPF 6 for low protection.
Melting Milk with Citrus Fragrance Water Resistant
An invigorating citrus fragrance, a delicate texture, a burst of freshness, all with deeply luxurious hydration, Lait Solaire Melting Milk SPF6 provides the much-loved properties of Lait Solaire, inspired by Biotherm's iconic body milk lotion Lait Corporel: only now in lower protection SPF 6. Offering a moment of pure sun-filled pleasure, Lait Solaire results in a non-sticky, soft touch and a velvety finish.
Lait Solaire defends the skin against sun rays through a broad spectrum photostable filter system to deflect both UVA and UVB rays. This patented multi-filter system is associated with Vitamin E to neutralize free radicals and thermal plankton to soothe skin and boost its natural
defenses. Skin maintains its sun-kissed glow even longer thanks to Lait Solaire's moisturizing properties, while its signature citrus fragrance leaves skin subtly summer-scented. For her, for him, for the face and the body – this universal milk is suited to every holiday and skincare need.
Is available as SPF 6 for low protection, SPF 15 for medium protection, SPF 30 and SPF 50 for high protection.
Oligo-Thermal Milk After Sun
High moisture at the service of a luminous, long-lasting tan.
Alleviates overheating after overexposure to the sun. Enriched with Pure Extract of Thermal Plankton, trace minerals and Vitamins B5 and E, this formula immediately soothes and promotes cellular regeneration in sun-damaged skin.
Immediate refreshing action: Shea butter, apricot kernel, black current and seed essential oils nourish the skin to prevent dehydration for softer skin.
Moisturized and soothed, the skin reveals a luminous and long-lasting tan.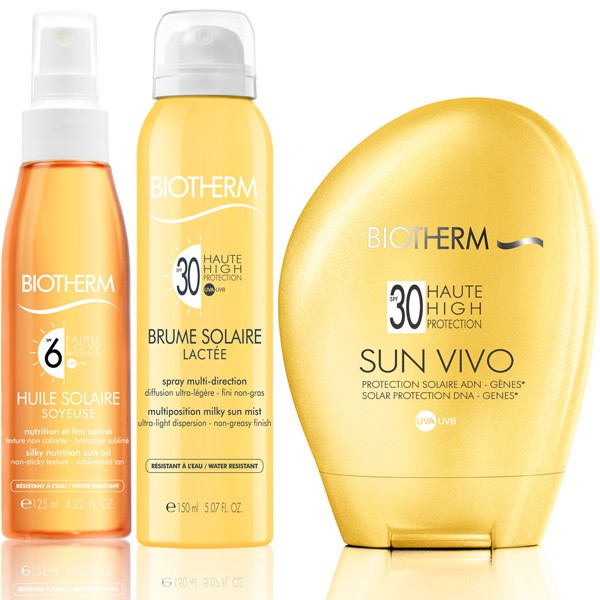 Sun Vivo Solar Protection DNA – Genes Advanced Anti-Aging Care (Face & Body)
Biotherm creates SUN VIVO, the 1st solar protection DNA – GENES* combining Pure Thermal Plankton and Reverserol SV to combat solar aging. This patented association stimulates the mechanisms of cellular self-defense and self-reparation**. The Mexoryl® SX and XL filters defend the skin against UVA/UVB rays. Advanced performance against solar aging: anti-wrinkles • brown spots • sagging. Melt-in gel for body – Instant absorption. Water resistant.
Sun Vivo for face is available in SPF 15, SPF 30 and SPF 50 for 50 ml/ 1.7 fl oz while Sun Vivo for Body is available in SPF 15, SPF 30 and SPF 50 for 100 ml/ 3.38 fl oz.
Results:
DNA-GENES sun protection
Advanced solar anti-aging action, triple performance: anti-wrinkles, anti-brown spots, anti-sagging
A healthy glow
Skin youth is preserved