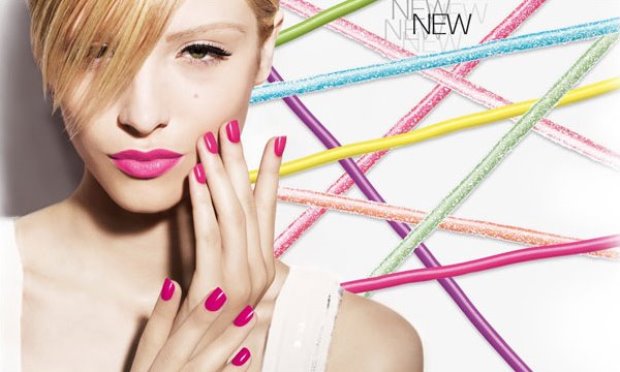 BeYu have launched Summer 2013 Pastel Meets Neon Collection, a  nail polish range featuring soft pastels and electric neon tones.
Pastel is all the rage and this summer he will even be combined with neon. Explosives will now face Tender. Soft and funky presents the new Pastel Neon meets Kollektionvon BeYu: Subtle sorbet tones representing the Sugar Shine Nail Lacquer and vibrant colors Neon Splash Nail Lacquer.
Candy's tempting to that are coated with fine sugar crystals, reminiscent of Sugar Shine Nail Lacquer. This heritage special effect paint after drying developed an extraordinary effect: Soft brushed the ground color appears, come to the surface of the fine, crystal-like particles. On the fingernails produces a sparkling sand effect, which is seen and felt.
Sugar Shine Nail Lacquer
With the five subtle shades of sorbet Sugar Shine Nail Lacquer nails look like dipped in sugar:
– No 812 Sweet Apricot
– No 815 Lolly Rose
– No 816 Pink Candy
– No 819 Iced Blue
– No 824 Apple Sorbet
Neon Splash Nail Lacquer
An essential statement for the summer is the Neon Splash Nail Lacquer. The strong vibrant neon luminosity is achieved by the Long-Lasting Nail Lacquer Just White # 265 is applied under the Neon Splash Nail Lacquer.
– #982 Lemon Splash
– #983 Kiwi Splash
– #984 Raspberry Splash
– #985 Blueberry Splash
– #265 Just White