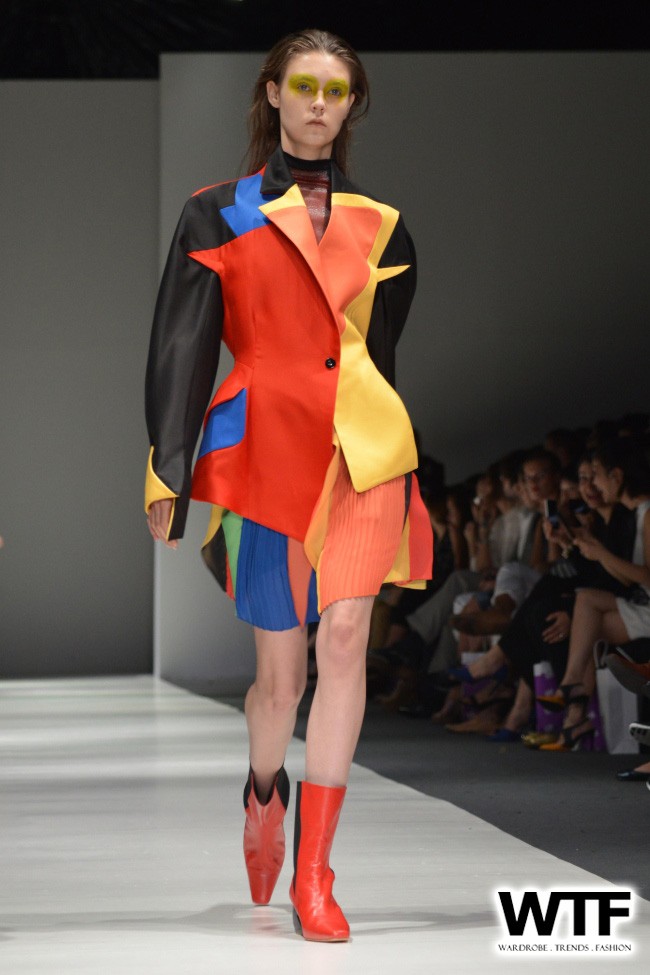 Despite being a relatively young designer, Thomas Tait has shown intelligence and maturity as he re-examines and redefines femininity each season, pushing against both personal and conventional boundaries during his show at Audi Fashion Festival 2014. For FW14, he looked upon colours – in your face colours of mustard ochre, bright red, cyan blue and emerald green – and assembled them into asymmetric bustiers with nipped in waist, sculptural wool coats that were reminiscent of earlier Mugler days and a series of multistriped blouses and dresses in satin.
The general strong structure and strictness in silhouette was broken by a few asymmetric shimmery dresses made from silk chiffon woven with Lurex, which tightly skimmed the models' bodies as they strode down the runway.
The models walked at a breakneck pace to a remixed electro soundtrack with lyrics "I just thought I'd call before I throw myself into an icy lake", styled in equally arresting colored gloves and eye makeup, with pointed boots, which gave the show a slight underlay of macabre.
Altogether, Tait has once again pulled together a high-impact show displaying his versatility as a designer, and focused vision on artistic direction and production concept. It is no wonder that he has just won the first inaugural LVMH prize for young designers. With a panel comprising of the fashion industry's biggest names – Karl Lagerfeld of Chanel, Phoebe Philo of Celine, Raf Simmons of Dior and several others, Tait beat fierce competition from 11 other designers to cinch the top prize of €300,000 and a year-long mentorship. Now I can't wait to see what he comes up with next.
Photography by Christopher Tan