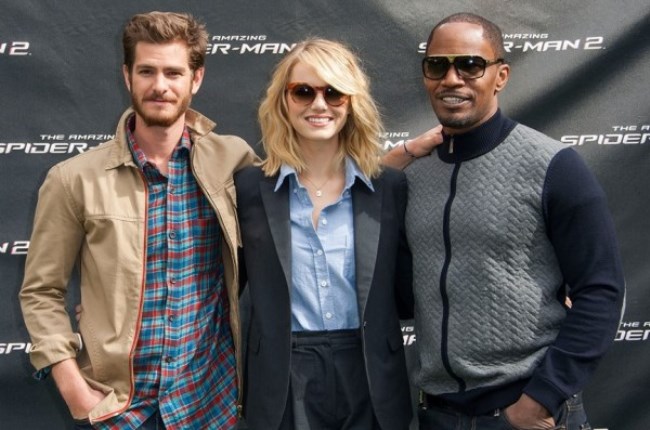 The cast of upcoming motion picture The Amazing Spider-Man 2 will be in Singapore to turn off the Marina Bay lights in celebration of Earth Hour. Andrew Garfield, Emma Stone and Jamie Foxx will join the movie's director Mark Webb and Spider-Man himself in Earth Hour celebrations here on March 29, after an announcement was made in a press conference Thursday morning.
This year, Singapore will play host to the official Earth Hour global celebration in a partnership between WWF Singapore and Earth Hour Global. The stars will also be supporting new crowd-funding platform Earth Hour Blue, which seeks to support projects that aid the environment.
"Since moving to Singapore, one of the world's greatest hub cities, Earth Hour has positioned itself in the region with a rapidly growing digital presence that has helped power our movement," said Earth Hour CEO and co-founder Andy Ridley on the movement's shift to its current headquarters here.
The Spiderman cast are each supporting individual projects under Earth Hour Blue. While Andrew Garfield is supporting the 'A Flame Called Hope' project which aims to provide clean bio-gas energy for Nepalese communities, Emma Stone is supporting the 'Puppy Protectors' project which aims to train sniffer dog puppies and their handlers to track down illegal animal trading and killing in Nepal's Chitwan National Park.
Director Mark Webb will be a judge on WWF Singapore's film competition, 'Use Your Power', which will highlight works by young filmmakers tackling the connections between people and environmental issues. WWF is also involved in Earth Hour Blue with a campaign to expose and end the illegal sale of target wildlife species within Singapore.
For more information, visit the Earth Hour Singapore microsite.