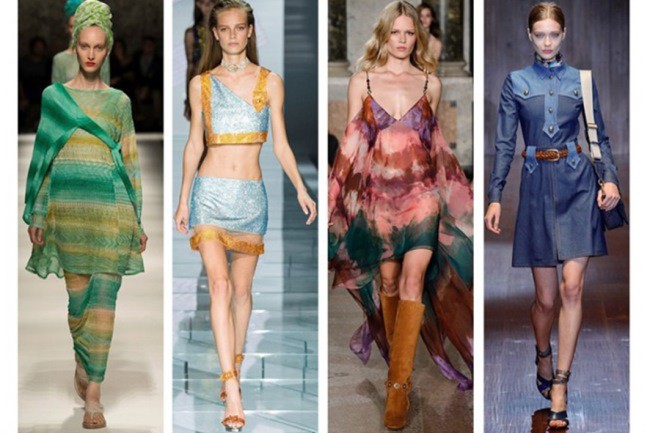 Spring 2015 Trends at Milan – With the final day of Paris Fashion Week being today, and thus, the whirlwind that is Fashion Month comes to a close, we take a look back at Milan's top four trends.
From Prada to Gucci to Versace, some of the trends even turned out to be surprising. Who could have predicted that denim would have such a major moment?
Discover four amazing trends from Milan Fashion Week below.
———————————–
TREND #1 – Romantic Bohemian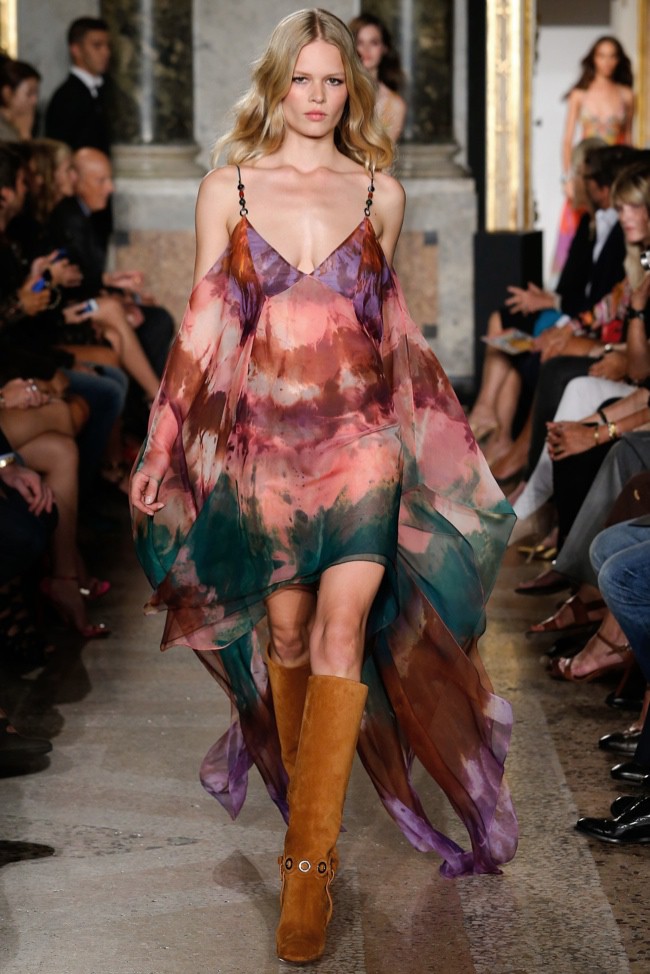 Time to embrace the bohemian spirit of spring thanks to brands like Emilio Pucci which brought a seventies inspired vibe to the season with tie-dye prints and floaty maxi dresses. Jewelry necklines brought a fresh spin to the long hemlines.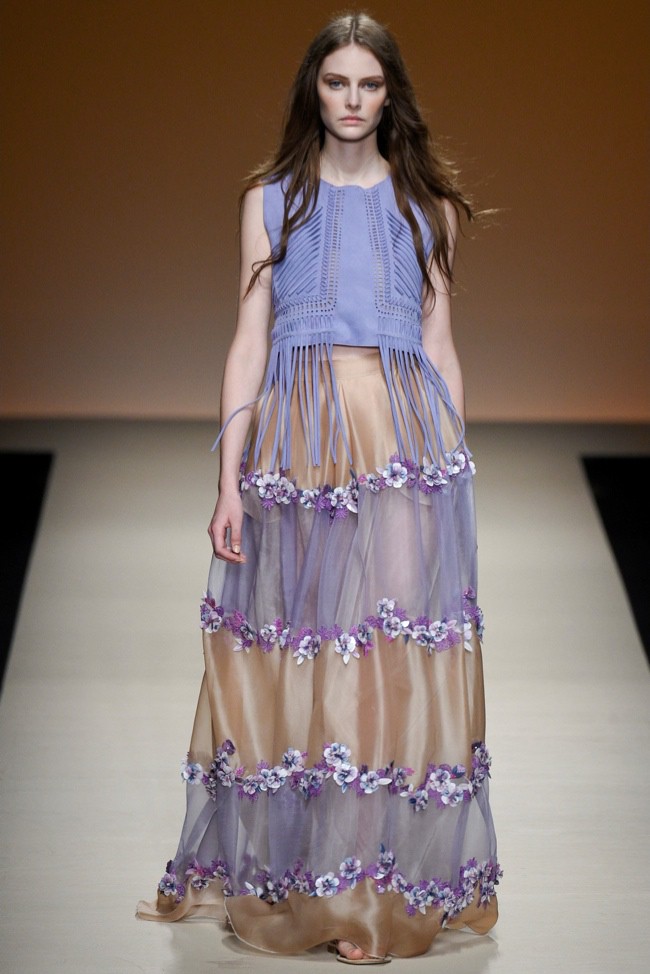 At Alberta Ferretti, the Italian designer went 70s hippy with an outing of florals, fringe and distressed styles. 3-D florals juxtaposed with bold stripes brought this bohemian girl back down to the ground in her earth goddess looks.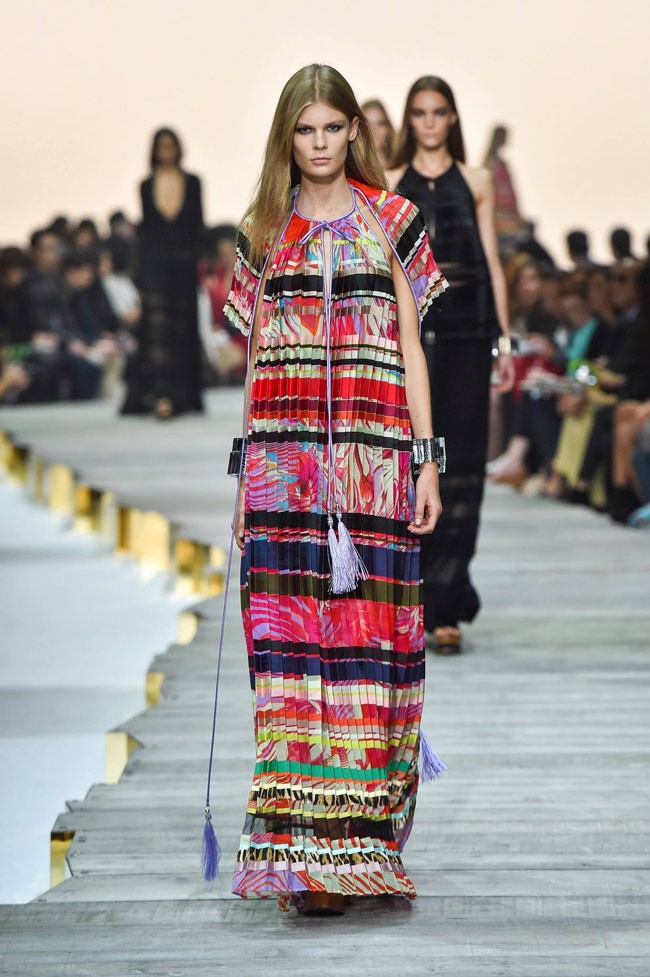 A love for prints and color makes Roberto Cavalli one of the premier designers for the bohemian trend for spring 2015. From romantic lace embroideries to floating silhouettes, the Cavalli woman lets her inner diva shine.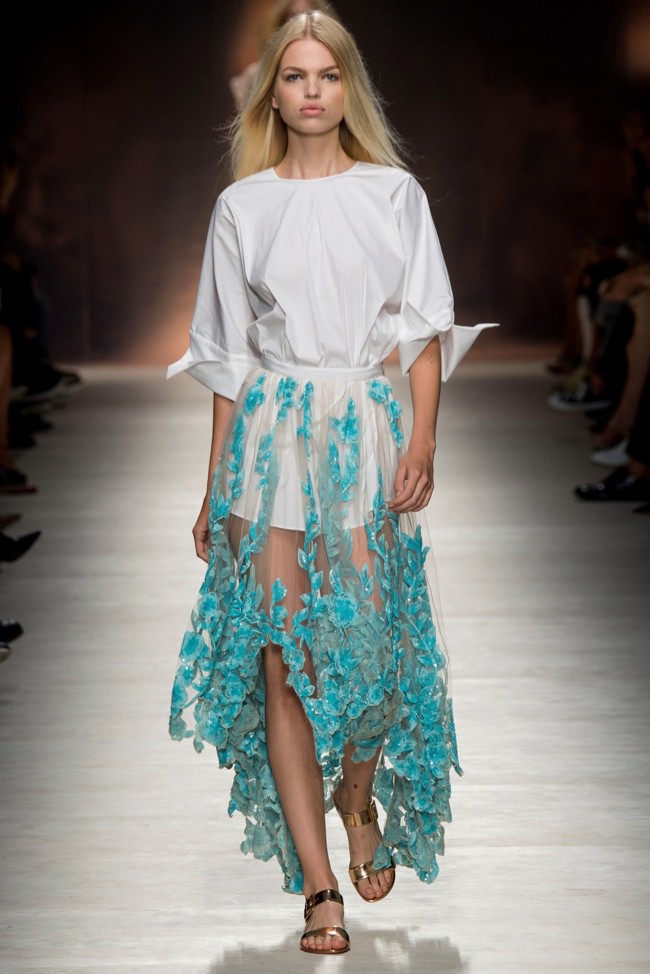 Blooming flowers served as the inspiration for Blumarine's spring show which boasted off colorful looks with a sensually romantic vibe. From 3-D textiles to light ruffles, it's all about embracing Mother Nature.
———————————–
TREND #2 – Covered Up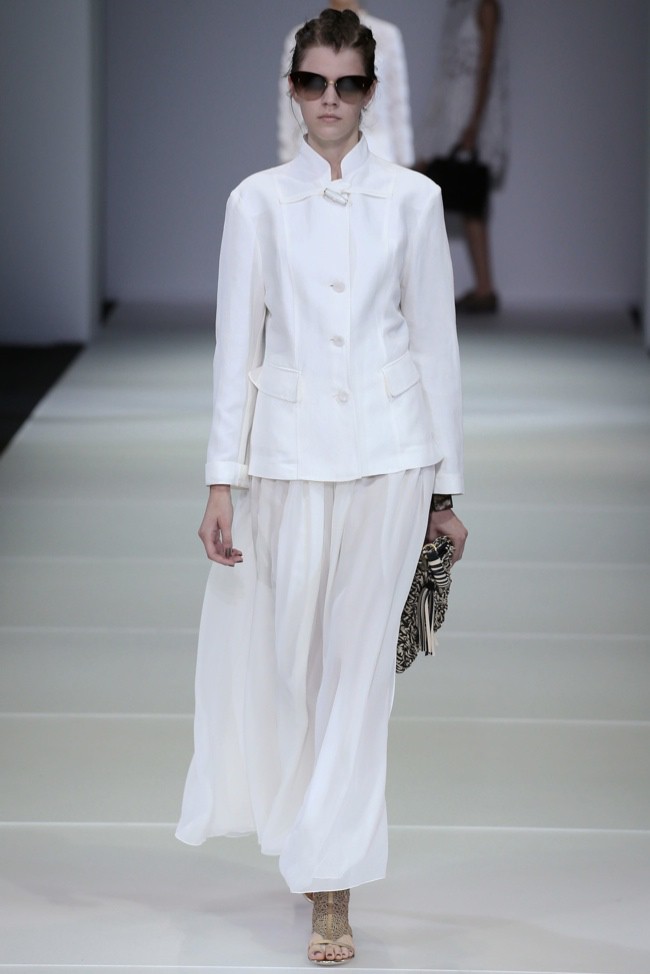 It may be spring, but in Milan, a few designers showed that showing less skin pays off even in warm weather looks. Giorgio Armani's sea sirens kept it demure in light overcoats paired with mannish inspired shoes and wide-legged trousers as well as culotte cuts.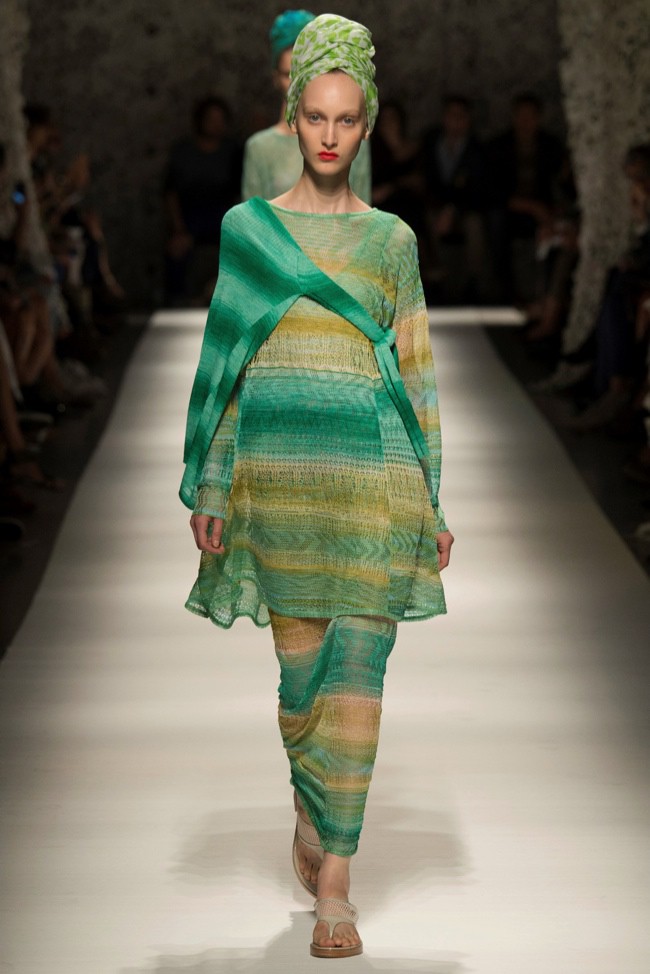 At Missoni, designer Angela Missoni found inspiration in summer dressing with light layering that was more about protecting skin from the sun rather than exposing it. Colorful, ombre effects brought an almost watercolor look to the spring showing.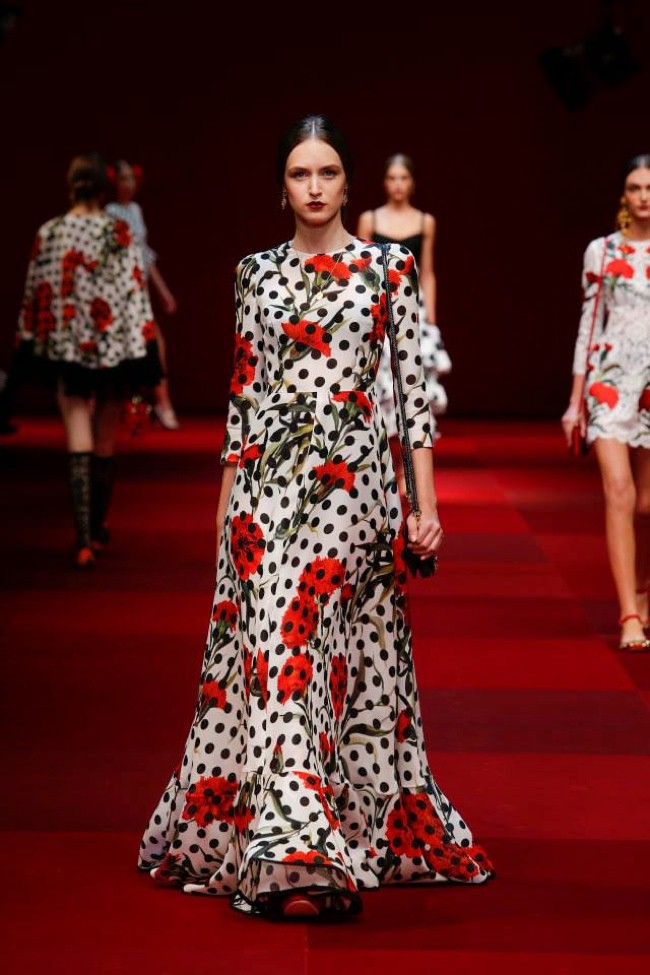 Dolce & Gabbana's Sicilian beauties had some Spanish influence for spring 2015 with an elegant outing featuring plenty of rose and heart motifs. From ladylike lace to sheer coverups, it was all about keeping a woman's modesty.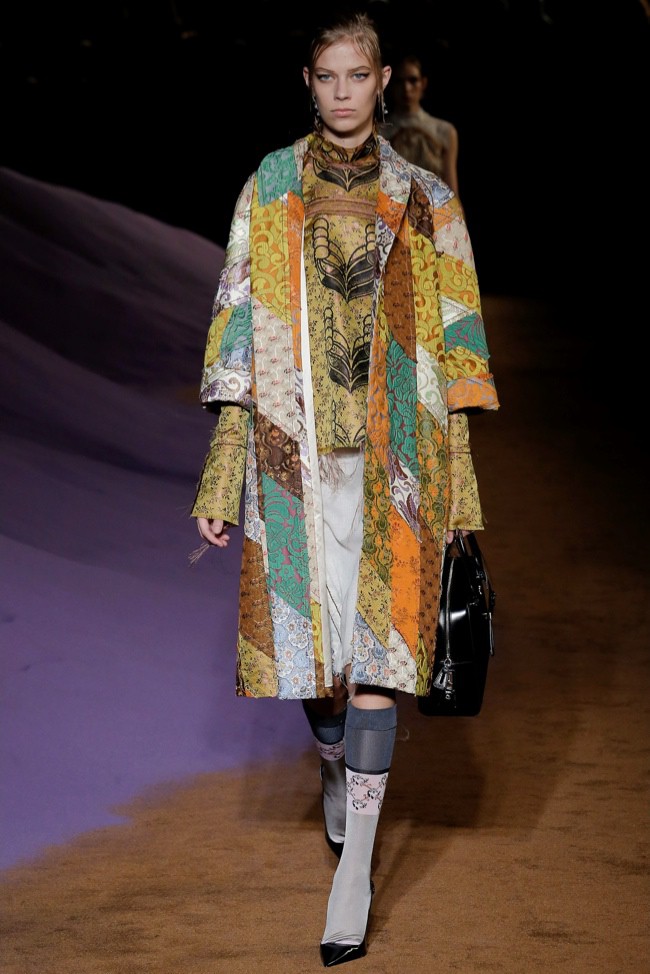 Miuccia Prada found influence in old world techniques such as brocades and embroideries for the label's spring 2015 collection. It also meant that skirts and outerwear remained at mid to maxi length for quite the powerful statement.
———————————–
TREND #3 – Luxe Denim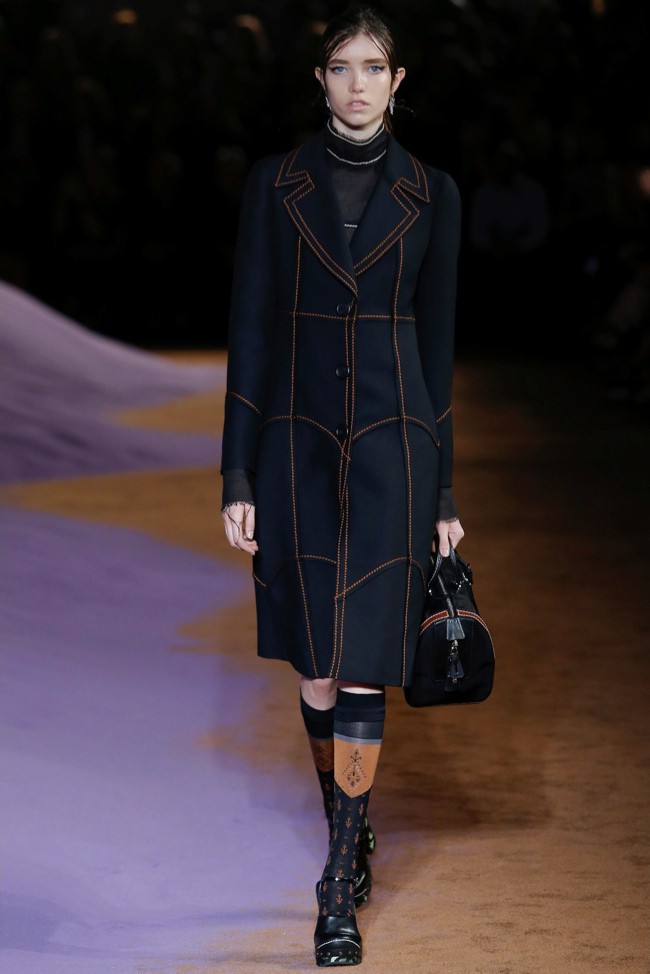 Denim on the runways of Milan was a look carried over from London and New York. However, the Italian set managed to bring a fresh spin on the casual fabric with luxe embellishments and modern cuts. Take Prada's spring runway show for instance which featured brocades of the 19th century for today.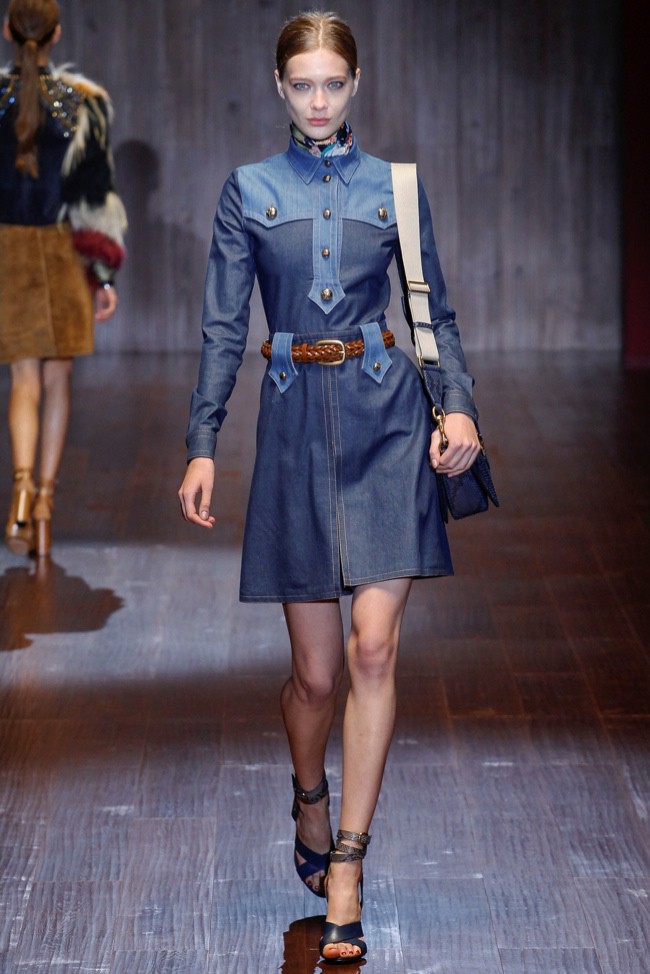 Frida Gianinni took on the seventies for for Gucci's spring 2015 runway shows. It also included an updated version of denim styles including dresses, pants and skirts. Paired with glam boots and accessories, denim is no longer about just being casual.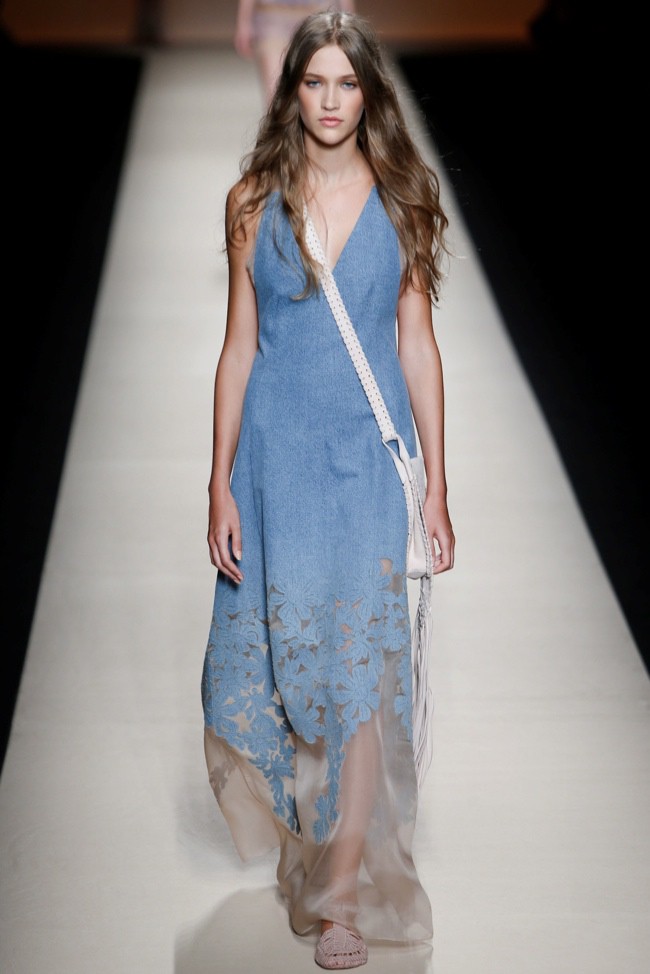 At Alberta Ferretti, being a bohemian princess also meant taking on denim dresses embellished with 3D textiles. One could imagine a girl living in the forest with these fairytale inspired creations.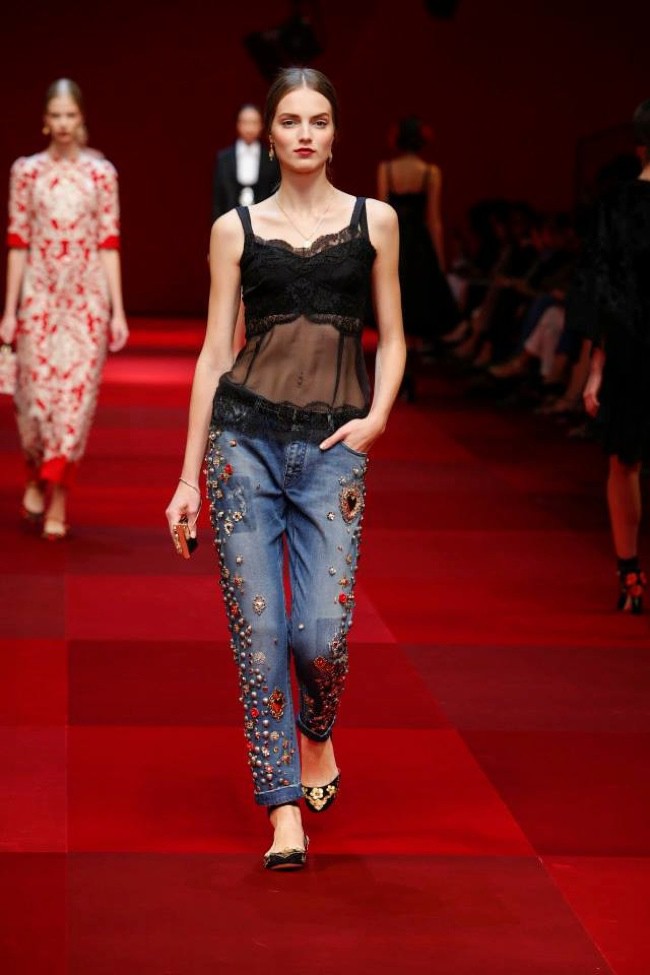 Italian designers Dolce & Gabbana added some relaxation to its Spanish inspired spring show with embellished denim jeans. Paired with sheer, almost lingerie tops, there is no taking the glamour away from the D&G woman this season.
———————————–
TREND #4 – Shine Factor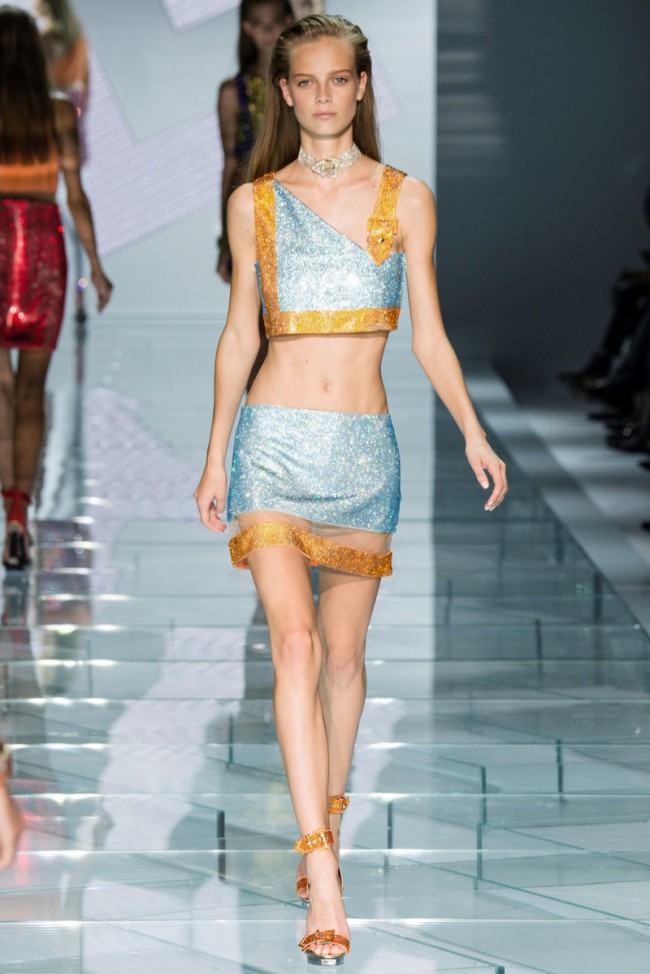 It was time to shine at the Milan runway shows. From colorful metallic fabrics to bold sequins and crystal embellishments, there is no dampening the bright lights of spring 2015. Brands like Versace showed off glittered looks with some sex appeal to really turn up the glam.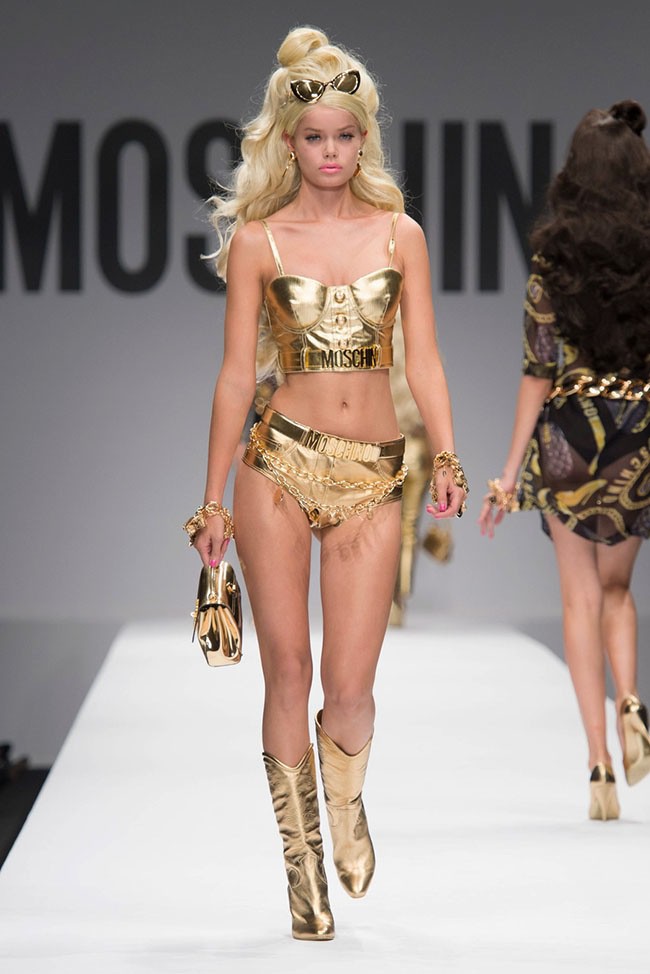 At Moschino, Jeremy Scott's Barbie dolls hit the runway in full on plastic-fantastic fun. This included gold metallic pieces such as gold lamé dresses and crop tops.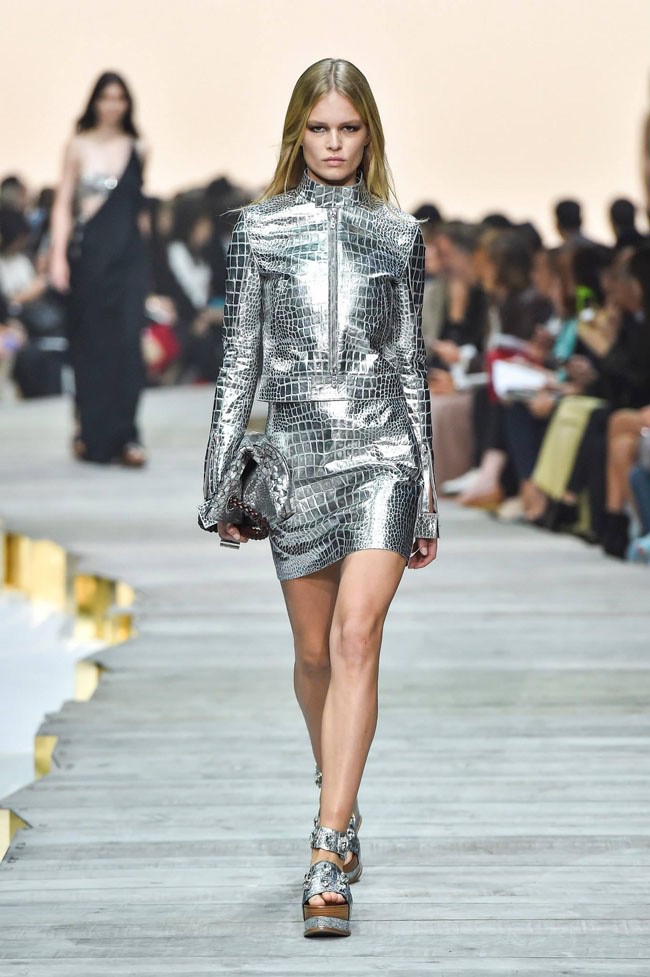 Rock and roll chic was not only about prints and textiles. Roberto Cavalli included a metallic silver number in his spring preview.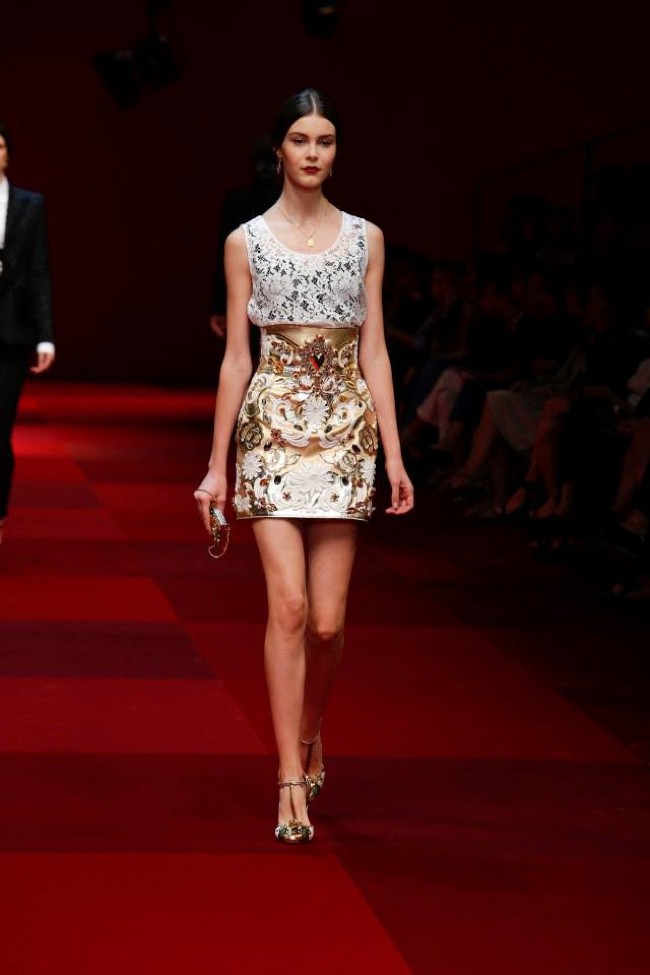 Dolce & Gabbana turned on the embellishment for its spring runway preview featuring gold-plated bustiers as well as crystal adornments for an almost royal look.