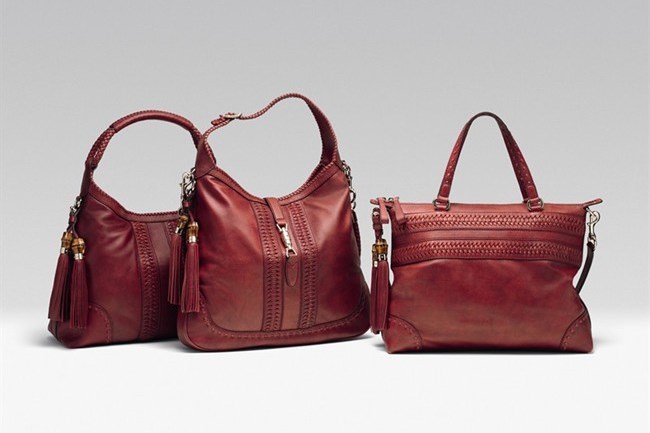 The new Gucci Green Collection suite of handbags
These gorgeous Gucci bags are the perfect accessory for the green-conscious woman who is squeamish about leather production but who doesn't want to be wearing Stella McCartney all the time. Envisioned by Creative Director Frida Giannini as another step towards the Italian house's move to ecological consciousness.
Made from zero deforestation-certified Amazon leather, these are the world's first handbags to be certified as such, and will feature an inner label embossed with the "Gucci for Green Carpet Challenge" script and will be accompanied by the Gucci GCC passport, which documents the origin and traceability of the handbag. Best of all, the Florentine fashion powerhouse has pledged to donate 50,000 euros to the good folks at National Wildlife Federation, an organization that works to promote sustainable, ecologically-sourced Brazilian leather.
Comprising the hobo, top-handle tote with detachable shoulder strap and the iconic New Jackie bag, all three models are made from hand-selected natural calfskin originating in Brazil, with craftsmanship respecting important environmental issues such as traceability and anti-deforestation. We love the deep, warm burgundy hue, and include hand-stitching and woven detailing for textural interest – a perfect complement to the burnished gold hardware and glazed bamboo tassels.
"I believe that today more than ever before customers want to be associated with brands that are thoughtful and responsible. Through our sustainability, humanitarian and philanthropic actions we would like Gucci to not just be synonymous with Made in Italy, but also Made with integrity," said Giannini. "This project with the Green Carpet Challenge was conceived to show how we can be proactive on environmental issues, by raising awareness and demonstrating action on the subject of deforestation."
The line will be available at select Gucci flagships stores worldwide and on gucci.com in the US and Europefrom February 2013.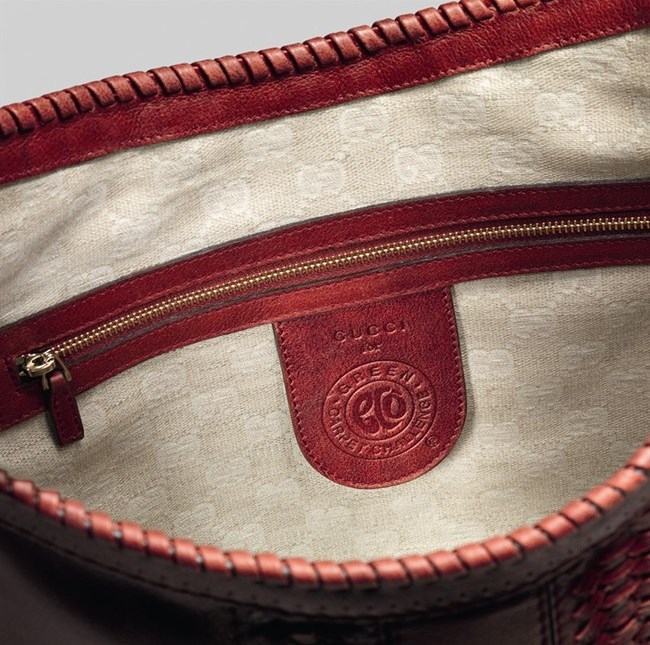 Detail on the inside of the bag showing the organic cotton lining and the new "Gucci for Green Carpet Challenge" stamp