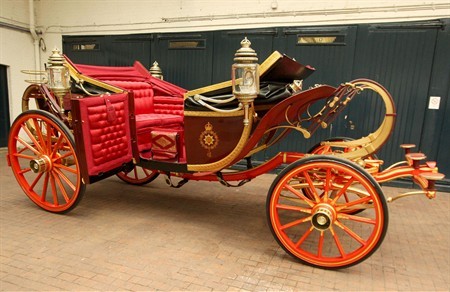 The wedding carriages of Prince William and Kate Middleton have been unveiled and are currently being restored in the Royal Mews.
Should the weather permit, the lush 1902 State Landau carriage (above) will be used to transport Prince William and his bride-to-be, Kate Middleton back to Buckingham Palace. Originally built for King Edward VII in 1902, the State Landau is usually used by Queen Elizabeth II to meet foreign heads of state when they arrive on state visits to Britain.
In case of tempestuous weather, the closed Glass Couch (below) shall be called upon as replacement. Built in 1881 and used at King George V's Coronation in 1911, the Glass Coach has carried previous Royal brides – including Lady Diana Spencer and Sarah Ferguson – to their wedding services.
(Source: Royal Wedding)