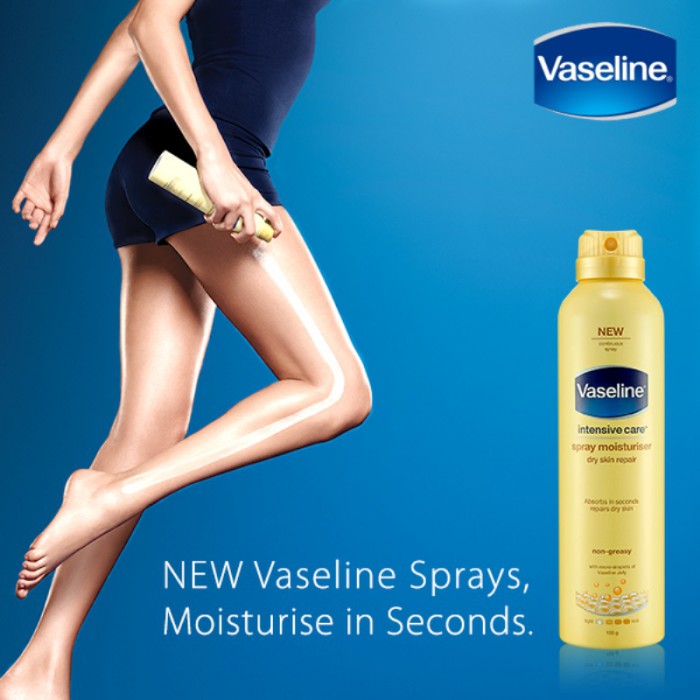 No time to slather on body lotions? You will love the new Vaseline Intensive Care Spray Moisturisers that are quick to use and absorb in seconds. All you need to do is spray and go!
One of the biggest drawbacks to body lotions is that they take time to apply and absorb. Introducing a new level of ease to your beauty arsenal – the new Vaseline Intensive Care Spray Moisturiser is a quick, convenient spray lotion that moisturises deeply and absorbs in seconds with micro-droplets of Vaseline Jelly.
Perfect for time-starved millennials who want quick and light moisturisation, the spray dispenses lotion quickly and evenly for all-over coverage using only compressed air. No harmful propellants are used.
It can even be applied on hard-to-reach areas, such as the upper back, thanks to the 360-degree continuous spray delivery mechanism. This also boasts an easy-topress twist-lock actuator, and a contoured aluminium can that fits nicely in the hand. In addition, compared with some daily lotions which only provide short-lived relief for dry, itchy skin, Vaseline Intensive Care Spray Moisturisers offer superior yet refreshing moisturisation to provide more substantive and longer-lasting results, keeping skin healed for 3 weeks*, and without leaving a sticky, oily after-feel.
Available from 1 July 2015 at major supermarkets and pharmacies at $13.90 each.