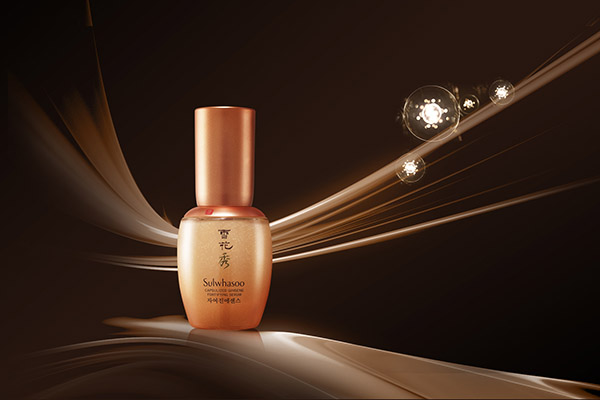 With its new Capsulized Ginseng Fortifying Serum, Sulwhasoo has successfully captured the efficacies of ginseng to take care of the deep wrinkles caused when skin collapses as it loses elasticity and resilience. Sulwhasoo Concentrated Ginseng Fortifying Serum fortifies the skin to plump up lines and wrinkles that have become deeply etched and difficult to repair due to a weakening Dermal-Epidermal Junction (DEJ). The serum is absorbed easily by skin, and it leaves skin feeling hydrated and firm.
As we age, the DEJ becomes thin and flat, and becomes more susceptible to the pull of gravity. Without proper care, this can cause skin to develop deep set wrinkles and expression lines because skin has lost its ability to "bounce back". With Sulwhasoo Capsulized Ginseng Fortifying Serum, the DEJ is strengthened and resumes its ability to plump up wrinkles and lines. The key technology behind Sulwhasoo Capsulized Ginseng Fortifying Serum is Ginsenisphere. Ginsenisphere consists of Micro Ginsenisphere and Macro Ginsenisphere. The former allows skin to better absorb the benefits of ginseng by four times and it also regenerates the epidermis and promotes collagen synthesis in the corium. The latter is a capsulated form of red ginseng extracts that will deliver the polysaccharides in their safest, freshest state. These Ginsenispheres break up every time you pump the serum into your hands, ensuring the active ingredients are delivered to your skin in their freshest state. It fortifies the structure of elasticity, fills the density for resilience, and forms a micro protective barrier for instantly smoother skin.
The serum comes in a transparent bottle so that users can see the capsulized Ginsenispheres. The bottle is, however, coated to withstand UV rays and other potential substances that may damage the Ginsenispheres.