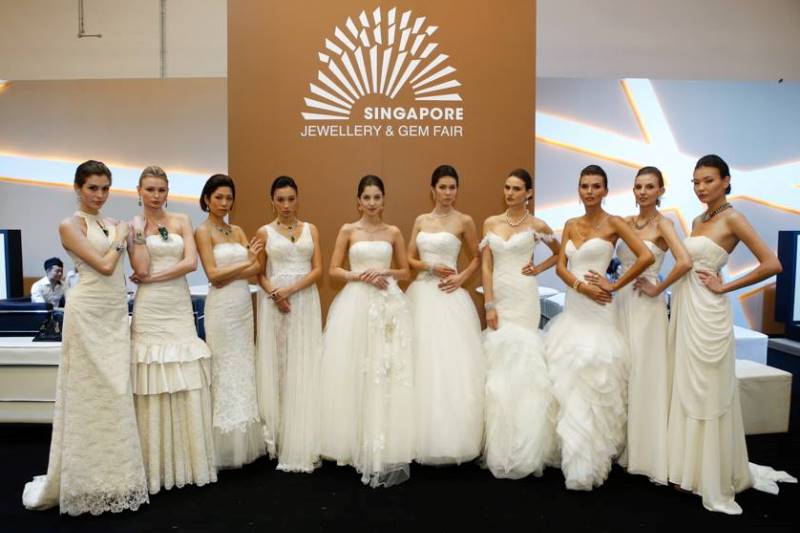 Featuring more than $1 billion (USD) worth of jewelry from over 28 countries, the four-day Singapore Jewellery and Gem Fair (SJGF) debuted on the 12th of October at the Marina Bay Sands Convention Centre. Visitors were spoiled with choices, with 283 exhibitors, including diamond experts from Belgium, Hong Kong, India, Israel and Switzerland, and countless veteran jewelers in attendance.
Having organized jewelry fairs all over the world for the past three decades, and "with 15% of its visitors from the Southeast Asian region and many of the jewelers interested in exploring the region", SJGF organizer UBM decided to launch a fair here in Singapore, claims one spokesperson.
In recent surveys and articles, Singapore has been named one of the richest countries in the world. The Managing Director of UMB Asia Trade Fairs, Paul Wan, had this to say: "Singapore is nestled in the heart of Asia, and presents tremendous business opportunities for jewelers to showcase their products and capture the consumer demand in Singapore."
"We also observe that wealthy Asians have moved away from traditional investments [and] towards 'passion investments' such as jewelry," he added. After the Hong Kong Jewelry and Gem Fair in September – the world's largest jewelry event – UBM "hope[s] to replicate its success in Singapore," he said.
With 12 pavilions in all, the SJGF featured three specially-themed pavilions: the Antique Pavilion, the first display of prominent ancient jewelry pieces in Singapore, the Designer Atelier, a gem showcase from renowned international jewelers, and the Exquisite Pavilion, a showcase of prized precious gems.
At the Antique Pavilion, visitors were greeted with ancient pieces from world-renowned antique jewelers such as Moira, Period Jewels and Windsor Jewelers Inc., worth more than $100 million (USD)! Some of these collections date back to the 19th Century.
But buyers were not only fascinated by Victorian and Georgian-era jewelry. Many exhibitors admitted that traditional Chinese pieces like jade were also increasingly popular.
Buying antique jewelry is a growing trend in Asia, said Mr. Paul Wan. "Buyers appreciate the rarity of this antique jewelry, their beauty and sense of history and heritage. These buyers form an emotional connection with these unique pieces, which often come with their own interesting stories."
The oldest antique piece on exhibition was a Victorian diamond tiara circa 1850, worth an astounding $20 million (USD). Another 'younger' piece was a 1981 Harry Winston 18-carat yellow gold emerald and diamond ring worth $4 million (USD).
Apart from prized collectors' jewelry priced in the millions, popular pieces at the fair also included lower and middle-range accessories for the average middle-income buyer. Exhibitors from Korea and Japan wereselling necklaces and earrings created by homegrown designers, and some cost less than $50.
One exhibitor from Poland sold a fascinating array of amber pieces that ranged in price from less than $30 to just over a few hundred dollars.
However, many exhibitors were disappointed with the number of buyers that turned up. Some confessed that the fair had been rather quiet over the weekend. "Publicity isn't great," a few exhibitors told me casually. Some attributed the mediocre visitor traffic to another jewelry event that was held in Singapore over the same period – the Singapore Jewel Fest, held along Orchard Road from the 11th to the 20th of October.
Whether the SJGF is popular or not, one thing for sure is thatthe regional jewelry industry has a positive outlook so far. "With Southeast Asia set to become the largest wealth market in the world, the jewelry industry will most certainly grow in tandem," said Mr. Wan.
Besides the extravagant range of jewelry showcased at the fair, aspiring jewelry designers also had a chance to shine.
The SJGF was the center stage for the 5th annual Singapore Jewelry Design Award, which recognizes budding young designers. The award saw close to 2,000 entries from 39 countries.
The fair also hosted I am brilliant, too, an initiative spearheaded by Facets Singapore and Golay Singapore to support talented local designers. Throughout the program, jewel lovers could work together with a local designer of their choice to create their very own unique piece of jewelry.
Stay tune on this page as we update with more photos taken on-site below.
Guest of honor, Mr Chan Chun Sing, Minister for Social and Family Development and Second Minister for Defence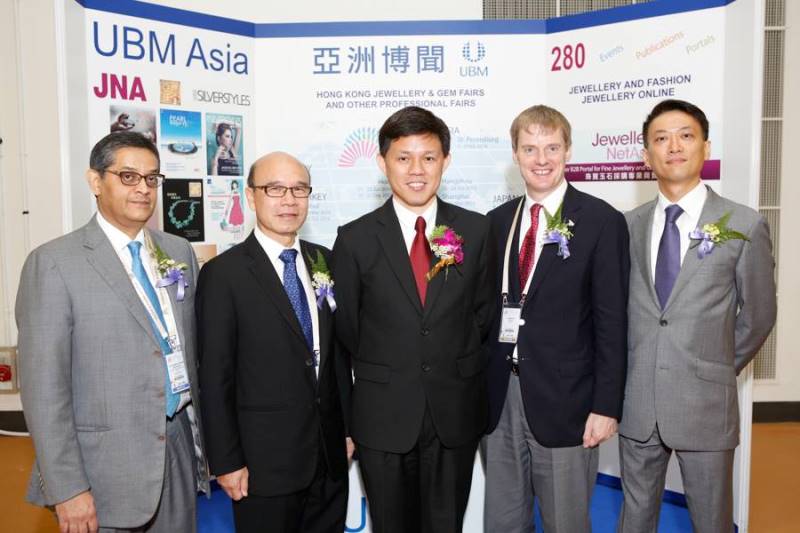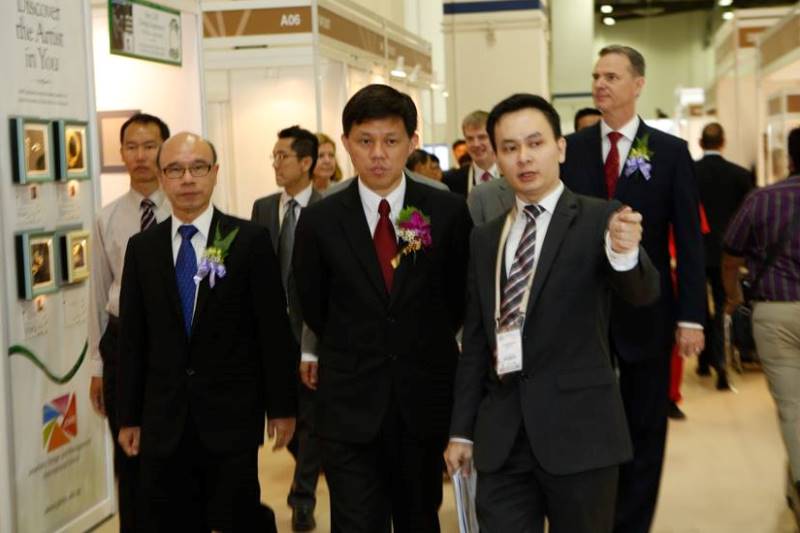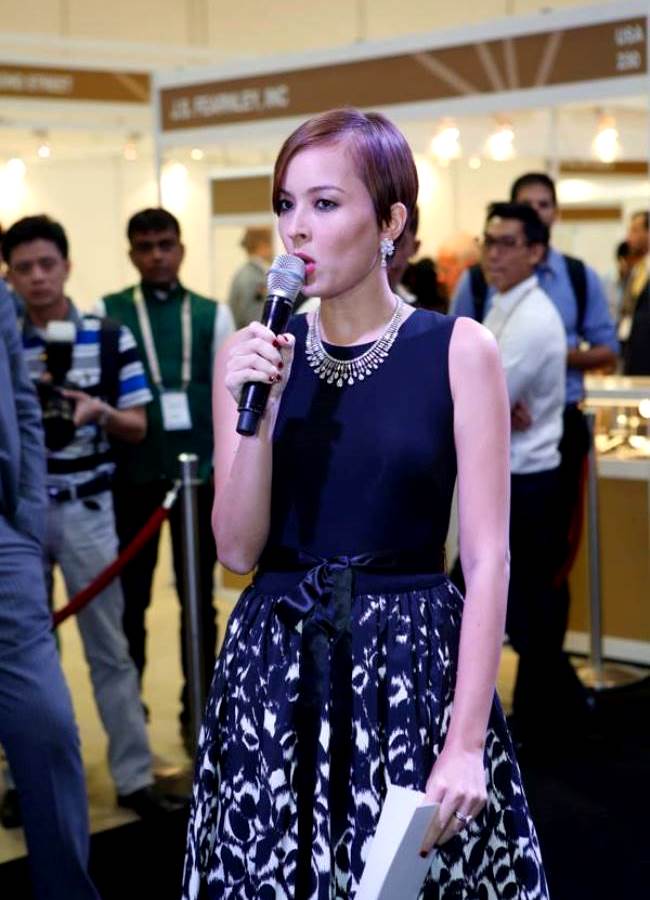 Host and Emcee, May Wan decked out in jewellery courtesy of SJGF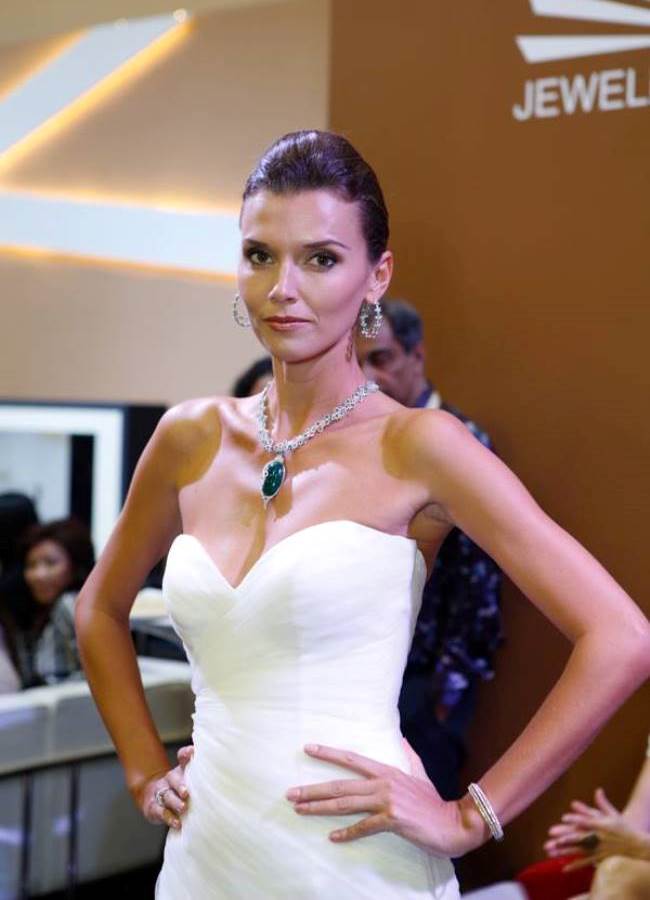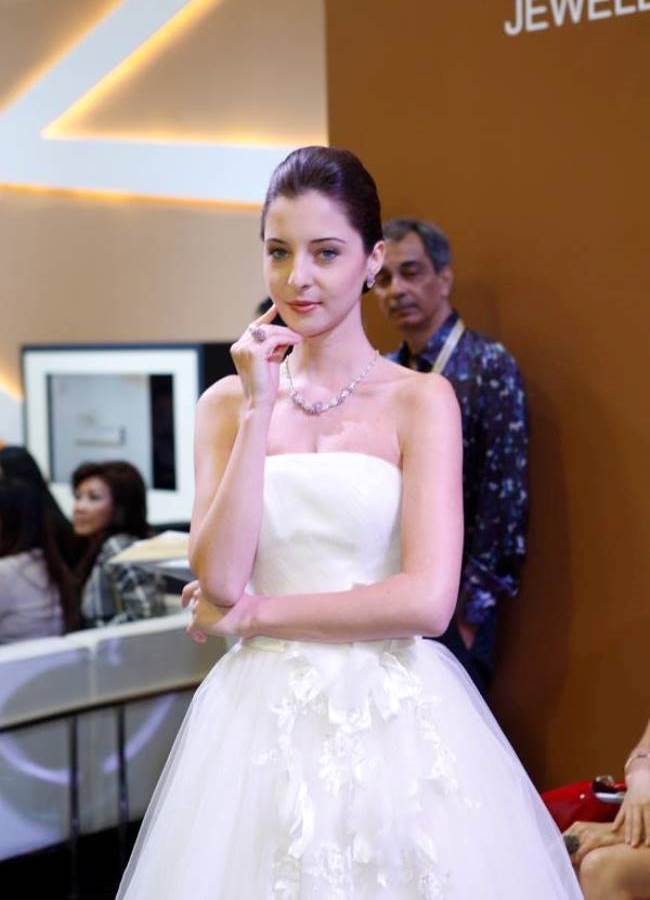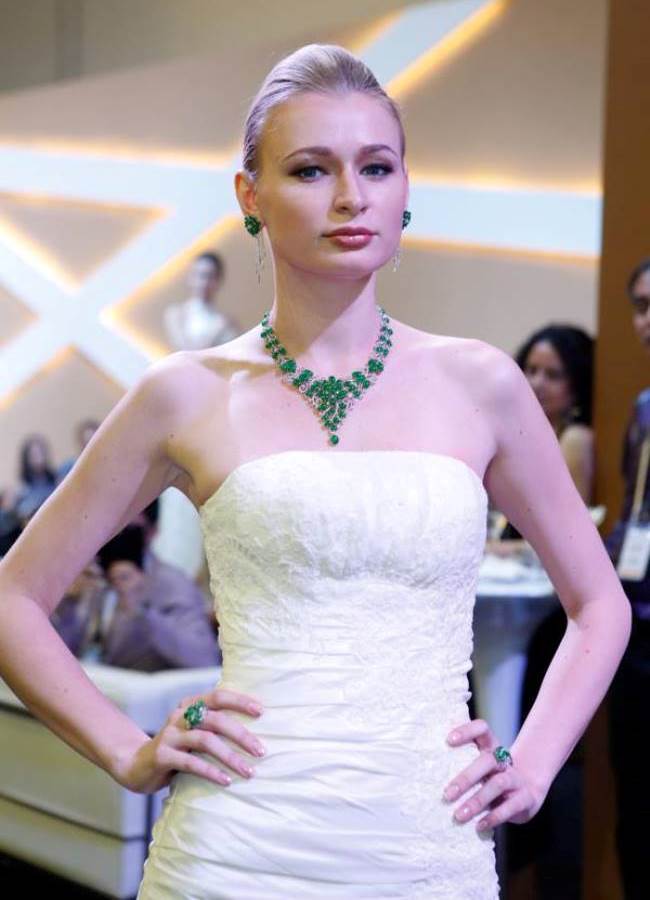 Model Ganna Zheleznova