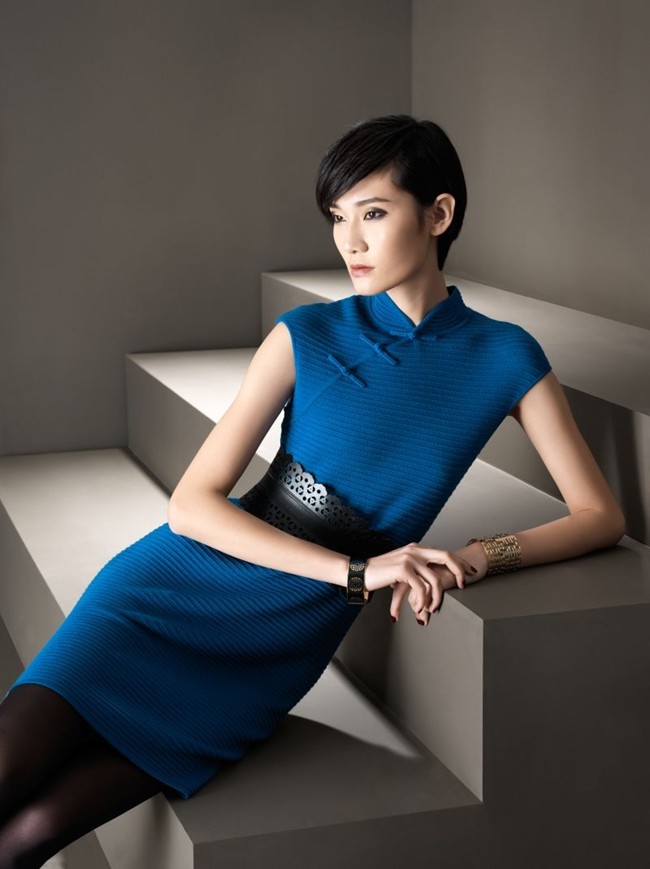 Shanghai Tang's Autumn Winter 2015 collection combines boldness and nostalgia, a story of graphic newness and a forgotten decade of glamour. Textured knits in vibrant red and minimalist white inject a breath of modernity into feminine staples. Airy pleated skirts demand a graphical boldness with the use of stripes in contrast to flattering peplum flares in digital prints and shirting cottons for a daring twist on a classic silhouette.
The season's jewel-tones illuminate the body with the balanced use of light and heavy materials. A depiction of the soft and hard sides of the urban woman is echoed from the fluid draping and delicate tassels, to the angular shapes and tough leather. Tone-on-tone jacquard effects addedly pack an edgy punch with an opulent attitude.
Dynamic bursts of color popping through muted khakis and inky blues accentuate the complex paneling of Shanghai Tang's new dresses. Graphics reminiscent of the De Stijl art movement is translated onto the body for a visually abstract impact, blurring the lines between fashion and art. These pieces are also paired with atypical futuristic metallic fabrics for an eclectic artistic re-invention.
Another look to watch out for in the collection is swathed in luxurious lace and fur, allowing the fabrics to illustrate an eccentric tale. The sheen of fabric of ultramodern polished shearling amidst the darkness contours the mysterious shapes and curves of the woman. Moreover, cascading gathers and cutout details add a layer of depth and sophistication.