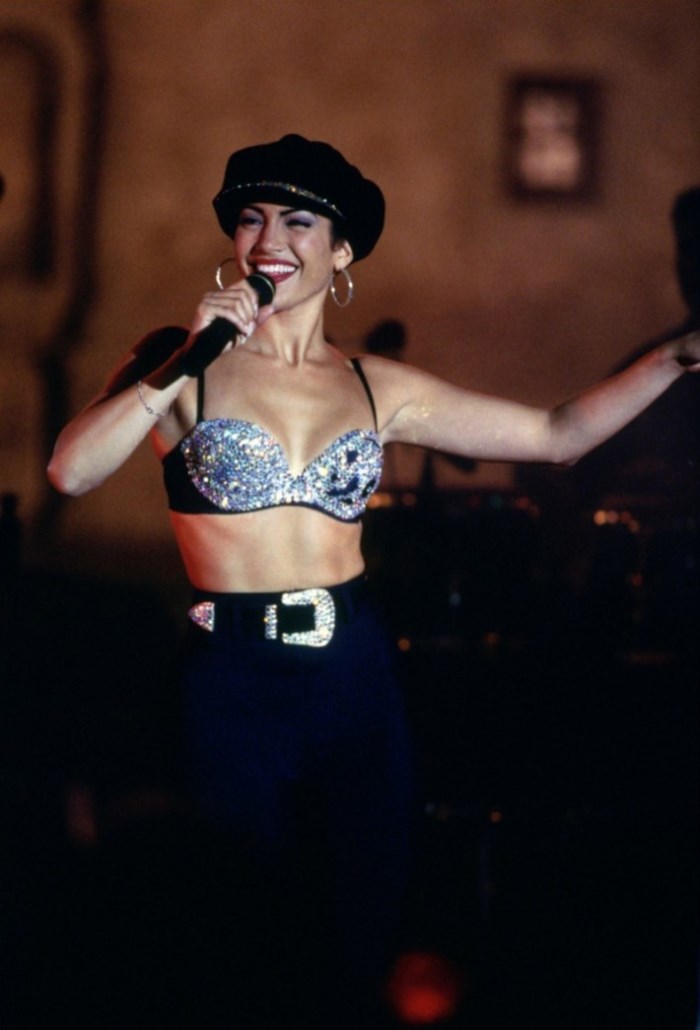 Selena (Jennifer Lopez) wears a rhine stone embellished bustier with high-waist pants–a signature look of the singer.
In 1997, the biopic film 'Selena' was released focusing on the Queen of Tejano music – Selena Quintanilla. Jennifer Lopez starred as the Mexican-American singer, making this her breakthrough role with Edward James Olmos as Abraham Quintanilla Jr., Constance Marie as Marcella Quintanilla and Jon Seda as Chris Perez.
The movie follows Selena's rise to fame and untimely murder at the hands of the president of her fan club, Yolanda Saldívar. Despite the tragedy, Selena remains an icon with her music and style living on over twenty years after her death.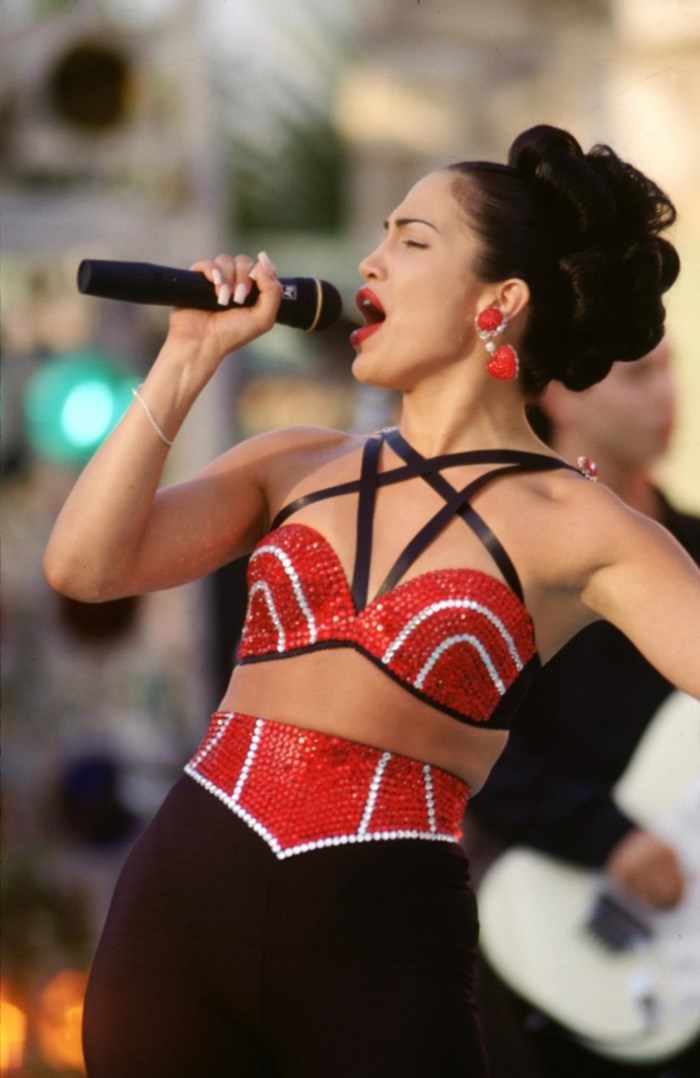 Abraham Quintanilla: "You were out there wearing a bra!"
Selena Quintanilla: "It's not a bra!"
Abraham Quintanilla: "It's a bra with little sprinkly things on it!"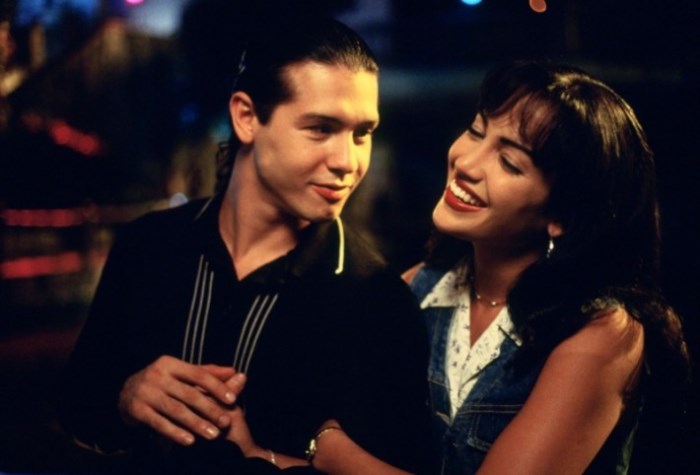 Jennifer Lopez as Selena Quintanilla and Jon Seda as Chris Perez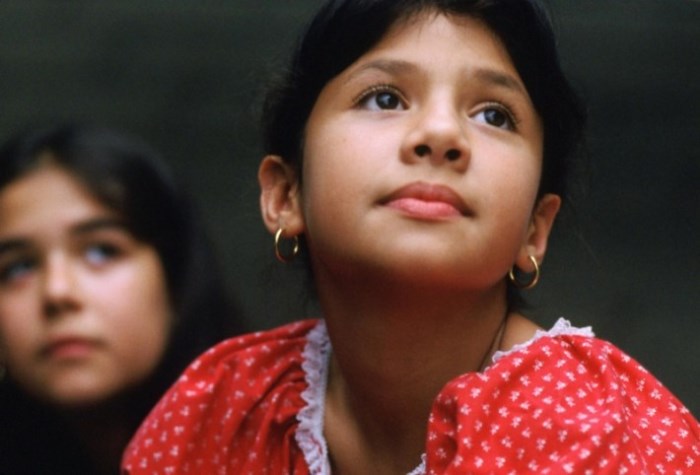 Young Ivette: "Selena! What are you doing here?"
Young Selena: "I'm looking up at the moon and I'm dreaming….It's like when I'm up onstage, I feel like I can be anything I want to be."
The cast of the movie 'Selena': Jackie Guerra, Jon Seda, Jacob Vargas, Constance Marie, Jennifer Lopez and Edward James Olmos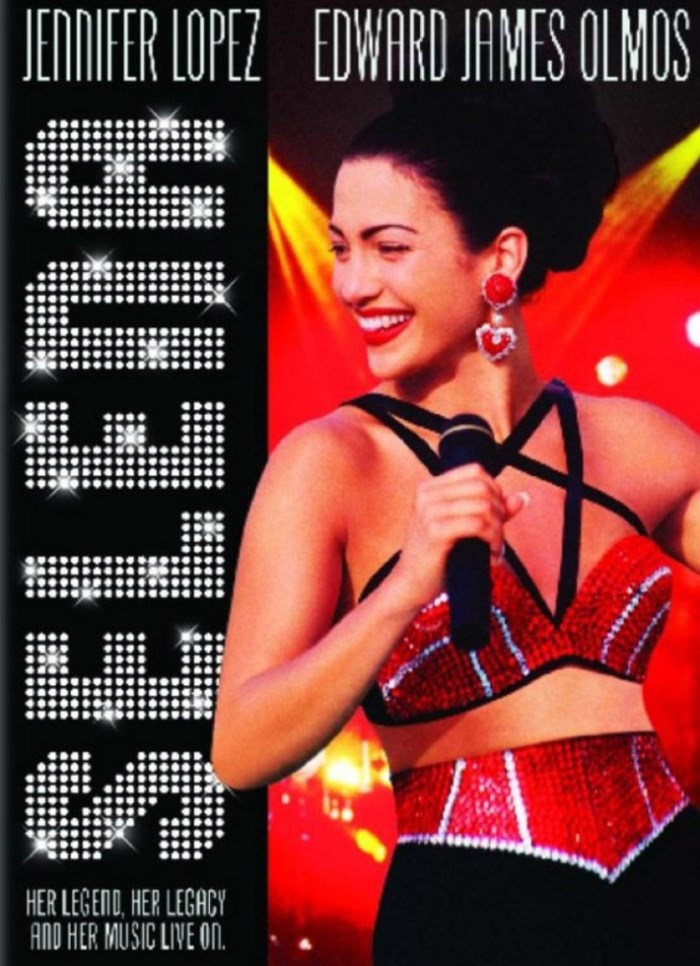 Selena movie poster. (1997)
Edward James Olmos (Abraham Quintanilla) and Jennifer Lopez (Selena Quintanilla)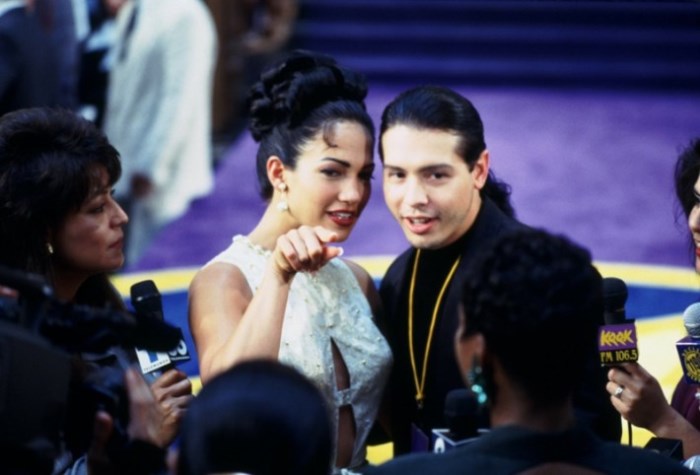 Jennifer Lopez as Selena Quintanilla and Jon Seda as Chris Perez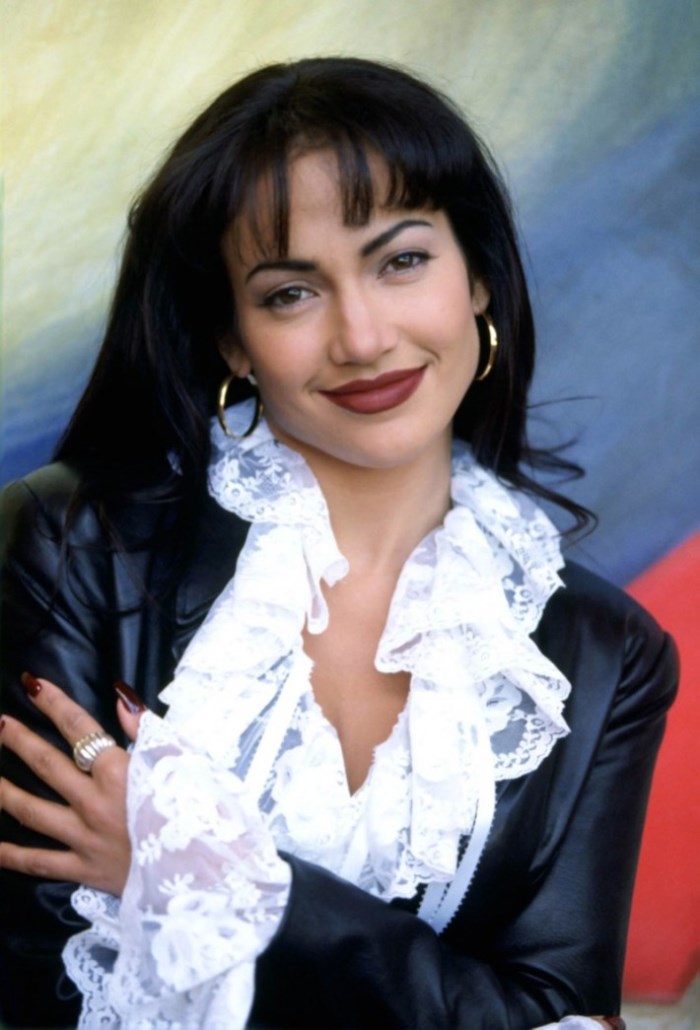 Selena (Jennifer Lopez) wears a ruffled top and leather jacket look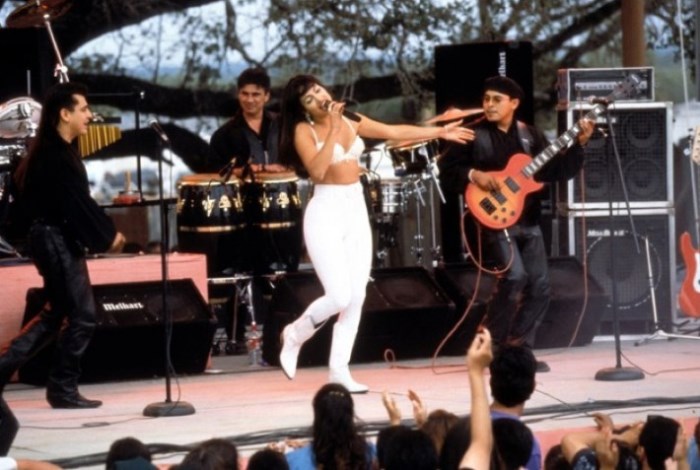 Jennifer Lopez wears white outfit during performance of 'Como La Flor' in 'Selena'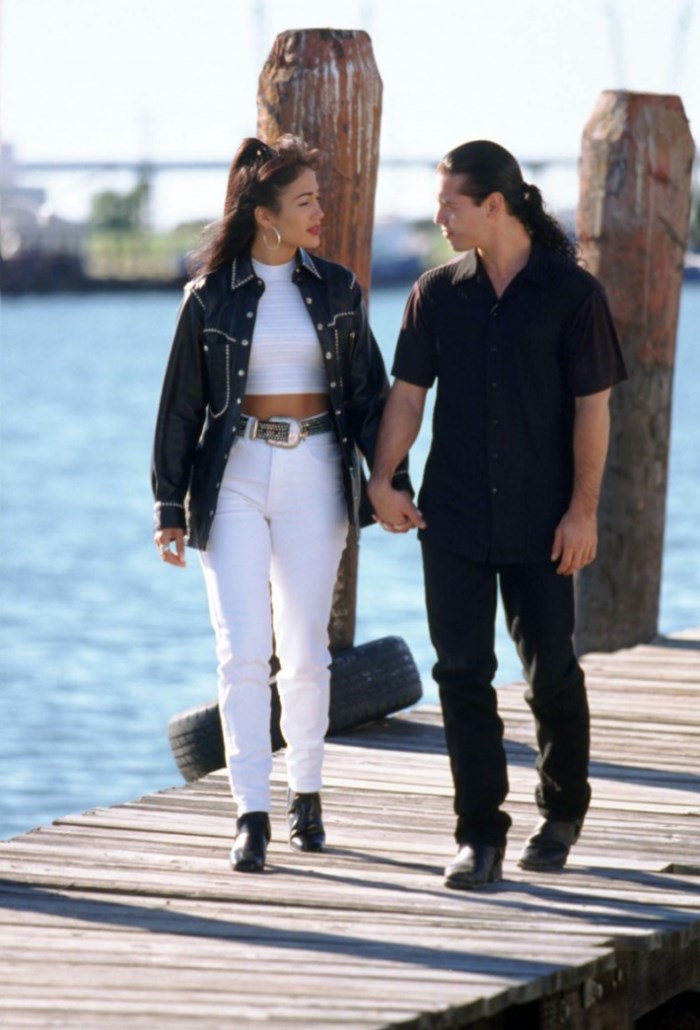 "Well I might not be street wise and all that but at least i know not to be that dumb!" – Selena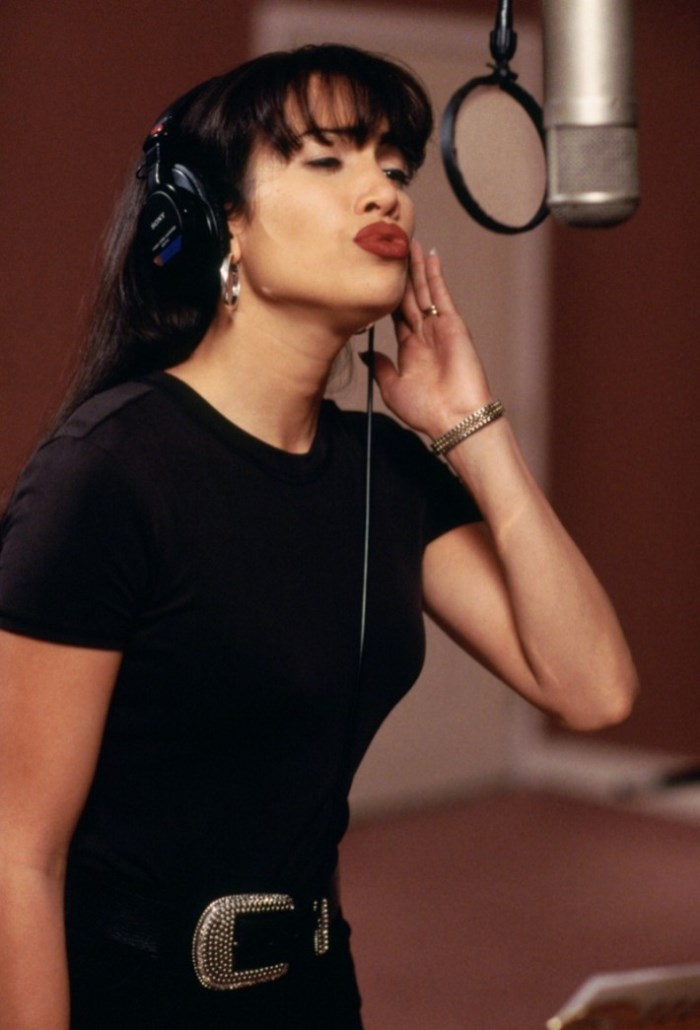 Jennifer Lopez as Selena in the recording studio wearing a black top and high-waist jeans
Selena (Jennifer Lopez) wears white gown featuring a halter top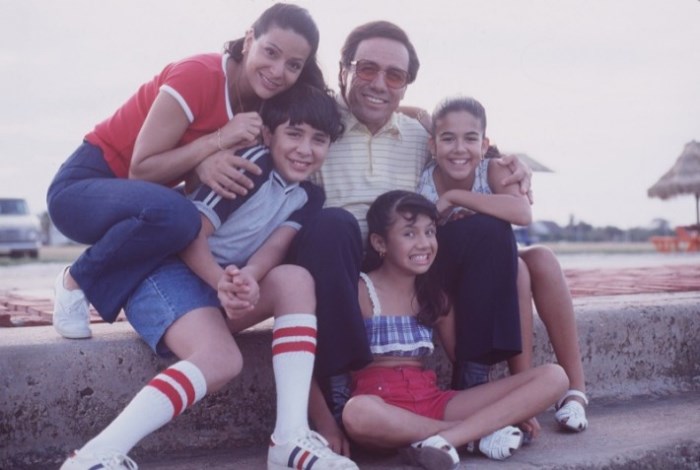 Abraham Quintanilla: "We have to be more Mexican than the Mexicans and more American than the Americans, both at the same time! It's exhausting!"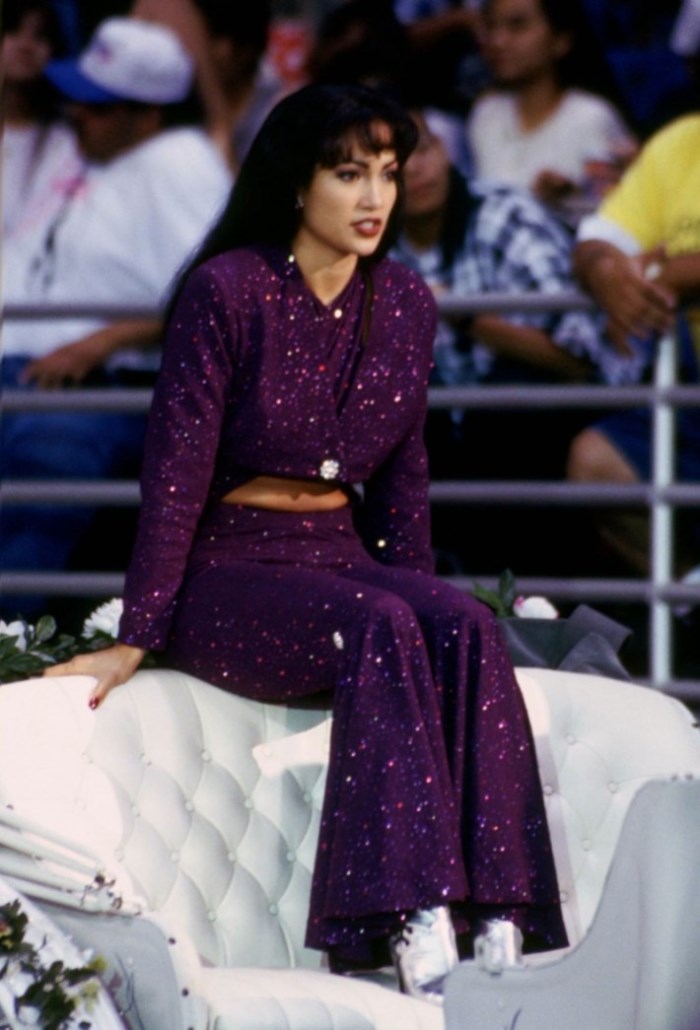 Selena Quintanilla was known for her unique stage costumes. Jennifer Lopez channeled the late singer in a purple sequin outfit featuring flared pants and a cropped jacket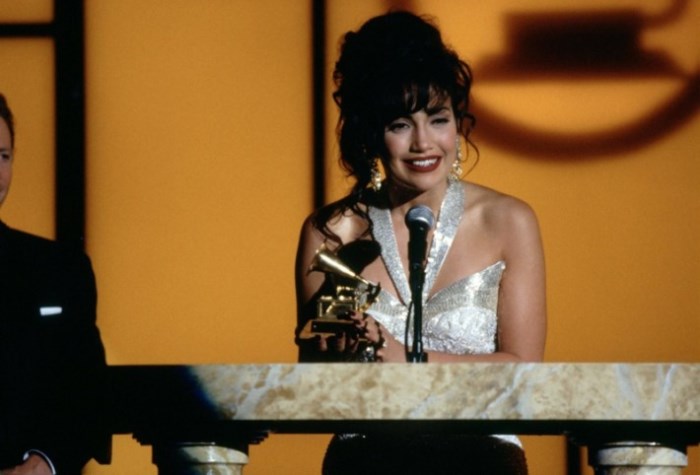 Selena (Jennifer Lopez) accepts a Grammy in sparkling gown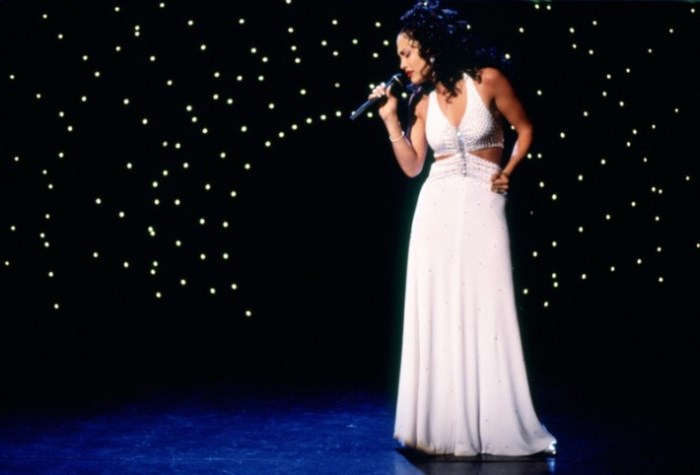 A performance of 'Dreaming of You'