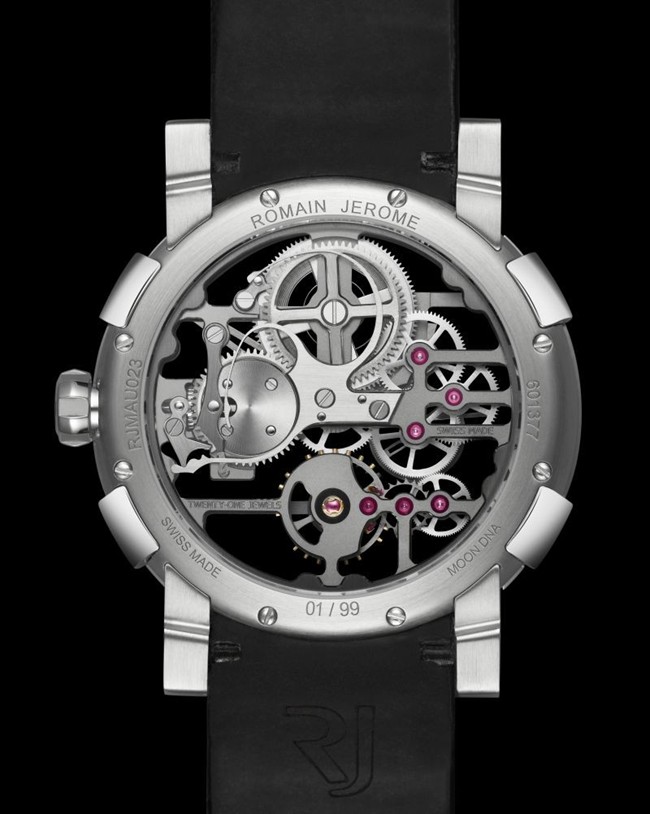 RJ-Romain Jerome presents its new and aesthetically advanced timepiece, Skylab. To celebrate the 40th anniversary of its launch, the watchmaker has created this unique new timepiece with an avant-garde design that features RJ-Romain Jerome's first skeleton timepiece. The Skylab is inspired by the discoveries made by Ferdinand Magellan and Galileo – Magellan established the spherical shape of our planet and Galileo discovered Heliocentrism.
Named after NASA's first space station, the Skylab features a skeleton structure housed in a 44 mm case. It recalls the original space station's revolutionary construction that combined sleek lines and a complex system of solar panels. The refined case nests a complex five layered skeleton while a transparent sapphire glass at the back enhances the sense of zero gravity. The transparency highlights the single barrel at 12 o'clock and the reveals the balance wheel at 6 o'clock. Even the RJ-Romain Jerome monogram subtly appears at 3 o'clock in the inferior level.
True the DNA of RJ-Romain Jerome, each timepiece contains material from the Apollo 11 mission on the bezel. The Skylab is available in black PVD coated-steel, anthracite and 5N rose gold.