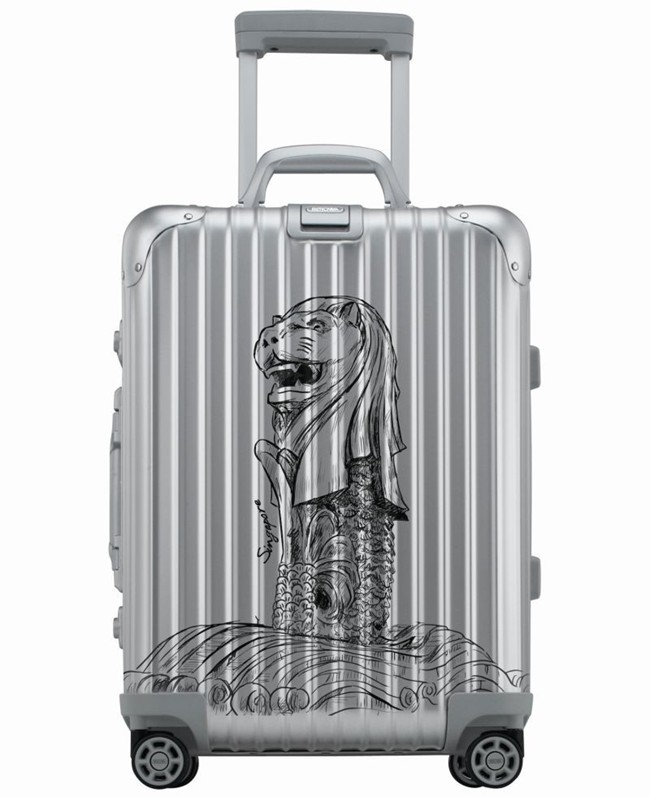 Honoring Singapore's 50 years of independence, Rimowa has marked this major milestone with its special edition luggage bearing Singapore's distinguished trademark – the Merlion. A true exception, Rimowa is a forerunner in the field of premium-class luggage with renowned craftsmanship and precision on its suitcases. For Rimowa aficionadas, this is the perfect combination of a durable yet stylish luggage with a nod to Singapore. Hand-sketched by budding home-grown artist and illustrator, Lee Xin Li, the Merlion is an intricate creation of varied streaks and shading, a true uniquely Singaporean design perfect for collectors and travellers alike.
This special edition luggage will be available in Rimowa's celebrated Topas Cabin Multiwheel IATA 36L. The Topas is a sturdy construction with its iconic grooves and robust aluminium-magnesium exterior, offering travellers maximum travel assurance. Recognisable at first glance, the characteristic groove structure is a modern interpretation based on the pioneering era of aircraft engineering and construction. Launched as the first Singapore special edition collection, these cabin-sized cases are outstandingly exclusive with 300 pieces made available only in Singapore from August 2015. The Merlion design is seamlessly printed onto each Topas Cabin Multiwheel IATA 36L using multi-colored digital print for the perfect finishing.
Rimowa's Merlion luggage is a tribute to the nation's 50-year illustrious history and representation of everything Singapore; there is nothing more identifiable and uniquely Singapore than the Merlion itself. As part of the efforts to commemorate this significant year for Singapore, the luggage will retail at S$1,965 to honor Singapore's year of independence.