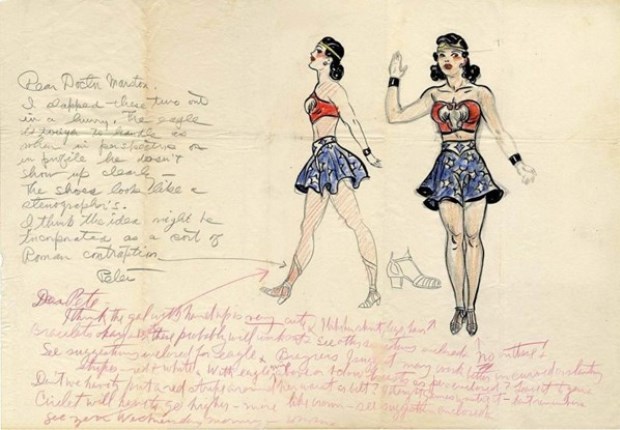 This is, a unique and important piece of comic book history dating back to about 1941, acquired originally from the estate of H.G. Peter himself, Wonder Woman's original artist. This piece contains H.G. Peter's first sketches of one of the most popular and enduring female superheroes to date – Wonder Woman. In this genesis of sorts, Wonder Woman is rendered in what appears to be pencil, ink, and crayon. Being a concept drawing, Wonder Woman is shown both from the side and from the front. This incredibly rare piece will soon go under the hammer at ComicLink. There's no word on a reserve or an estimate yet.
The writing on the piece adds to the uniqueness and desirability of the piece. To the right of the figures, in pencil, H.G. Peter has written to Dr. William Moulton Marston, Wonder Woman's creator,
"Dear Dr. Marston, I slapped these two out in a hurry. The eagle is tough to handle – when in perspective or in profile, he doesn't show up clearly — the shoes look like a stenographer's. I think the idea might be incorporated as a sort of Roman contraption. -Peter".
Below the Wonder Woman figures, in red pencil, Marston replies,
"Dear Pete – I think the gal with hand up is very cute. I like her skirt, legs, hair. Bracelets okay + boots. These probably will work out. See other suggestions enclosed. No on these + stripes – red + white. With eagle's wings above or below breasts as per enclosed? Leave it to you. Don't we have to put a red stripe around her waist as belt? I thought Gaines wanted it – don't remember. Circlet will have to go higher – more like crown – see suggestions enclosed. See you Wednesday morning -WMM."
The piece measures approximately 13″ x 18.75″. Overall, it is in excellent condition even though it was obviously folded to fit in an envelope, with a horizontal fold approximately 4.5″ from the top and five vertical fold lines. The figure of Wonder Woman's profile measures approximately 8″ high, and the picture of her facing front measures 9″.