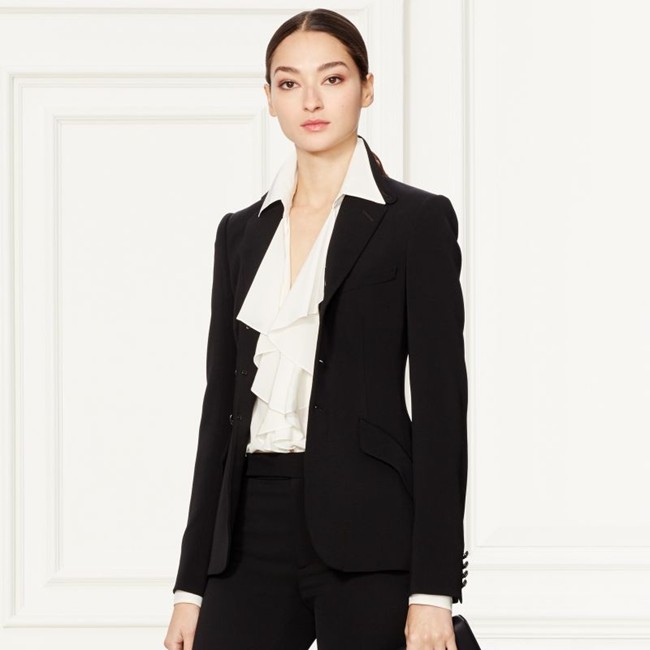 The Ralph Lauren Collection introduces its first fully curated selection of iconic women's looks – from tailored jackets and cashmere cable-knit sweaters to the exquisite Ricky Bag – all of which embody the modern luxury and timeless sophistication of the world of Ralph Lauren. The Ralph Lauren Icons collection is the ultimate expression of the enduring harmony between classic inspiration and contemporary silhouettes.
"The things I treasure most have no age, no time, no trend…They are about confidence and style, and an enduring legacy." said Ralph Lauren.
Crafted from the finest fabrics, with impeccable detailing and unparalleled attention to construction by the finest Italian artisans, Ralph Lauren Icons belong to the muse who is confident, modern and chic. The Icons offer an innovative approach to make available to the discerning modern woman seasonless signature Ralph Lauren pieces throughout the year and around the world. When Ralph Lauren first expanded his vision to include womenswear, he wanted to offer women the same elevated product, with the same quality of tailoring, that his menswear clientele enjoyed.
After purchasing a boys' hacking jacket for Ricky, Ralph Lauren began putting his own feminine spin on classic pieces, such as the hacking jacket and tailored shirt, blending the masculine and feminine in a way that would become a hallmark of the brand. His driving philosophy of quality and iconic style expanded to include more signature items, including the casually luxe Polo shirt, the family of handcrafted Ricky Bags and the refined Ralph Lauren Stirrup Watch collection. The lifestyle-inspired Icons collection also features impeccable blazers and trousers and polished, sophisticated footwear and accessories.