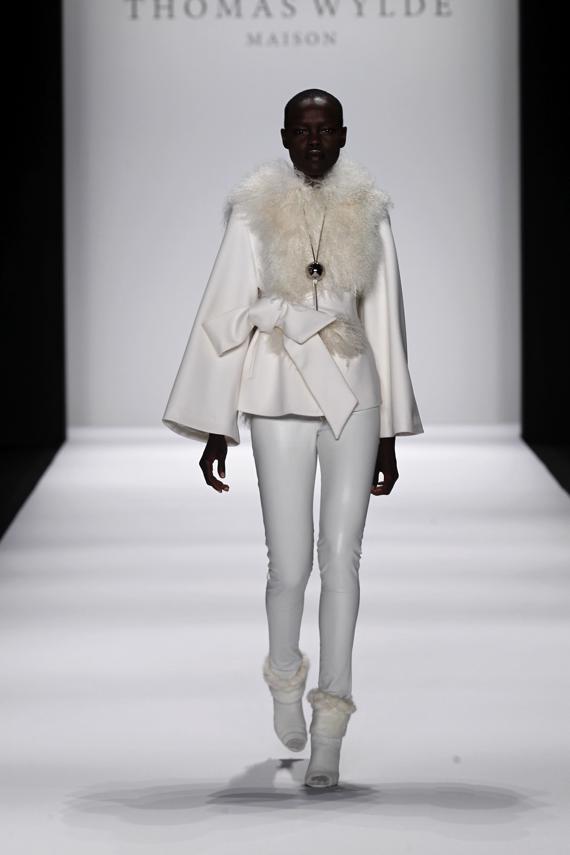 Paula Thomas has your next party dress all sorted. The Thomas Wylde RTW 2015 was dedicated to a fine lady dripping with sex appeal, out on a night at a rock-themed invite-only gala. So charming these numbers were that the little black dress had gotten an overhaul, sized up with crystal embellishments, chunky gold chains and trials of zippers.
Other offerings included asymmetrical coats paired with skin-tight leather pants, psychedelic prints doused with clouds of oil and water – highly accessible staples that formed the crux of this season's lineup.
The tendency to keep things in basic black, white and gold has a straightforward appeal for the brand's long-term clientele, while not compromising on pushing the envelope for a robust collection. This even takes on the form through fringed clutches and woolly handbags.
(Despite its stoic colour palette, the motif patterns still exercised humour through cleverly concealed illustrations of naked women) The labels nod to female sexuality may have been intended as ironic, but it served as a hint on Paula Thomas's exploration on power and gender relations. And for one instance, it even looked like Breakfast at Tiffany's had moved into Studio 54.